'Dictionary is a lot like life to me'
Madhurima Basak on the Bratya Basu film, her journey in serials and why she finds the web to be liberating and limiting now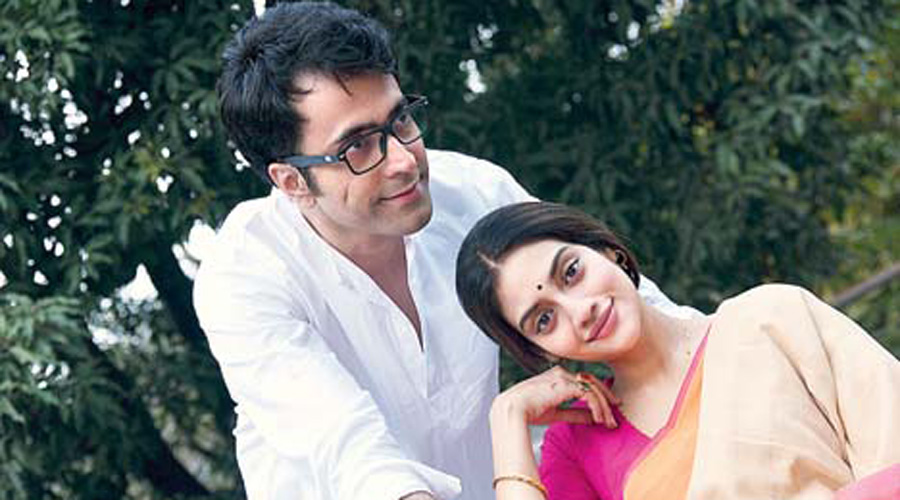 Abir and Nusrat in Dictionary.
Sourced by correspondent
---
Published 16.02.21, 10:50 PM
|
---
What excited you about Dictionary?
Quite a few things. Bratya Basu was helming a film after a decade and I wanted to work under the prestigious banner of Friends Communication.
It was a great opportunity to share the same platform and canvas with such a supremely talented cast. And I wanted to be in a film which is an onscreen adaptation of short stories by Buddhadeb Guha. It was an opportunity to learn from the best in the craft, Bratya Sir.
Apart from the obvious, what does the name 'Dictionary' mean to you?
Dictionary is a lot like life to me... in both life and in case of a dictionary, the more you are into them, the more you live them, the more you know the meaning of what once was meaningless....
Tell us about your character and look?
The girl next door, just like another girl you see in the society... simple and sober with rooted values and is relationship oriented. The look too is plain Jane, mostly basic and traditional kurtis and saris with open hair and minimal make-up.
How was the shooting experience?
It was nothing short of completing a course in acting. In serials we tend to do more... the format demands that way. This again was completely different where 'less is more'. Bratya Sir has been an institution for me and made the whole shooting experience a fulfilling journey. Overall it was a humbling experience. I am so touched by their humility as they have been extremely considerate and accommodating.
How was it like being directed by Bratya Basu?
This was probably my schooling in filmmaking and from the best school I must admit. Bratya Sir has been extremely patient  with me. He helped me settle my nerves on the initial days of shoot. He is very clear about what he expects from a scene and his actors but never imposes himself. He lets it unfold in a natural organic  process. He is open to discussions and feedback.
How was it like being directed by Aditya Vikram Sengupta last year for an ad?
He brings in such raw fresh energy to the table. Being directed by him was again a learning experience.To tell a story effectively in few seconds and to make the characters 'emote well and emote right' to create an impact was a big take-away from his direction.
What are your plans for 2021?
To act and get better at it, travel as I couldn't last year, learn a new art form or an instrument may be. I'm really happy to be the face of Anjali Jewellers. So the year has started off on a great note. And I would like to spend more time with Mojo and Moana (my four-pawed kids). Would you like to move from serials to films now?
Not in totality as of yet. Serials gave me recognition. The penetration of serials is way more than films. I'll always remain indebted to serials and the makers who have welcomed me and got me where I am today. At the same time I am open to doing more web and films once my current projects get over. I am happy in my space though.
We heard that you had got offers to do web shows but you turned them down. Why?
I have been working in two ongoing serials simultaneously and it has been a 22 to 25 days in a month schedule. Web projects generally require a dedicated seven-10 day-schedule and over a short period of time. So making time for web right now becomes difficult. So I had to turn down a few web series purely due to unavailability of dates. But I have my fingers crossed. Some day soon may be.
Also, I cater to a different  segment  of audience  through my work in serials, predominantly the women of the family... I can't afford to do certain characters or scenes that web shows demand... serials are  my bread and butter... I can't offend or take my audience  lightly. Though I don't have issues with the content of web, rather I find that the scope is infinite in web shows, but I also find that intimate scenes on web are often titillating, used as clickbait for a certain  audience rather than the demand of the script. Intensity  and passion can be shown aesthetically too. I have always wanted to work for a larger audience, projects where the whole family can have a good time watching together... web is limiting in that sense... it is liberating when it comes to content yet limiting whom it caters to. But never say never, people and realisations grow... right now I have certain inhibitions  and reservations which with a great content and makers may find an outlet.

Are there certain things you would like to see change about the way serials happen?
Initially I wanted the work schedule to improve which eventually has improved. One extra Sunday off will be cherry on the top and highly appreciated. Over time scripts too, at least for me, have become more meaningful, character-driven, with an arc and purpose. New challenges and crisis lead to innovation and beautiful discoveries. What seems impossible initially gets done eventually if the heart is in the right place. I am blessed to have had the opportunity to work on two amazing scripts recently. Leenadi (Leena Ganguly) has ensured that my character has enough substance and meaningful existence unlike some of my initial work in the industry. She is a stalwart and I can't ask for more.
Talking about challenges, you recorded visuals and shot for special lockdown episodes last year....
The entire thing was shot on my iPhone X plus. A standard setting was given and it was same for all the artistes who were shooting from their respective homes. For close-ups and steady shots I used a mobile holder and did some scene tests for getting the right frame and lighting.
On other occasions my father turned saviour. He did exactly as I told him to and, barring the initial glitches, he did an impressive job behind the camera! The scenes involving dialogues were mostly indoors. Owing to lockdown there was hardly any noise outside. So it was not much of a problem recording on mobile. From donning the director's hat to handling the camera, arranging for the costume and props, selecting the background and lighting, this is something that will stay with me for the rest of my life.

How important do you feel is networking to stay relevant?
Extremely important. There is so much talent that keeps pouring in every day with dreamy eyes of making a space in tinsel town. There isn't enough work to accommodate everyone. Networking becomes important to remind that you exist and keeps you relevant in this forever-changing dynamics of the industry. Having said that, unadulterated love for the art, sincere efforts in whatever opportunity one gets, humility and finding strength in rejection have no substitute.