Dhamaka effectively balances thrill with emotion with Kartik Aaryan delivering a fine act
The movie, now streaming on Netflix, is lean and clean storytelling at its most effective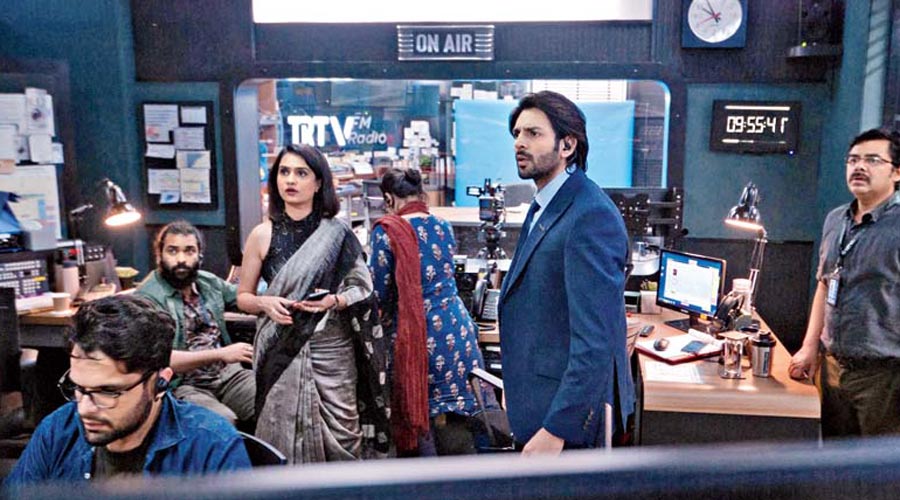 ---
Published 20.11.21, 12:49 AM
|
---
In 2016, film-maker Ram Madhvani made everyone sit up in surprise (and a little bit of horror, to be honest) when he cast Sonam Kapoor in the part of braveheart flight purser Neerja Bhanot in Neerja. But Sonam, not particularly known for her acting chops, sailed through with very few hiccups, with Neerja still remaining one of her most effective performances. Last year, Madhvani plucked Sushmita Sen out of semi-retirement and cast her perfectly as a power woman in a world dominated by men. No one can argue that Sushmita's career has got a fresh lease of life with Aarya. That Season 2 is on its way is proof enough. "Someone asked me if I am reinventing these actors. I am not reinventing anyone. They are doing the reinventing of themselves," Madhvani had told The Telegraph last month when we had quizzed him about his knack of giving actors parts that they go on to be remembered for.
Despite his (modest) claims to the contrary, Madhvani does the same in Dhamaka. He makes Kartik Aaryan act. And yet he doesn't. Experiencing a purple patch in his career with a string of recent successes, Kartik has hardly ever been singled out for his performance in a film. Everyone knows about his ability to blurt out monologues without a pause, his head of hair is always a talking point and his goofy smile stares out of almost every frame. But in Dhamaka, despite some patchy parts here and there, we see Kartik the actor in a way that we haven't seen him before. He acts without putting up a performance.
Dhamaka, now streaming on Netflix, is lean and clean storytelling at its most effective. Filmed mostly indoors over just 10 days in the middle of the pandemic, the film makes use of tight shots (cinematographer Manu Anand is the real star of the film) and a forever feverish pitch to deliver a pacy thriller that manages to engage the viewer almost throughout.
Deriving its roots from the Korean film Terror Live, Dhamaka cuts to the chase from the get-go. A popular Mumbai landmark is blown up. A man on a phone call claims responsibility with the threat of more terror unless a demand is met. The person he chooses as a conduit is Arjun Pathak (Kartik Aaryan), a much-feted news anchor now fallen from grace. The shrewd Pathak — whose more than fifty shades of grey keep showing up through the film as he veers between unscrupulous and vulnerable — smells an opportunity to regain his lost glory and swings into action, displaying the familiar if cliched traits of a media man who will stop at nothing to get that piece of 'breaking news'. But Arjun Pathak quickly learns that he's signed up for more than what he had hoped for, with the events of that day forcing him to confront his own demons as he embarks on an emotional roller-coaster ride. A ride that will extract the proverbial pound of flesh from him.
Though Dhamaka is peopled with some fine actors like Amruta Subhash, Vikas Kumar and Mrunal Thakur, Kartik is the pivot around which much of the action takes place. That head of hair — blown out even more in this film to take a page out of Keanu Reeves' look in the John Wick films — may be a distraction for the first 10 minutes, but once the action gets going in Dhamaka, Kartik gets going too, conveying the anger and anguish of a man caught in the line of fire, and yet one who discovers the stakes are too high this time around. Despite the film's predilection to slacken its pace sometimes (editors Monisha Baldawa and Amit Karia do a great job otherwise), Madhvani does well in packing in life-altering questions about love and loss and the human cost of ambition. Khoya paaya, in Amit Trivedi and Jasleen Royal's voices, sums up the mood of the film perfectly, while Prateek Kuhad's Kasoor, played out as the first (happy) frames roll out, soothes the senses.
Dhamaka ends on a note that urges the audience to look within and seek answers to some important questions. Does that work in what is essentially an edge-of-the-seat thriller? Somehow, it does. Madhvani quietly proves, once again, that he's the man.
I liked/ didn't like Dhamaka because? Tell t2@abp.in
Dhamaka
Director: Ram Madhvani
Cast: Kartik Aaryan, Amruta Subhash, Mrunal Thakur, Soham Majumdar, Vikas Kumar, Vishwajeet Pradhan
Running time: 105 minutes