Getting the nitty-gritty of Radhe's hybrid release
'We are asking people to pay Rs 249 for the whole family and watch the film at home, which is effectively the price of one multiplex ticket'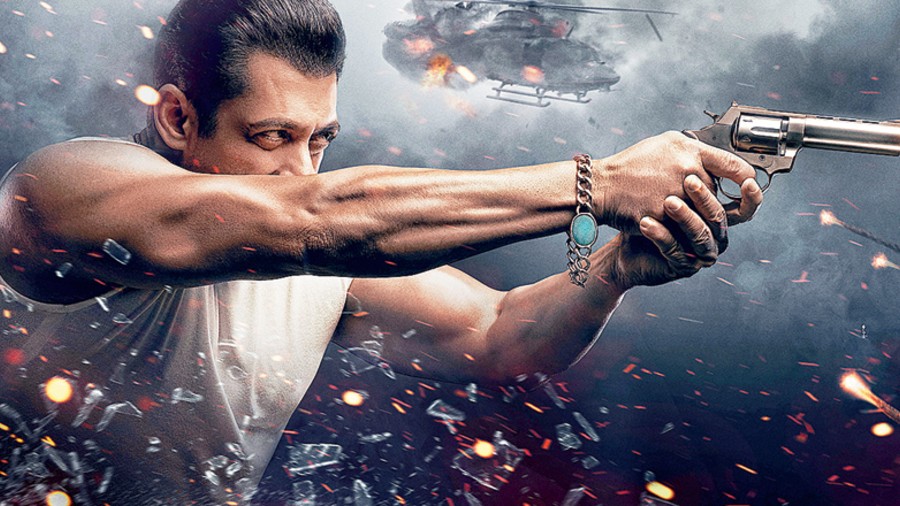 ---
Published 10.05.21, 03:34 AM
|
---
With Radhe: Your Most Wanted Bhai, Salman Khan is all set to stick to his commitment of a big Id release, an annual event that the superstar missed out on last year. Scheduled to hit theatres on Id 2020, Radhe — that also stars Randeep Hooda, Disha Patani and Jackie Shroff — is opting for a hybrid release on May 13, hitting some theatres that are open and also being available on a pay-per-view model on Zee5, with ZEEPlex and also on all leading DTH operators. The Telegraph chatted with Shariq Patel, chief business officer, Zee Studios, to know more about this innovative release strategy and the road ahead for movie exhibition and consumption in India.
Even though you are opting for a hybrid platform release, what's the idea behind releasing one of the biggest films of the year when almost all theatres across the country are shut? Plus, this isn't the happiest of times...
Of course, we are conflicted. We are aware of how people are suffering, even in our organisation and within families and friends. We are all in it together. And this is our way of saying, 'Here is three hours of distraction to keep your mind off all the other things we are dealing with'. Everyone needs some kind of an outlet for our own sanity.
We saw it last year as well. The amount of time spent in front of screens — whether it's OTT or TV — has definitely increased. This is a way of saying that there is only so much of work you can do, so much of worrying you can do... there's got to be a little bit of window to switch off.
There has been a bit of a slowdown of new content and now even the IPL is off. Radhe is a film which has been ready for over a year. For the production house (Salman Khan Films), holding on to a product like this for such a long time isn't feasible... there are huge costs attached.
It was a very pragmatic decision. We had hoped we would get to play in most theatres, even at 50 per cent capacity. But now it's taken a turn for the worse and almost all theatres are shut. For us, safety is important. And people will get to enjoy a big-budget masala flick after a really long time from the safety of their homes.
Did it take a lot of deliberation and getting everyone on the same page to arrive at a release format of this kind?
Yes, of course. There was a fair amount of deliberation... it didn't happen off the cuff. There is that emotional connection between Salman Khan and Id, and as early as January or February we had said that we will come on Id. Of course, at that time, none of us saw the second wave being this bad. The idea was to keep the promise to the audience. Of course, if the theatres were running at 100 per cent capacity, then nothing like it... Salman's movies are community-watching experiences. The energy of the audience elevates the experience. Unfortunately, it's not happening as of now.
Honestly, we went for this decision because I don't know what's happening next. We have no idea when theatres will open. We at Zee Studios were, in fact, one of the first to release a film in theatres after the lockdown last year, with Suraj Pe Mangal Bhari on Diwali. From then, we didn't see any substantial release till Roohi and Mumbai Saga in March. So I don't have an outlook where I can say, 'Hey, theatres will open in a month's time. Let's delay'. Will it be one month, two months or six months... I don't think anyone knows.
What is open as of now are mostly single-screen theatres and multiplexes belonging to the non-national chains in Assam and then in Andhra Pradesh and the Nizam region. A lot of theatres in those parts of the country have also taken voluntary shutdown because there is no content. Theatres have bounced back superbly in the US and China... so obviously, the hope is there that if the vaccination drive kicks in in full earnestness, the surge goes down and people feel safe enough, theatres will bounce back here too. So the decision to release like this has been done with all sincerity and for all the right reasons. It's not like we are not supporting theatres.
Can you explain how this hybrid release strategy will work and do you see it becoming a trend?
We did kick it off last year with Khaali Peeli (starring Ishaan Khatter and Ananya Panday). Warner Bros announced a day-date simultaneous release for Wonder Woman in theatres and on HBO Max, which belongs to them. The film industry is now in a state of flux and we don't know how consumer behaviour is going to change. We want to try something new and see what happens. With both Khaali Peeli and Suraj Pe Mangal Bhari, we did experience some kind of success with the pay-per-view model. And with a big movie like Radhe, we are truly testing that format, six months after launching ZEEPlex. We are asking people to pay Rs 249 for the whole family and watch the film at home, which is effectively the price of one multiplex ticket, with none of the trappings of popcorn, cola and parking.
Wherever theatres in India are open, we have offered the film to them. Internationally, Radhe will release in almost 40 countries across 500 centres. In countries like Canada where theatres are not open, we are offering the pay-per-view model. UAE has already opened advance bookings and that's looking quite healthy. The UAE GEC is a large market for Salman's films and we are hoping that the energy of the theatre audience there spills over across the world. The Seeti maar track has been the fastest ever to cross 100 million views on YouTube. There is pent-up demand from a large part of the 1.3 billion population, who are not unwell or are not involved in critical care, sitting at home and simply glued to their screens.
I am pretty intrigued by the fact that you have priced a ticket of Radhe lower than what you had for a ticket of Khaali Peeli...
(Laughs) You caught that well! When we launched, there was no benchmark pricing for this model. As data started coming in and we have also done a fair amount of consumer research since then, we thought that
Rs 249 was a better price. Salman's fans are the single-screen mad audience and the price of a ticket in a B-town single screen is just about Rs 100. We are also cognisant of the fact that people's economic condition may not be as good as it was even at the end of the first lockdown.
The national multiplex chains like INOX, PVR and Cinepolis are now mostly closed, but they have been pretty vocal about the fact that they will not accept a hybrid release, no matter how big the film is. What is it going to take to make them receptive to this format?
They are all my friends and I have great regard for all the multiplex chains. But somehow, they seem to be very fixated on some ideas which, given the way the market is moving and the way the ground realities are, is not something to be so rigid about. That is also one of the reasons why nothing came out in theatres between Suraj Pe Mangal Bhari and Roohi. I think we lost a great window of five months to release films in theatres.... Everyone is so fixated on terms and conditions... we won't allow this, we won't allow that....
As an owner of content, I can monetise it through different channels. I can push a release by a few months and the only cost for me will be the interest and the holding cost. But for multiplexes, for each day that they don't have enough people coming in, there is a loss of revenue that can't be recovered. These are fights that are going on with multiplexes for years, though they were kind enough to make some allowances. But a lot more needs to be done.
A lot of big movies came on OTT in the last 12 months... the uncertainty is just too much for anyone to bear after a certain period of time. But till the time theatres open again, there is really no point discussing what can be done and what should be done. It's important to get confidence back into theatre-going and for that, one needs content to release regularly in theatres. Everyone is stuck... a give-and-take has to happen.
Depending on when theatres open, safe to say that this will be the model for all your films going forward?
Absolutely! We are a listed entity... we have TV channels and OTT platforms, which need content. That can't stop. You can't have a vacuum of no films releasing. There will be a streaming platform/ pay-per-view model release of many films this year. One can't live on a strategy of hope. And we also have to remember that to release a big film in a theatre, we need all theatres to be open at minimum 50 per cent capacity. No one has any idea when that will happen. We will do our math and multiplexes will do their math. And at the end of the day, we will all do what works best for us.