Debutante Sharmin Segal on 'Malaal'
The actress talks about what it felt like growing up around stars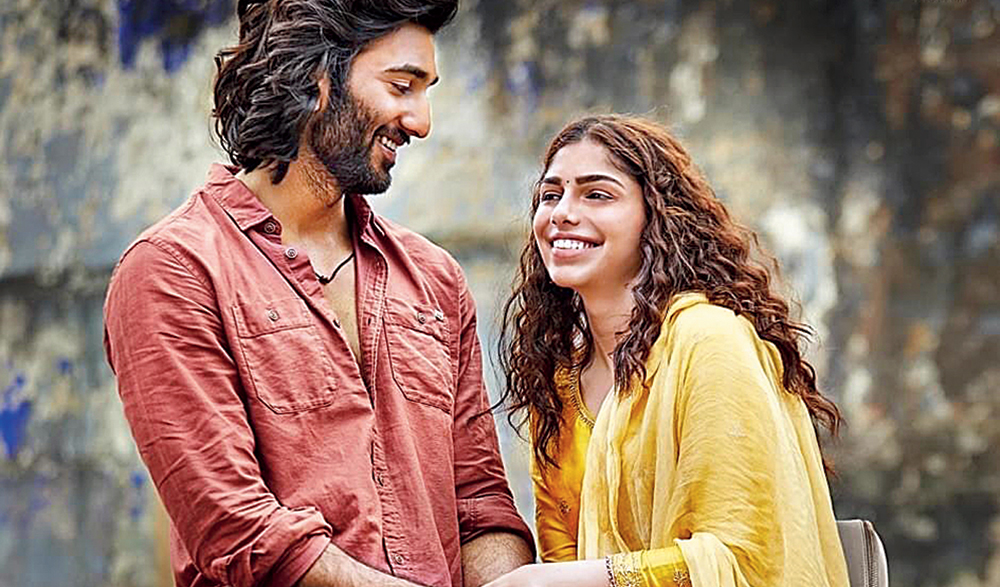 ---
---
She is the daughter of editor-director Bela Segal and director Sanjay Leela Bhansali's niece. It's no wonder then that Sharmin Segal has spent a significant portion of her young life on film sets. With her debut film Malaal, with Jaaved Jaaferi's son Meezaan, all set to release this Friday,
The Telegraph met up with the young debutante in her uncle, and now producer's office in Juhu. With a plate of milk cake and motichoor laddoos — "I am addicted to mithai. There are days when I wake up craving laddoos and I have to wait for the neighbourhood mithai shop to open," she tell us — that are both lunch and dessert next to her, we sat down to talk about why giving up on college was the right decision for her and her friendship with Meezaan.
Salman Khan recently shared a photo of you from the sets of Hum Dil De Chuke Sanam. Did you spend a lot of time on the sets of your uncle's films?
(Laughs) When I was very young, yes. My earliest memory was of just cutting birthday cakes on film sets. That picture that Salman posted is from Hum Dil De Chuke Sanam. I remember there were two fruit marzipan cakes and it was my birthday. I remember being obsessed with Aishwarya (Rai Bachchan) on the sets of Devdas. Sanjay Sir put me on Shah Rukh's (Khan) lap when it was time for me to cut the cake but I wanted to sit on Aishwarya's lap.
As I got older, I stopped going to the set because I wanted to become a doctor. Also, I was putting on weight and this industry isn't very kind to overweight people... they look at you all funny. I remember hanging with Sonam (Kapoor) from the time she was assisting on Black and she would feed me Dairy Milk chocolates... she'd get me a whole tray! I'd sit on her lap, play with her belly ring and eat Dairy Milk.
When did you realise that you wanted to become an actor?
I wanted to be a doctor till I was 16-17, a brain surgeon. Thankfully, I didn't because people would have died! (Laughs) When I told my mother about wanting to be a doctor at 15, she said do whatever you like but she also said that she thought I'd want to direct films. In school, I had to take theatre as a subject. In theatre, there were two boys (including Meezaan Jaffry, her Malaal co-star) and seven girls. For every play, some girls would have to play male characters and I was always picked first for those. At 17, I weighed 94 kg and was always the hero's sidekick.
During the first play, I remember looking out into the audience and seeing people laugh. I realised that I could make people laugh and that was an incredibly powerful thought. That's when I got interested in acting. When I told my mother, she was supportive but she told me that I'd need to lose weight, otherwise I'd get stereotyped.
After school, you decided to start assisting your uncle?
I initially took a gap-year during which time I started assisting on Mary Kom. My uncle was making Ram Leela at the time. When he started work on Bajirao Mastaani is when I asked him if he could teach me. I didn't think he'd say 'yes' but he did and gave me the whole costume department to handle. I had got through to Emerson College in Boston but I figured I could learn everything I needed right here on the sets.
So you haven't trained as an actor?
No, no… after I finished Bajirao Mastani I went to Lee Strasberg in LA. Everything I had learnt on Sanjay Sir's sets only enhanced what I was being taught in acting school.
Meezaan and you have been friends since school. Did that help when you were going through the emotional and challenging experience of making your first film?
Meezaan and I are intrinsically very different people even though we've known each other for really long. Our end goal is the same but our approach to life and the way we are on a film set is very different. I'm loud, outspoken, rude and opinionated. He's quiet, doesn't speak what he actually feels, he's confusing to other people. It's very difficult to decipher what is actually going on in his head and on some levels it's a disadvantage but on others, can be an advantage too. On set, that dynamic worked because we've been friends for such a long time and I know he's like that... and he knows I'm like this. So we know when to support each other and when we need the other person to just say, 'Listen, breathe'.
Was it weird to romance him?
(Laughs) Noooo! There was a comfort level because we've spoken to each other so much over the last seven years, looking into each other's eyes and talking, going to theatre class together, eating Oreos together, going to his house and eating kebabs. It's been a really long journey to where we are today and while we'll go our separate ways after Malaal comes out, he'll always be a very prominent part of my life.