Debutant director Manish Mundra and newcomer Pooja Pandey on their film Siya
Set in small-town India, the movie depicts the difficult but courageous journey of a rape survivor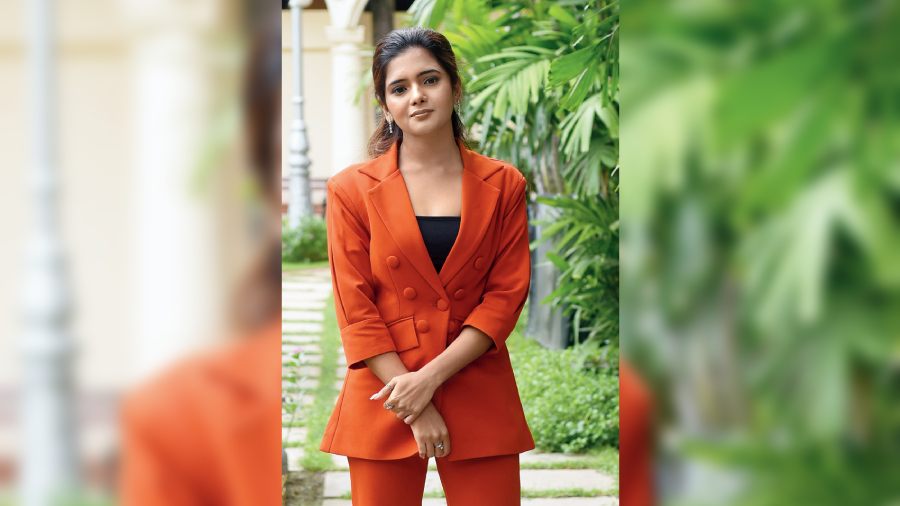 Pooja Pandey at The Oberoi Grand
---
Published 15.09.22, 06:10 AM
|
---
Producer Manish Mundra — the man behind films like Masaan and Newton, among others — turns director with Siya. Set in small-town India, the film, named after its protagonist played by newcomer Pooja Pandey, depicts the difficult but courageous journey of a rape survivor who fights to bring her perpetrators to justice.
Last week, Manisha and Pooja were in Kolkata to promote their film, which releases in theatres this Friday. The Telegraph caught up with the two at The Oberoi Grand for a chat.
What was the starting point for Siya?
Manish Mundra: I always wanted to make a film on the fighting spirit of a rape survivor. When I was researching the subject, I came across three-four cases of rape, and they all had a common thread to them. That there is a powerful mafia and a powerless victim. The exploitation of the victim takes place and once that happens, they try and silence the survivor and her family either through a job, money or even the promise of marriage. If they cannot silence them, then they make life miserable for the survivor.
Sometimes, the survivor even has pressure from the family to keep quiet and even inherent fear. When some of them decide to fight, like Siya does, then the road to justice is more difficult and painful, And that's what Siya is all about. We took a lot of those cases and combined them and made Siya. Siya depicts strength and courage.
The first thing that struck me  when I watched Siya is how effectively you have used silence in the film. What were the biggest challenges of doing that?
Manish: My objective in making this film was very clear from the beginning. We decided we wouldn't use any cuss words. Nowadays, it's a norm that if you're making film like this, there will be filthy cuss words, alcoholism....
Also, I didn't want show things that which would drag the whole idea, I wanted to keep it very, very tight and very moving. Every scene takes the story forward.
I didn't want my protagonist, Siya, to speak much. Mostly in our films you will see that if a girl is a victim, if she has gone through a harrowing incident, she will cry and scream.... I said, 'No, in normal life, a rape survivor will mostly withdraw, will mostly go silent. I felt her pain would be felt more if her silence was elaborated. That's why I have kept the tone very subtle... and hence more visual.
Pooja, how did you manage to convey Siya's pain, angst and your eventual power through silence without relying on other cinematic crutches?
Pooja Pandey: The challenges were manifold. When I  heard the script from sir (Manish), I immediately got the feel that this is a painful, dark and sensitive subject. I needed a lot of patience to play Siya, as well as a lot of mental stability. It took me a lot of time
to get into the skin of the character and even more time to get out of it. There were huge challenges in playing her... par mazaa bahut aaya. As a first film, did you have any apprehensions of taking on a part as dark and difficult as this?
Pooja: The abduction scene (before Siya is raped) was very difficult....
Manish: We shot it over four days and that was a very harrowing period for her.
Pooja: Yes that was difficult, but the film, as a whole, is very disturbing. 
Manish, how did you walk the tightrope of not sensationalising the subject and yet focusing on striking an emotional chord within the audience?
Manish: I never wanted to sensationalise the subject. I wanted to depict the overflow of human emotions when someone is wronged. And then the whole idea of how that person gathers courage to stand up and fight. Then, when they take that decision, how does the family react? Because of the limitations they have in terms of economic worth and energy, in terms of social norms and how the people around would react....
I wanted to always stay within that arc and make a film that hits the viewer without screaming from the rooftops. The idea was to convey her pain and also make the viewer empathise. I hope Siya creates a movement and many more Mahendars (played by Vineet Kumar Singh, who supports Siya in her quest for justice) are created. What impact do you think cinema has on influencing the viewer into taking action? In your case, you are hoping that the larger message of Siya influences people, but we also see adverse effects of this impact in terms of the recent boycott calls that many Bollywood films are facing....
Manish: Cinema has been and will always be an important part of our society. Cinema has a role for entertainment, cinema has a role for knowledge-sharing, cinema has a role for communication. So many great documentaries have brought about changes for the better.
Cinema actually reflects what society is going through, and society's happenings also reflects back into cinema. There is a dual relationship of cause and effect.
As for boycott, my take is different. I feel that the audience is frustrated with the quality of cinema Bollywood is making. With the advent of international options, the audience is realising that what we have been watching all along has been very sub-standard.  Boycott is a form of anger... they want to give it back to film-makers that 'Guys, if you don't change, if you don't bring content-driven cinema, you will not be appreciated.'  Film-makers should look at this as a challenge, go back to the drawing board and create content which is world-class, which is more conducive to the taste of the audience.
Was there always the idea that Siya would be a theatrical release? This would have had a larger reach as a release on a streaming platform?
Manish: As a producer, I have always released my films in theatres. That's been the ritual. We only released Love Hostel (starring Bobby Deol, Vikrant Massey and Sanya Malhotra) on OTT because cinemas were closed at that time. But the other 12 films I have produced so far, we have taken them to the theatres.
Siya focuses on a harrowing incident, but the last shot of her twitching her leg is one that brings on hope. Is that the abiding message of the film?
Manish: I don't want the film to have just one message. I just wanted to make this film with diligence and without judgment and then let the audience come up with their own inferences. Unlike many films made in this genre, my film doesn't throw data regarding rapes and rape survivors at the viewer. I didn't want to preach.
As a film-maker, I didn't want Siya to die at the end of the film. But because one can't continue the film endlessly, that last kick on the hospital bed shows that she's coming out of coma. I want my Siya to fight, I want her to stand up....
Location: The Oberoi Grand
Pictures: B. Halder