De De Pyaar De a misogynistic film
What makes part of the film bearable is the presence of Tabu who brings in both dignity and sanity to the film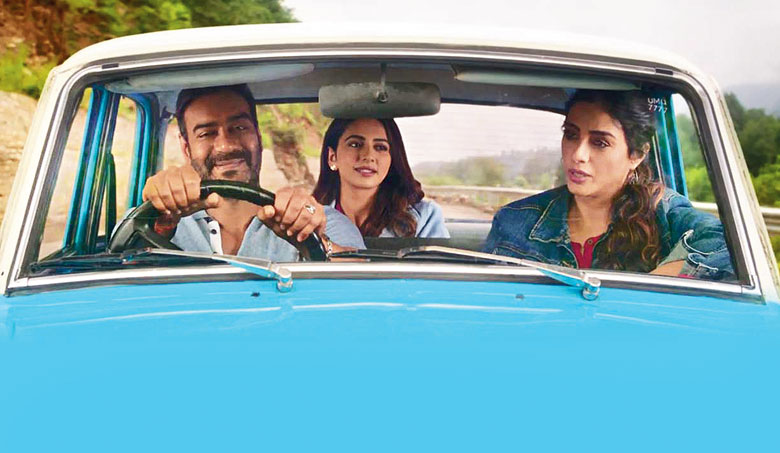 ---
---
De De Pyaar De is a misogynistic film thriving on male entitlement and mansplaining that masquerades as a romantic comedy and a social drama. Coming from the stable of Luv Ranjan — the man who's made misogyny a golden ticket to the box office with his Pyaar Ka Punchnama films and last year's mammoth hit Sonu Ke Titu Ke Sweety — De De Pyaar De attempts to bring on the laughs with ageist jokes and sexist jibes and then tries to tease a tear through a plot that says, directly or indirectly, that a woman may hold fort for years and fire-fight at every step but a man who abandons home and hearth just needs to set one wrong right to be forgiven, no apologies asked.
To his credit, Ranjan, who does producer-writer duties and hands over the directorial reins to debutant Akiv Ali, doesn't bash women here as in his previous films. De De Pyaar De starts off as a romance, and in an industry obsessed with making its 50-plus heroes act like 25-year-olds, actually casts 50-year-old Ajay Devgn as a 50-year-old divorced father of two who falls in love with a woman 24 years his junior. Aisha (Rakul Preet Singh), an engineer who moonlights as a bartender in a London pub and Devgn's Ashish, a venture capitalist who doesn't seem to do much other than look bored in boardrooms, keep meeting through the first hour, with him dropping lines like "I don't pay for sex" and
"I don't sleep with drunk women" and she trying to hook him with "Hot toh main hoon" and "Mujhe daaru pasand hai". And though Devgn plays his age, the film is determined to show us that he's not just any other 50-year-old — Ashish is a biker dude in body-hugging tees who hoists his shirt up one too many times to offer a peek at his abs.
Ashish and Aisha eventually fall in love, with the age difference between the two giving Ranjan and his co-writers the liberty to come up with every age-old ageist joke in the book, with the intention of mining laughs. Some of the jokes land, especially in the breezy first half, but most of it comes off as pretty tasteless, especially in a sequence in Half Two when an entire conversation revolves around comparing the "old wife" to an old car that breaks down often and requires maintenance and the "new girlfriend" to a new car that's swank and sexy.
The wife, in this case, is Tabu's Manju, who has brought up her two children single-handedly after being abandoned by Ashish, but continues to live with her in-laws. Ashish brings Aisha along to meet the parents (and the wife and kids), and then ensues a purported comedy-cum-tearjerker in which he tries to win over his family while holding on to his girlfriend.
De De Pyaar De clocks 135 minutes, but the film feels very long, especially in the second half. Many scenes play out in a loop and what starts off as a story about love triumphing against all odds degenerates into a game of one-upmanship between the wife and the girlfriend. What makes part of it bearable is the presence of Tabu who brings in both dignity and sanity to the film. Her comic timing is also a #win, particularly in that one scene featuring her and Devgn in a dream sequence with the Vijaypath number — the 1994 film in which the two starred opposite each other — Raah mein unse mulaqat playing out.
In contrast, Rakul Preet is a bit rough around the edges but has charming screen presence, with Devgn looking largely disinterested as the film falls apart around him. Much of De De Pyaar De's genuine laughs come courtesy Jimmy Shergill who plays a smitten yet luckless lover once again.
Misogyny sells and De De Pyaar De will probably laugh its way to the bank. But is this the kind of film we should really be endorsing? With or without Alok Nath in the casting credits.