'Cricket will always be my first love' — Saqib Saleem
A fit like a glove therefore is Koovs' World Cup-inspired special curation called #KOOVSBLUEEDIT for which the actor shot in Glasgow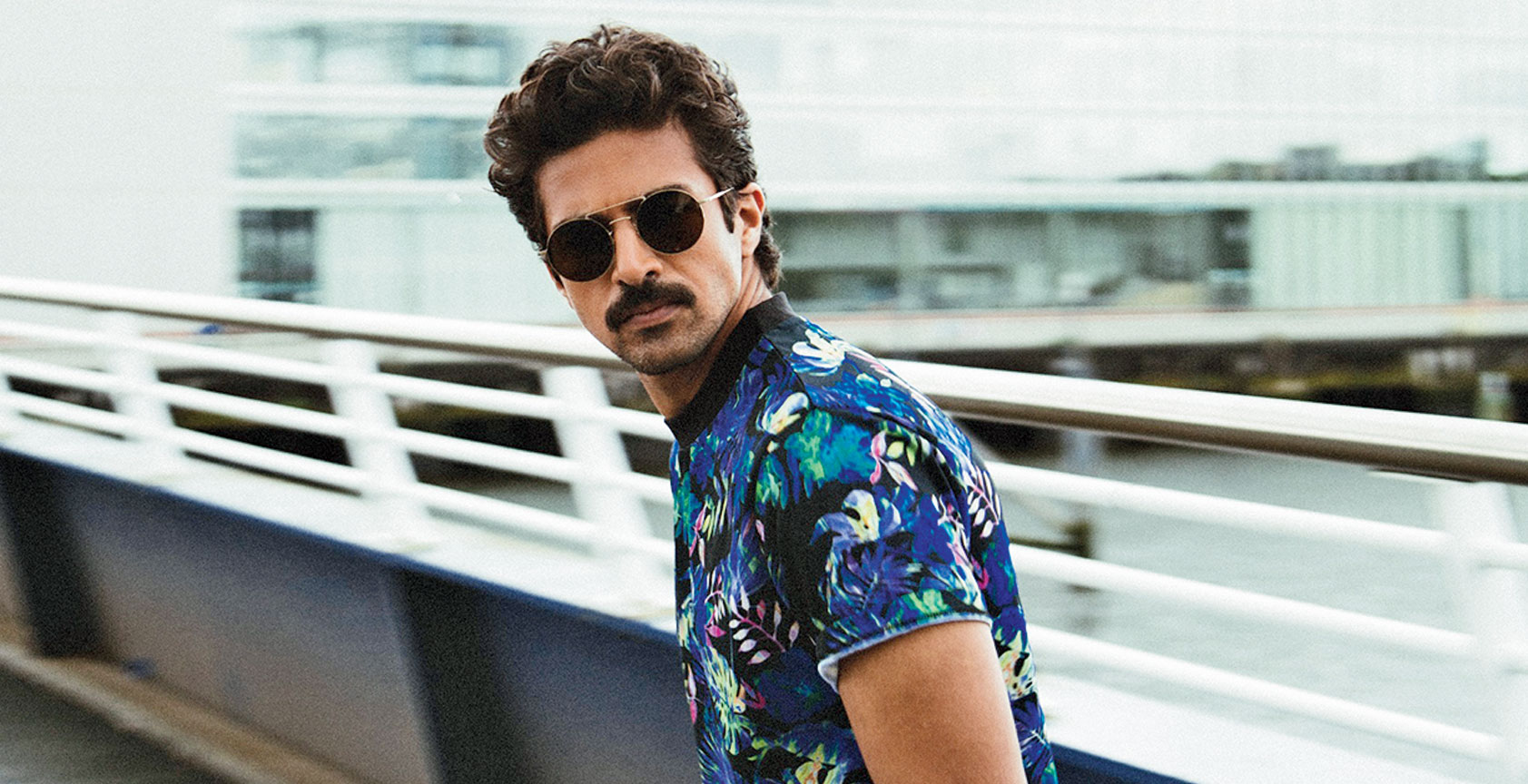 Saqib Saleem in #KOOVSBLUEEDIT
(@saqibsaleem)
---
Published 09.07.19, 02:11 PM
|
---
Scroll through Bollywood Talkies actor Saqib Saleem's Instagram or Twitter feed and you'll get a glimpse of the rollicking time he is having on the sets of Kabir Khan's 83 and also catching the World Cup live. A fit like a glove therefore is Koovs' World Cup-inspired special curation called #KOOVSBLUEEDIT for which the actor shot in Glasgow. t2 caught up with Saqib, who plays Mohinder Amarnath in the film that aims to chronicle the journey of the Indian cricket team led by Kapil Dev to the pinnacle of world cricket, when the dark horse of a team claimed the holy grail of cricket — the World Cup. Excerpts from the email chat... The Koovs campaign is stylishly rugged. What are your favourites from the collection?
I absolutely love the graffiti jacket and the blue camo jacket. Those two looks were my favourites from the shoot and I loved how they looked.
That Mohinder Amarnath moustache is adding to the look! What are you loving about your look?
The first time I kept the moustache was for Rangbaaz (a ZEE5 original web series) and I started liking it. Yes the moustache does add to my look, but right now it is not about the look, it is trying to become Mohinder Amarnath and if you need a moustache for that, so be it. And I am liking it and I hope when people see the whole look they'll also like it.
You are quite a natty dresser, but someone who likes to keep it casual. What are we most likely to find in your wardrobe?
I am a natty dresser… okay! When you open my wardrobe you will only be finding a lot of shoes. I love my shoes and I keep updating my shoe wardrobe with new collections. Now I am in the UK, so I am going to be picking up a lot of shoes from here.
What's an all-time favourite look for you?
A leather jacket with a white T-shirt and blue jeans. It never goes out of style. What would you wear for comfort?
I am a boxer-and-ganjee guy when I am home alone playing with my dog, so ya that's what comfort is for me.
What would you wear for style?
I would wear anything for style. I would love do be stylish, very well turned out as it is very important to me while I am making an appearance that I look good. Not only because I am an actor, but because I enjoy dressing up. So I could wear anything, whether it is a tuxedo, a well-fitted Italian-fit suit... so ya anything for style.
What would you never wear?
I don't think I can wear a skirt. I see pictures online of guys wearing them and it looks cool on them, but I don't think I can pull it off.
You are shooting with indie style king Ranveer Singh (who plays Kapil Dev). What do you love about his sense of fashion?
I love the way Ranveer can pull off loud colours.
What will you binge buy?
Shades. Besides being trained by Mohinder Amarnath, to perfect his actions, what else about his mannerisms have you had to master?
The preparation has been very interesting so far. We have tried to get Jimmy Sir's mannerisms, body language and have also brushed up my Punjabi language skills for the role. I am from Delhi, but Jimmy Sir is from Punjab. Therefore there is a slight difference in the dialect. Also, I had to lose a lot of weight and put on a lot of muscle for this specific role; for Rangbaaz I had put on weight to play the gangster and for 83, I had to lose all that weight. The journey has been fascinating so far and I'm hoping that when the film comes out on April 10, 2020, people watch and say that this person has worked hard.
Your social media posts reflect what a great time you are having on the sets of 83! It looks like super fun, but we are sure there is a lot of hard work too. Tell us about both…
The prep has been interesting so far with the team. We tried and are trying to get the mannerisms, body language and dialect of the actual '83 team, which, yes, is hard and we are putting all our efforts to get it right.
I think we are a fun bunch. We are having a great time pulling each other's leg, hanging out and shooting this film. It just feels like a school picnic, all of us together eating from each other's plate, having fun, pulling a prank on one another. So yeah, we are working really hard and having a lot of fun too.