Creed III, Triangle of Sadness, The Eternal Daughter, InCar, Taranga: Films releasing this Friday
Triangle of Sadness has been nominated for the Best Picture category at Oscars 2023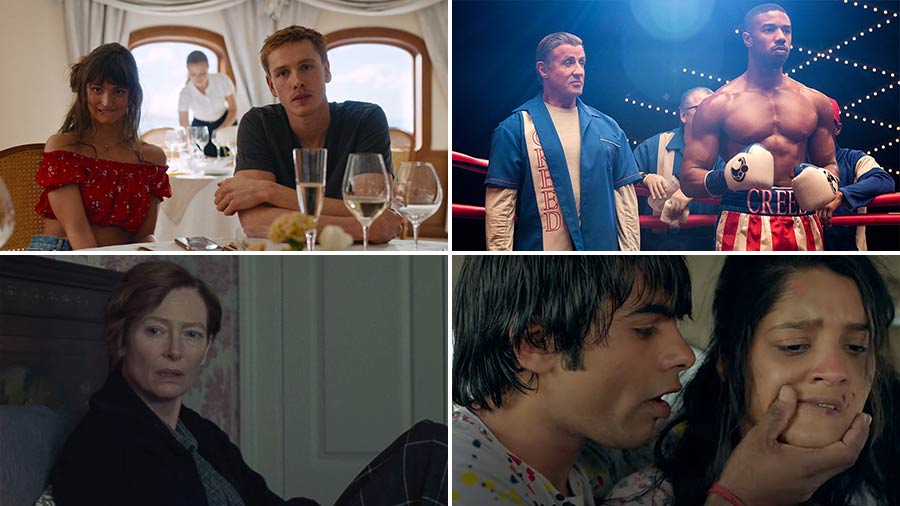 Stills from Triangle of Sadness, Creed III, The Eternal Daughter, InCar
IMDb, Facebook
---
Calcutta
|
Published 03.03.23, 09:22 AM
|
---
Five new films, including a sports drama, a mystery thriller, a black comedy, a social drama and a moving tale of survival, are going to hit the theatres today. Here's all you need to know about the Hindi, English and Bengali movies releasing on March 3.
Creed III (English)
Directed by: Michael B. Jordan
Cast: Michael B. Jordan, Jonathan Majors, Tessa Thompson and Canelo Álvarez
In his first directorial feature, Michael B. Jordan plays Adonis Creed. The sports drama takes off after the events of Creed II. Despite enjoying a thriving career and family life, Creed's dominance in the boxing world is challenged when Damian (Jonathan Majors), his childhood friend and a former boxing champion, comes out after serving prison time. The former friends face each other in the boxing ring, but their tussle becomes more than just a fight. Creed puts his future on the line, while Damien has nothing to lose.
Triangle of Sadness (English)
Directed by: Ruben Ostlund
Cast: Harris Dickinson, Charlbi Dean, Vicki Berlin and Dolly De Leon 
Influencer couple Carl (Harris Dickinson) and Yaya (Charlbi Dean) are invited to a luxury cruise ship so that they can promote their experience on social media at the beginning of this survival drama. They are joined by a group of wealthy people who enjoy the luxurious experience on the cruise, oblivious to the toils the staff of the ship have to go through. The staff have a harrowing time fulfilling the absurd requests of the guests. The situation takes an unexpected turn when the ship was hit by a storm and suffers a pirate attack. Only a handful of guests and staff manage to escape and take refuge on an island where they struggle to survive.
The Eternal Daughter (English)
Directed by: Joanna Hogg
Cast:Tilda Swinton, Joseph Mydell and Carly-Sophia Davies 
Tilda Swinton plays the dual role of a mother and her adult daughter in this Gothic mystery drama film. After the death of her father, Juli (Tilda Swinton) takes her mother Rosalind (also played by Swinton) to a remote hotel in order to spend time with her. She is a filmmaker and wants to make a film about her mother. The hotel, with only a receptionist (Carly-Sophia Davies), happens to be Rosalind's former home where she had to go through terrible experiences like a miscarriage. On Rosalind's birthday, Julie prepares a cake, but her mother refuses to eat. This prompts a war of words between the mother and daughter, revealing a shocking secret. 
InCar (Hindi)
Directed by: Harsh Warrdhan
Cast: Ritika Singh, Manish Jhanjholia, Gyan Prakash, Sandeep Goyat, and Sunil Soni
Set in Haryana, InCar is a thriller that tells the story of a girl who has been kidnapped by four men and abused in captivity. National Award-winning actress Ritika Singh plays the lead role in the movie alongside Manish Jhanjholia, Gyan Prakash, Sandeep Goyat, and Sunil Soni. The girl makes several unsuccessful attempts to break free and still waits for the perfect opportunity to escape.
Taranga (Bengali)
Directed by: Palash Dey
Cast: Sohini Sarkar, Badsha Moitra and Ranojoy Bishnu
Sohini Sarkar's Sohag and Badsha Moitra's Avijit are a married couple in this social drama. Their life is turned upside down when Avijit is diagnosed with a malignant sore in the liver. Unable to cope with the medical expenses, Sohag decides to take up a job. Her friend Rajiv (Ranojoy Bishnu) offers her an opportunity to work with local handicraft artisans in Purulia. However, Sohag confronts various layers of corruption during her stint in Purulia and finds out that Rajiv is reluctant to take any action to improve the lives of the artisans. Meanwhile, Abhijit's physical condition worsens. A disheartened Sohag decides to quit her job.