Creed II is a solid and satisfying experience
Underneath the boxing epic is a warm, poignant hangout with a young couple and the elders who watch over them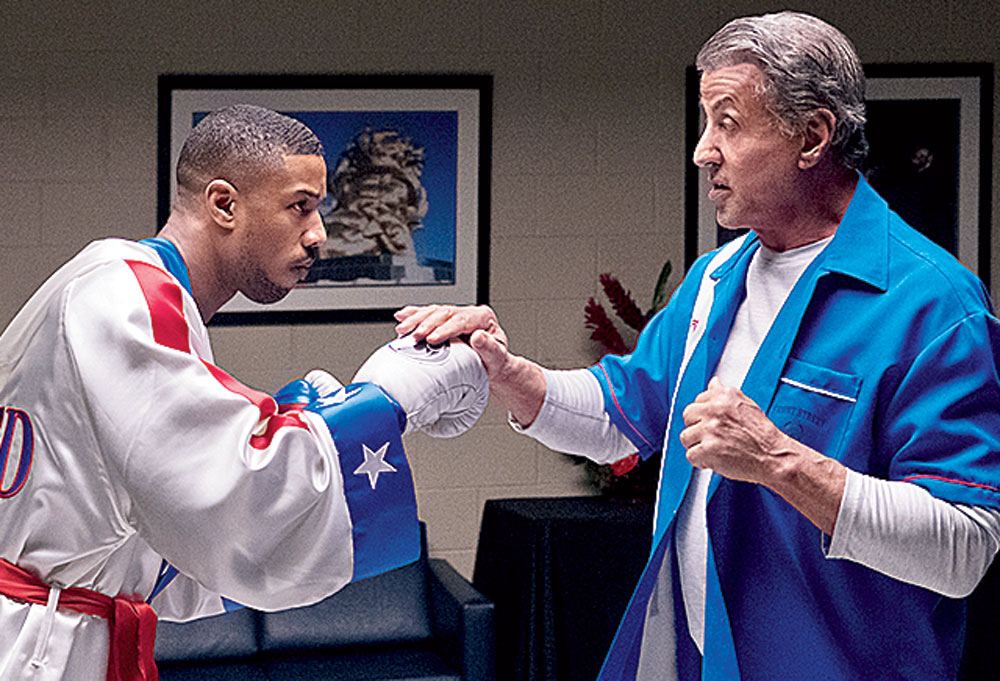 Michael B. Jordan and Sylvester Stallone in a scene from Creed II
A still from the film
---
Published 29.11.18, 05:57 PM
|
---
Creed II affirms two great truths of our pop-cultural moment: that Michael B. Jordan is currently the ascendant American male movie star and that the revived, revised Rocky franchise — focused on the trials and triumphs of Adonis Creed, Rocky Balboa's protege and the son of his long-departed friend and rival — is the only heroic Hollywood multisequel narrative worth caring about.
A few years ago, before Creed, both of those assertions might have sounded ridiculous, but Jordan's charisma in the title role, Ryan Coogler's directing chops and Sylvester Stallone's audience-pleasing instincts turned out to be a revolutionary combination. Tessa Thompson's blend of regal self-possession and emotional directness as Adonis's girlfriend, a musician named Bianca, didn't hurt either.
The first Creed remade the first Rocky — a scrappy '70s white-backlash melodrama — as a fable of black excellence and embattled masculinity for the 21st century, and immediately joined it in the pantheon of fistic film classics.
Coogler moved on to direct Black Panther, bequeathing Creed II to his USC classmate Steven Caple Jr. Like Coogler at the time Creed was released, Caple was in his late 20s when he took the job, with one feature (The Land) to his name. That name should get a lot bigger now. Creed II is a terrific movie, a boxing picture full of inspired sweetness and shrewd science that honours the cherished traditions of the genre while feeling like something new and exciting in the world.
It's no coincidence that the tensions between past and present — between fathers and sons, between the backward pull of family history and the forward drive of ambition — are among the film's main concerns. Adonis, having proven himself worthy of his father's name and Rocky's avuncular devotion by fighting hard and losing well in Creed, now faces a different, more complicated array of trials. After ascending from challenger to champion (as we knew he would), he proposes to Bianca (also not a surprise). Now he must figure out what kind of a fighter — and what kind of a man — he wants to be.
The catalyst for his identity crisis is a Ukraine-based brawler named Viktor Drago (Florian Munteanu, an actual boxer). If you saw Rocky IV, you'll recognise the surname, and also the granite visage of Viktor's father, Ivan, played in that movie and this one by Dolph Lundgren. If you missed or forgot the '80s, when all that happened, the Creed II script (by Stallone and Juel Taylor) will remind you that the elder Drago, once a fearsome product of the Soviet state athletic system (with a fearsome wife played by Brigitte Nielsen), beat Apollo Creed to death in the ring. Rocky subsequently thrashed Drago in an epic, climactic grudge match. In between those bouts, there was a lot of Cold War chest-thumping and perhaps the greatest and silliest of all the Rocky training montages.
Through Viktor, who he has raised to be a ruthless pugilistic machine, Ivan seeks payback for the payback. With the help of a wily promoter (Russell Hornsby), the Dragos bait Adonis into agreeing to a title fight. Rocky, whose words of wisdom drift along the spectrum from Confucius to Yogi Berra ("sometimes when you want to make a change, you have to change things") has his doubts.
What follows more or less tracks the plot of Rocky IV. Adonis doesn't literally die, and Rocky doesn't step into the ring to avenge him, but the arc and the archetypes are respected as the champ undergoes a spiritual death and rebirth in a moral universe where sacrifice and redemption go hand in glove.
The bonds and reminders of family are everywhere. Moving from Philadelphia to Los Angeles, partly so Bianca can pursue vaguely defined career opportunities of her own, she and Adonis spend more time with his mother, Mary Anne (Phylicia Rashad). When Rocky steps back from training, Adonis reaches out to Duke (Wood Harris), whose father was always in Apollo's corner. Rocky's estrangement from his own son, Robert, hangs over the movie, part of its weather system of loss and regret.
Those are crucial features in the Creed universe. The chance to revisit the geopolitics of Rocky IV in light of current Russo-American relations has been (wisely) passed up in favour of more personal concerns. And from the beginning, the Rocky movies at their best have always embraced the power of defeat. Rocky lost to Apollo in Rocky; Adonis lost to whatshisname in Creed.
Losing doesn't make you a better person. It makes you a person. The cruelty and tragedy of the Dragos lies in their denial of this fact. Ivan, after Rocky beat him, suffered a kind of living death, stripped of his dignity and identity by a pitiless system. He has brought up his son in a private version of that world, teaching the younger man that if he doesn't win, he's nobody.
And who, meanwhile, is Adonis Creed? Jordan and Caple explore that question through a series of loose, mood-driven passages that highlight Adonis's loneliness and uncertainty as well as his discipline and decency. Though he doesn't quite achieve Coogler's balance of poetic intensity and laid-back naturalism, Caple proves to be both a capable fight choreographer and a deft orchestrator of emotions. The climactic fight arrives on a tide of feelings and ends with a flood of tears.
On the way, it's the moments of intimacy, pain and humour that make Creed II a solid and satisfying experience. Underneath the boxing epic is a warm, poignant hangout with a young couple and the elders who watch over them. It looks like a popcorn movie, but it's Thanksgiving dinner.