'Like in football, cinema can throw a curveball at you from any corner'
Creative producers Rohan and Aritra on the film Tiki-taka, football being their second love and Parambrata being a 'decent goalie'!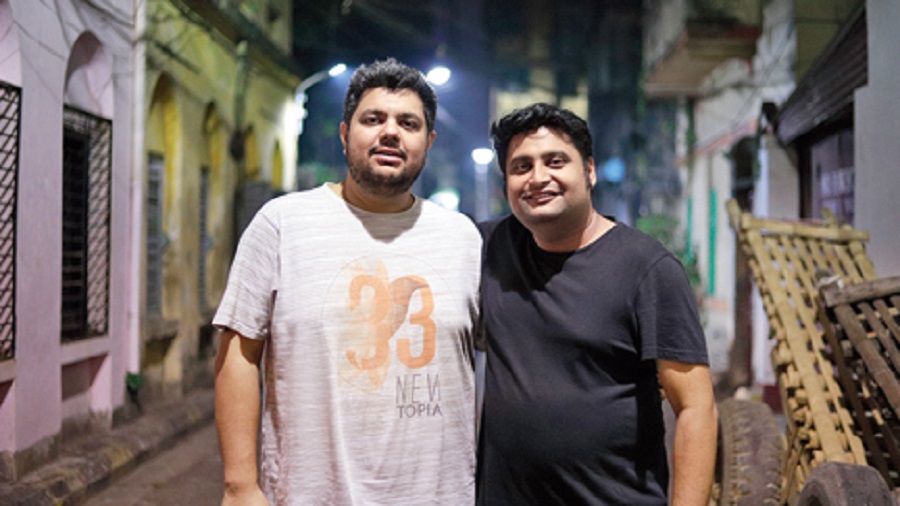 Aritra and Rohan
Sourced by the Telegraph
---
Published 11.09.20, 09:40 PM
|
---
A resourceful taxi driver (Raju) who has his heart in the right place. An African boy (Khelechhi) who comes to Calcutta but is mistaken as a footballer, and as fate would have it, he has to play the game to save his life. A journalist (Bonnie) who cannot find an inspiration to report something sensational until she stumbles upon Raju and Khelechhi. The lives of these three characters — and more — intersect in Parambrata Chattopadhyay's film Tiki-Taka, which is also about dreaming big and achieving goals. The Telegraph got the lowdown on various aspects of the Zee5 film (starring Parambrata Chattopadhyay, Ritabhari Chakraborty, Saswata Chatterjee) from creative producers Rohan Ghose and Aritra Sen...

Do you follow football round the year?
Rohan: Yes of course, it is literally our second love after cinema. And when we say football, we mean any kind, across nations.
Aritra: In fact, Argentina and our love for it turned out to be the binding factor in our relationship. Sometimes we joke that we wish Argentina lifts the World Cup before we retire.

Who do you support? East Bengal or Mohun Bagan?
Rohan: Now this is where it gets tricky. I am as hardcore a Mohun Bagan fan as you can get.
Aritra: My family migrated to Calcutta during '71. So I guess the answer is clear. This though leads to massive banter amongst us. Partners can turn into bitter foes in minutes.

Are there similarities between watching a thrilling football match and watching/making a film?
Rohan and Aritra: Yes of course. You have a gameplan in hand in both and eventually it comes down to backing your skills. But like in football, cinema can throw a curveball at you from any corner. One must believe in the team to overcome.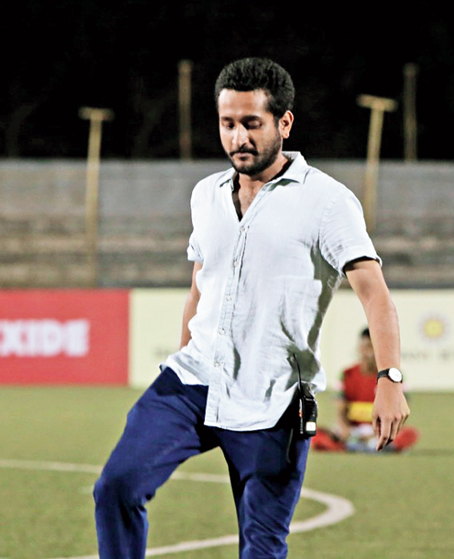 Tell us about your roles as creative producers of the film? How did you all develop/write the project?
Rohan: This is a film I came up with and wrote along with Souvik Banerjee, my dear friend based out of Bangalore, all the way back in 2017. I used to work in advertising then. I remember landing in Calcutta with a bound script and a producer friend of mine, Shouvik Basu, with absolutely no clue what awaited the two of us.
Aritra: And as fate would have it, Rohan came to meet Param to narrate the script. We were making Feluda then at Roadshow. When we decided that Param should essay the role of 'Raju' in the film and would have to spend considerable amount of time in front of the camera, it was destiny I guess that got the two of us together as the creative producers of the film.
All three of us gelled really well along with our excellent team and Ravi Kiran the DoP so that the shoot was the most fun that I had ever. I directed a small schedule in Kenya for the film, which was a one-of-a-kind experience.
What is the storyline of Tiki-Taka?
Rohan: I had always been affected by the latent racism prevalent amongst us Indians. And that is where the genesis came from. When Souvik and I got together we decided if we make it too preachy, the message would get lost. Hence we chose a comic caper form that showed an African coming to Calcutta and living two identities as a comedy of errors unfolds around him being 'A Star Striker' who would grace the Calcutta Derby.

Why change the name from Khelechhi Ajgubi to Tiki-Taka?
Aritra: When Rohan brought us the film in 2017 we shot and finished the film by mid-2018. But for reasons both unfortunate and unwanted, the release was stalled. And when Zee5, given their close association with Roadshow Films (our production house) over the past few years, showed interest, we were happy that the film would finally see the light of the day. Zee5 wanted the film to be run nationally as well hence it was dubbed in Hindi. That's when we felt it needed a name with a wider connect and Tiki-Taka struck. You can watch the dubbed Hindi version as well on Zee5 or watch it in Bengali, just like we made it.

How did you all choreograph the football match scenes?
Rohan: Those were unforgettable seven days. I remember the task at hand was so huge that multiple cameras were set up. Param and us divided the huge climax amongst ourselves and we kept on shooting till we dropped. There were multiple cameras and we were running around to get everything to work in sync.
Aritra: I remember we had to set up the two teams in formations that would allow us the kind of play we needed as per the script. Thankfully our knowledge of the game saw us through.

What were the most challenging aspects of shooting the football scenes?
Rohan: (Laughs) To get footballers to act and actors to play. Emona (cast member) was auditioned multiple times and one of the foremost reason he was cast was that he could play quite well.
Aritra: It would get tedious for non-actors to redo the same thing over and over again. And given how sports need to be shot, especially the high points, it was quite a challenge indeed. That Paramda had made a film like Lorai, which was football heavy, helped us immensely. It was truly a team work.

What kind of visual effects were used for the football match scenes?
Aritra: Extensively. I remember a massive number of extras were employed to reduce the need for special effects and make it more organic. But despite that green screens were put up in the galleries and around the playing area for us to recreate the magic of a heated derby.

Did you all get to play football during shoot? Who are the star players among the cast and crew?!
Rohan: Param is a decent goalie. He was stopping penalties for fun. Though on hindsight the ones shooting at him weren't exactly world class.
Aritra: (Laughs) The tables turned when the footballers got in on the act. I remember the floodlights took half an hour to completely shut down. And after shooting for more that 15 hours we still had energy to sneak in a game at 5 in the morning.

Is Tiki-Taka about dreaming big, pursuing your passion, achieving goals and the triumph of the underdog?
Rohan: Yes, one cannot sum it up any better. It literally is all our story. Ours might not play out on the field but the challenge remains the same.

What was your takeaway from the film?
Rohan and Aritra: For us the biggest takeaway was that this film is what got us together as partners and since then we have gone on to create and direct Kaali 1 & 2, Mafia, Sharate Aaj in the last couple of years. For us Tiki-Taka was where RoAr started.

Who is your all-time fave football hero?
Rohan and Aritra: The answer can only be the great Diego Armando Maradona.

Which is your favourite sports film in Bengali? Tell t2@abp.in