Cool about Na-cool
Ghost Stories actor on playing a suicidal person in Prime series Afsos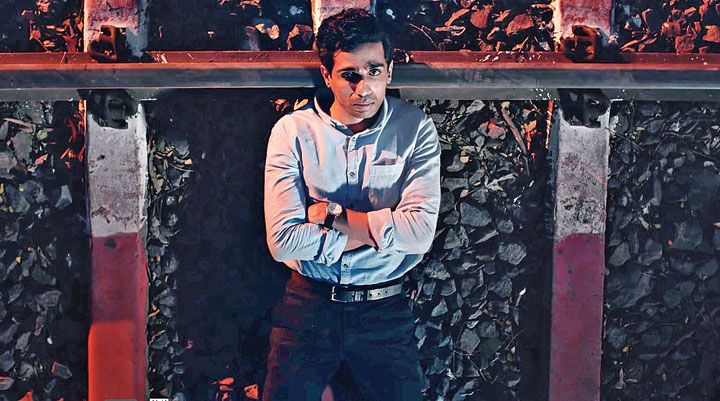 ---
---
Gulshan Devaiah's dark-comedy series Afsos is out on Amazon Prime. Directed by Anurag Kashyap's sister Anubhuti Kashyap, the eight-episode series revolves around Nakul (Gulshan), a suicidal guy who hires an assassin to kill him after 11 failed attempts. The Telegraph spoke to Gulshan on his experience. Excerpts:
How difficult was it to play a person who has lost the will to live and is constantly suicidal?
It's not difficult at all in fact. There were many stages of the script, I heard the concept and we talked a lot about it and pretty early on I latched on to the idea of what it's about. Actually, understanding or not understanding why someone is suicidal is not key to the story. Nakul is a classic case of a person who suffers more because of his imagination than his reality. We all tend to suffer more in imagination than in reality, we exaggerate things that has happened to us. They accidentally chose this guy's name as Nakul, which is very apt because it sounds like 'na-cool'. That's my observation! He's somebody who starts to believe that he is not cool. The story doesn't go into details about his past and why he is the way he is. It's not a character study, like say a Hunterrr, there you needed to see the childhood, background and influences of Mandar Ponkshe (Gulshan's character). But in Afsos, that's not critical. Nakul suffers from insecurities which are mostly self-induced. He thinks he's not capable of anything good but he'll also bathe, he'll shave, he will comb his hair, he'll press his clothes. It's not like he's unkempt.
As an actor, could you try something completely different with Nakul that you've probably never attempted in any of your previous work?
I had more fun shooting this than any other project (laughs). It just seemed like something that's really exciting for me. Rather than the nature of the character, the nature of the narrative was quite intriguing and challenging. It does go bizarre. When I first met Dibya (Chatterjee), Sourav (Ghosh) and Anirban (Dasgupta, writers of Afsos), I told them either this is going to be great or it's going to be f***-all. It's so easy to get excited by something that questions immortality and gets into the mumbo-jumbo territory and you don't know if people will buy into that. They kind of agreed with me and the concept was difficult to pull off as comedy. You're basing it in reality, you're giving this guy a real, psychological problem who wants to kill himself. It's sort of a joke but not really a joke. You go on a tailspin and that was more difficult to pull off than actually playing Nakul. It didn't challenge me in terms of going to places I haven't been to before because it wasn't like a Mard Ko Dard Nahi Hota - those stories are far more physically demanding. That's not what attracted me to this part, that it's going to be difficult.
Then what exactly appealed to you about the script?
I liked the bizarre-ness of it and the degree of difficulty of pulling this one off collectively. Of course I had to be convincing as Nakul and portray the character with as many layers as possible because there's no back story to help you. I had to relate to him. There are some memes going around with a line from the show, 'My life story is so poorly written, mujhe lagta hai ki maine khud likhi hai'. That's very relatable in a meme-sort of a way, not in a serious way. I just had to connect with that and I'm sure that's something everyone will relate to. Not that everyone contemplates suicide, but everyone has had a shi**y time in their life, right? I just had to be honest and truthful and interpret the writing in the right way.
According to you, what's the main difference in acting in a web series as opposed to films?
No difference at all. It's the same kind of cameras that are used, the same set-up, the same crew, the same light. It's very different in television but in this case it's just the same, it's like you're shooting a very long movie. Movies are usually two-and-a-half to three hours long, but a series can go up to six to eight hours. It's like shooting Gangs of Wasseypur Part 1, 2 and 3 in terms of length (laughs). The format is longer, you get more time to tell a story, you can dive into many layers or aspects of some characters. A great example is Game of Thrones where there is no one main character. You choose the character that you like and then it becomes your perspective. A series gives you the flexibility of telling a story in a much longer way and focus more on different characters.
At a time when the Internet is jostling for space with web content, where do you think Afsos would stand out?
First, it's a premier platform like Amazon Prime that's releasing it and that's definitely an advantage as opposed to some other platform where we probably would have to fight a little more for attention. For this to be on Amazon is a great asset. But it is tough because it'll compete within that Amazon library too. That's why it's important that it connects to the people the right way. And that's always a challenge promoting any content for that matter, be it films or web series. There are so many web series in Amazon that's so popular! Like when the Afsos trailer came out, there were comments like, 'This is all cool but where is Mirzapur 2?' This is the first one as opposed to a Mirzapur or an Inside Edge that already has a following. Subsequent seasons become easier to the market because it has a brand value.
How did you prepare yourself to play Nakul?
Most of the time I try to use time to my advantage. When I have time, it means I have more time to think about it and I make it a part of my life. It's like getting up in the morning and brushing your teeth, taking a bath and combing your hair. I keep thinking about what I'm doing and thinking about Afsos becomes a part of my life. I have discussions with the co-creators or random people explaining the story or my character. While doing that, you discover new ideas, fine ways of interpretation. It's not one project to another, I always take time to think about a project. When you have time, you really can ease into it. I had a few months before we started filming Afsos and I could spend a lot of time with the writers and Anubhuti and talk about things.
Are there any funny anecdote to share from the shoot?
I think they've convinced me that there's a stand-up comedian inside me (laughs). I told them a few ideas I had for jokes and they were like, 'These are really good and we will help you to make a 15-20 minute set'. They've really hyped me up. I'm seriously considering it now actually. We were shooting with Zakir (Khan) the other day for his YouTube channel and they gave such positive views. Earlier I wasn't very comfortable and I used to fake the confidence. But these days I'm more settled in. When you're more comfortable, you're more composed and then you can be impulsive.
You were last seen in Dibakar Banerjee's story in Netflix's Ghost Stories. How difficult was it to perform under prosthetic?
It's the toughest thing I've ever done in my life. It's not very apparent when you see it and that's exactly how it should be. People shouldn't have any idea of how easy or tough it is because at the end of the day, we're creating an illusion. That illusion should not be shattered. More than mentally, it was physically very demanding. It was a full-body prosthetic and everything was glued to you and it was icky. It's like you're locked in a small room. I had painted lenses on and I couldn't see properly in low-light conditions. Every few minutes, I was given eye drops so that my eyes don't get dry. It was raining outside and the suit doesn't go well with the rain. It was also a laborious process to go to the washroom. It's ridiculous (laughs).
Do you feel it's the toughest to act in the horror genre?
Yes! To be genuinely scary and not make it campy scary is really hard.
Do you have any personal scary story to share?
I used to be very scared of the dark as a kid. I had no nerves at all. My parents used to bring VHS tapes and invite friends over and watch horror films like The Exorcist which are extremely scary. I wouldn't be able to sleep for weeks after that! I even shifted my bed to near the door so that I could see if anything is coming in. I was extremely scared of the dark growing up, before my teens. Then in 2008, I was in Delhi with my friends where we had gone with a play. We were going to a place for food at 2am. It was in the middle of the city and we all saw this woman in a white sari, make-up and mogra in her hair. She was standing in the middle of the road and it was bizarre. In Hindi literature and mythology, they call this 'mohini' who seduces you. The person looked real, it's not like the foot was pointed the other way! But it was so scary to see this woman in a white sari, white blouse, a smudged red bindi and smudged kajal. We were all scared and we drove past.
Be it Shaitan, Hunterrr, Mard Ko Dard Nahi Hota or even A Death In The Gunj, you have a way of choosing unconventional scripts. Is it a conscious effort?
I think so. I'm a sucker for variety and I feel I can be a part of a variety of genres. I automatically gravitate towards something I haven't done or something that's a bit oddball. The only conventional idea that I ever had was when I was a kid and I wanted to be a cricketer (laughs). But being in the movies is probably the second most conventional idea.
Lastly, what are you currently binging on in the web space?
I'm binging on YouTube videos on this channel called Japanology. I think it's an old TV programme that they've condensed into a playlist of YouTube videos. They take different aspects of Japan like culture, religion, food, quirks and make it into 20-minute episodes. They have the most diverse amount of post-it notes in Japan - for office use, personal use, for kids or specifically designed to put on keyboards. It's really fascinating! I also watch a lot of football stuff on YouTube that gives me insight about games that are coming, transfer news, catching up on matches I missed. I'm a Gooner and my club is currently not doing well. I even have an Arsenal jersey with my name on it and that I really want to flaunt but we are doing embarrassingly bad this year (laughs).