Coming up
It's a totally different space — that's what The Loft has taught Shivika Goenka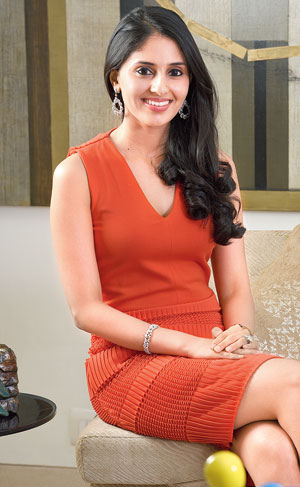 ---
Published 27.07.17, 12:00 AM
|
---
Shivika Goenka, vice president, special projects, Quest, has a whole diary planned for The Loft, a multi-utility space on the 6th floor of the Syed Amir Ali Avenue mall, ahead of the festive season. t2 took down the dates!
So, lots of new things happening at The Loft?
Yes! (Smiles) We have different events happening. First there is this art show which is called Paint Versus Perception. We'll have a preview on July 28 with a select crowd, people who appreciate art. For everyone else, it's on July 29 and 30.
After that, our next event is with Pernia Qureshi. It's happening on August 3. It's like a styling interaction opportunity. Pernia will be present. She'll get to style everyone individually and talk about what suits different body types. It's the first time that Pernia's Pop-Up Shop will be coming to Calcutta. So, we have all the bestsellers that she sells online, plus, her own label. She has also done a new shoe collaboration called X Scentra. It will have different designers that the Pop-Up Shop has. She has launched this new thing called Sketch to Reality (augmented reality online shopping experience). That'll also be displayed for the first time at Quest. I am a big fan of hers. She is style icon and she has done a great job with her website. She is very confident and sure of herself. I have got a couple of things from Pernia's.
After Pernia comes Tarun Tahiliani. He will be coming down and it will be interactive. He was so keen to come back and is constantly buzzing with ideas. His autumn-winter 2017-18 will be on sale. This is happening end-August.
We also have an international label coming in. This will be a two-day pop-up. They really want to come to Calcutta and are keen to come to Quest and The Loft. I cannot disclose too much right now (laughs). That will be in the beginning of September.
Then Casa Pop is coming. It's really fun, cool home products, bags and accessories… trendy and young stuff. Raseel Gujral Ansal will be coming. I went there and really loved their products. I definitely want to bring it here. That is also in September.
I am also looking at food, like getting a masterchef down or may be a pop-up kitchen. It's still in the works. At The Loft too, we are redoing the whole outside space.
How are you mixing it up?
Actually, I was really excited about this art event because I am quite interested in art now. I am finding it interesting. Everyone at home is really fond of art. This is more affordable art. So, it's things which are within people's budgets. It's colourful, young and cool art. It's something you want to put in your office or home if you are decorating. I mean, I really liked it. There will be artists from all over India. There will be sculptures, paintings, installations.... There are different ranges. The artists will be present to explain their work.
What appeals to you when you look at a piece of art?
I like a lot of colour. If it is a little fun and different, it appeals to me. For the art show, I was just looking at really what I like.
Who's hand-holding you through art appreciation?
Mom (Preeti Goenka) and dad (Sanjiv Goenka) are really fond of art. I think I am learning a lot through them. I am developing that different eye now. If it's a little out of the box, I think it definitely appeals to me. I didn't think I would understand about art, but it's interesting.
Have you started collecting?
No, not yet! (Smiles) I think I will pick up from this show.
What are your favourite pieces at home?
(S.H.) Raza… of course… mom and dad are very fond of Raza. The Anjolie Ela Menon piece is also fresh and vibrant.
Do you often go around the house looking at the paintings?
In the beginning I did. Now, I am accustomed to it. (Smiles)
So, whose brains are you picking for The Loft?
I think definitely mom's. She does Stylefile, she is really skilled with all this.
What have you learned from your first event (the opening of The Loft with a Tarun Tahiliani show)?
Working in Calcutta is very different. Planning, logistics, dates are important… starting early is important. I have a diary… what needs to done for an event. It's a totally different space.
@ PERNIA'S POP-UP SHOP (AUGUST 3; 11AM-7.30PM)
Pernia Qureshi
Gaurav Gupta
Neeta Lulla
Surendri by Yogesh Chaudhary
Samant Chauhan
Sonali Gupta
Abhinav Mishra
Priyal Prakash
Opalina
Outhouse
Firdaus
Polki Box
Pernia Qureshi X Scentra
Sanya Gulati
Amaira
Ruhmasa
AT THE LOFT AT A GLANCE THIS FESTIVE SEASON
• An art show
• Pernia's Pop-Up Shop
• Tarun Tahiliani
• Casa Pop
Saionee Chakraborty