Coke Studio Bangla Season One has released their latest musical take and what a groovy number it is! Lilabali has received more than 5 lakh views since it dropped on July 13. The popular folk song themed on wedding has been juxtaposed with another biyebari number, Bhober Deshe Thako Konna, giving music lovers a fusion of both the bride and the groom's worlds.
The two songs together weave a peppy dance number to be played on loop. The song has been curated, composed, arranged and produced by Shayan Chowdhury Arnob. The original versions of Lilabali and Bhober Deshe were written and composed by Radharaman Dutta and Bari Siddiqui. The reprised take has been sung by Rubayat Rehman, Tasfia Fatima, Masha Islam, Karishma Shanu Sovvota, Md. Makhon Mia, Jannatul Firdous Akbar, Sanzida Mahmood Nandita, Armeen Musa and Warda Ashraf.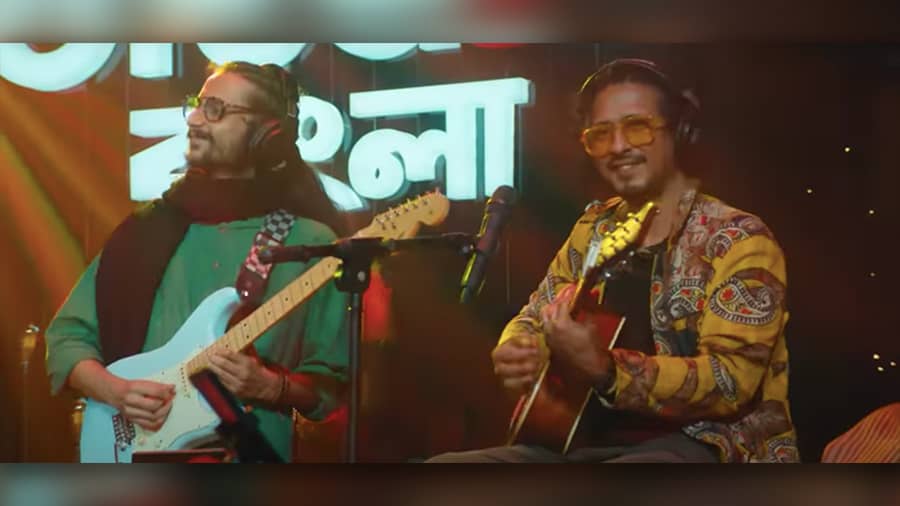 Lilabali is also the coming together of traditional and contemporary music, where the shehnai meets electronic guitar and khomok meets alto saxophone.
Lilabali's "lyrics beautifully encapsulate the many ways a bride is adorned by her bridesmaids and the rush of emotions that goes through each of them," said the bio on the official YouTube channel of Coke Studio Bangla. Bhober Deshe Thako Konna "shows the other side of the same coin, where the groom expresses his own sentiments in a light and fun setting," the note read.