Classic meets cute but with a twist in Long Shot
It doesn't just put a woman on top, it also leaves her there, blissfully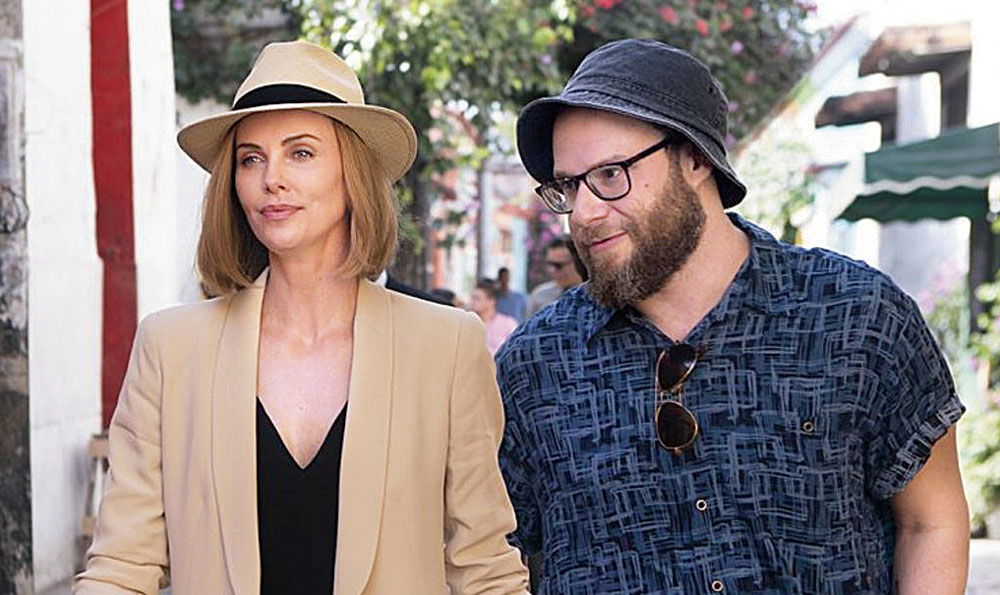 ---
---
Long Shot isn't going to save the romantic comedy, but it's an adrenaline shot of pure pleasure to the genre's failing heart. Two people meet, retreat and then circle each other, all while talking and talking. The romantic comedy turns on people who fit together — in bed, on the dance floor — but also talk to each other, exchanging words that stop flowing and faltering only with a culminating kiss and teasing fade-out. The difference here is that unlike a lot of romances, the woman retains her power and identity, and that's how the movie likes it.
Charlotte Field (Charlize Theron), the secretary of state of the United States, and Fred Flarsky (Seth Rogen), a struggling journalist, talk a lot. They connect while attending a charity event — Boyz II Men is crooning onstage — spotting each other across a crowded room. It's classic meet cute, in the parlance of the romantic comedy, but with a twist. Charlotte used to babysit Fred (she's a few years older), a fact that still looms large in his memory. They haven't seen each other since, but when they meet again they quickly spark, lighting a long fuse that winds through the story as nostalgia turns into something sweeter and then heavier.
It's preposterous: She's a giant, a goddess and he's … Seth Rogen. It doesn't bode well that the movie initially seems more interested in Fred than in Charlotte, an apparent imbalance that suggests this will be another weak chuckle-fest in which the female lead is a convenience or decoration, on hand mainly to vouch for her guy's heterosexuality. The opener, though — with Fred undercover in a roomful of neo-Nazis — proves tactical. It sets a strangely uneasy mood for a comedy, one that's funny ha-ha but also unsettling. More to the story's point, it also places Fred in the most toxic of man caves imaginable: a homosocial world of booze-chugging, chest-thumping, sieg-heiling bros.
Of course Fred escapes — taunting the enemy, he briefly turns into a self-proclaimed Jewish superhero — and his adventure is folded into a subplot. It's a shrewd introduction, one that establishes Fred's ethical principles and willingness to take risks; it also gives him an early, crucial triumph. Just as important, it offers a semi-comic glimpse at a culture that fetishizes manliness and devalues women. When Fred flees, he breaks away from baddies but also from the ultimate in masculinity cults. It's in keeping with a character who may have a best dude on speed dial (the amusing O'Shea Jackson Jr.) yet doesn't suffer from the usual movie male maladies, including fear of women.
Charlotte soon enters, effortlessly dominating every scene and room while juggling and suffering assorted fools, including the president of the United States (Bob Odenkirk in peerless form). Theron, a natural screen presence who has developed into an undeniable one, is wonderful in Long Shot. She's a fascinating performer with a watchfulness that can make her seem detached. She seems supremely and confidently alone onscreen, which in moments can create an internal tension with her physical superfluidity, her outward, inviting flow. It's an ideal combination for this character who never breaks stride as she agilely evades obstacles, most of which are men (Andy Serkis, Alexander Skarsgard).
Long Shot humorously skitters over these and other hurdles, including the imperative that powerful single women must have men by their side, mostly to make everyone feel comfortable with all that female power. That's a tricky idea for any romantic comedy to take on, one that Long Shot doesn't solve but instead slides over after Charlotte hires Fred as a speechwriter. Much of what happens isn't surprising, but Dan Sterling and Liz Hannah's script is consistently, genially funny, filled with patter and nonsense, and spiked with sincerity and a few gross-out flourishes. And while the director, Jonathan Levine, doesn't do much visually, he pulls off the occasional, well-timed sight gags.
Movies have long segregated men and women by genre, but at some point we seemed to enter a new age of his-or-her cinema. Straight men and women went their separate, generally unequal ways and stopped talking, really talking, to each other in movies. Men retreated into buddy pictures ala Butch and Sundance or swooned into bromances; for their part, women prepped for weddings that felt like battles or indulged in a hangover-inducing hurrah. The romantic comedies in which men and women hook up have often been excruciating (The Ugly Truth, The Proposal), fuelled by sexist stereotypes and gender policing that suggested women's lib had given Hollywood a permanent headache.
Yet we just can't quit romantic comedy, even if contemporary American movies as a whole are more comfortable making war than peace, much less love. The reasons are cultural, social and industrial, at once obvious and obscure. One problem is the current business model in which big studios pour tremendous resources into globally salable male-driven blockbusters. The other problem is the industry's deep-seated, long-maintained fear of female power.
It's no wonder that after decades of putting women in rigidly circumscribed roles the industry has had a tough time figuring out what to do with them. If things have started to shift it's partly because heroines like Katniss Everdeen and creators like Amy Schumer are helping redefine the female lead. Like Mindy Kaling and other funny women, Schumer is doing it with laughs and stumbles, but also with an earnestness that affirms something real is at stake: love, hearts and maybe, possibly, a gender-fluid happily ever after. Long Shot mostly just toys with some of these ideas; it's awfully straight, in all senses. But it doesn't just put a woman on top, it also leaves her there, blissfully.