Cheeni is the story of every parent and child
It is a tale of growing up and understanding the role our mothers play in our lives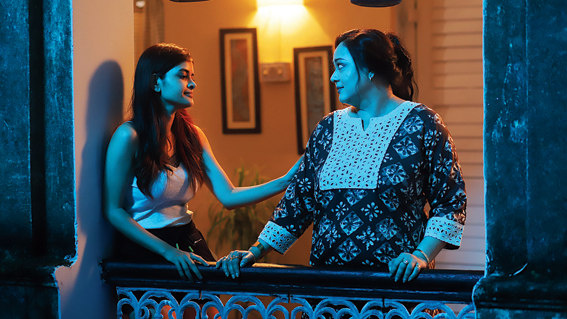 Madhumita Sarcar and Aparajita Adhya in Mainak Bhaumik's film Cheeni, which releases on December 24 in theatres.
Sourced by The Telegraph
---
Published 18.12.20, 10:13 PM
|
---
Cheeni is one of those films I've had brewing in me for decades and never really knew how to get to it. An interpersonal quirky take on the parent-child love story. To be quite blunt and honest, my interest in wanting to make Bengali films began with Rituparno Ghosh's Unishe April. It was the first Bengali film I felt that spoke about the Bengali people around me, which led me to gain the confidence to speak about the people I knew and saw around me. But it took me 14 films to get back and revisit the film that brought me into Bengali cinema, which became the inspiration behind Cheeni, my high-octane mother-daughter tale that sinks its teeth into the gloriously complex relationship we all share with our mothers.
Having seen the overwhelming love that Generation Ami got, I wanted to continue on this path of making films that come from a very personal space of telling stories that I feel I really need to tell. But while the idea of Cheeni came from here, honestly in the last couple of years I have also had an ongoing internal debate with myself about how much I should "play it safe" versus how much I can "push the envelope".
Originally I was supposed to shoot Cheeni with a very mildly-written (read safe-zoned) draft in March before Covid hit the world. Overnight the world was shut, the film was shut, and thanks to "social distancing", we never even knew when I'd ever make this film, when I'd get to see my family, when I'd get to hug my mom.
Distressed as I was by the end of the world as we know it, I was also oddly exhilarated with the idea of new beginnings and endless possibilities. I found myself embracing the lockdown's wave of silence that became the perfect environment the writer in me had been craving for years, to finally let loose. I have Moni (Mahendra Soni) and Team SVF to thank for pushing me to make a wackier film and not settle for less. And so I chucked all caution to the winds and just moved forward and rewrote the entire film, this time as a quirky story that directly confronts some real domestic issues that I was skirting around before.
I finally managed to write a very urban and "in your face" film, in the process transforming Cheeni into a "what if" tale of how one would react growing up to realise that suddenly their mom has become a rebellious teen.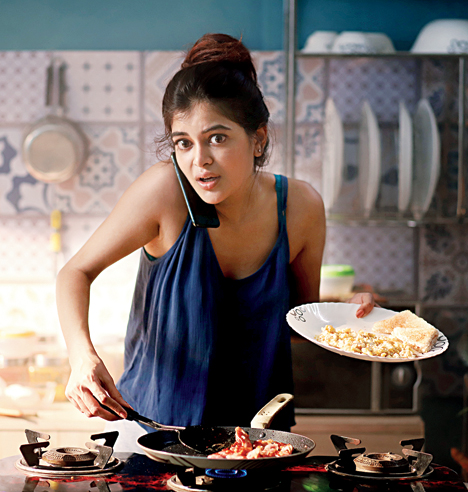 This romantic love story of me with my characters coming to life on the page turned into more of a horror story when the shooting of this film was finalised for September in the middle of the pandemic. To shoot is already difficult given the short time frames under which we work but to shoot in Covid with a constant awareness of people feeling sick, which gets everyone paranoid was the worst thing to deal with. Armed with temperature checks, sanitisers, masks and social distancing, we ended the intense shoot in a record 12 days. And it made me wonder: Was it fun? Well, when the material turns out well it's always a dream, and honestly, shooting during a pandemic could have been a nightmare if it wasn't for my amazing team that brightened up my every single day.
From the very beginning, Apadi (Aparajita Adhya) and Madhumita Sarcar were the two people who were always going to play the mom and daughter.
What made them perfect was that they are two great actors who have something very pleasingly sweet in their appeal with their facial similarities being an added plus. Apadi was playing an eccentric role and she and I had discussed that we would always bring a sense of composure to her which she brilliantly did. She is one of those batsmen who you bring on the field to score.

Madhumita had a tricky role as her character being a product of domestic issues, is like a ticking time bomb. She has got her own pent-up energy and a sense of performance and my job was to constantly bring her back into the mindset of the film. What was truly interesting to me was their chemistry. The mom and daughter are at loggerheads and I wanted two different speech patterns and generational differences to stick out, which both my actors brought out.
In general when a character-driven drama is shot, you sort of completely rely on the chemistry of your actors. This was one of those films where you have very vital dynamics that are sprinkled through the film. Saurav (Das) and Madhumita needed to have that chemistry of a couple where the guy is holding onto the relationship with a lot of patience. The fact that Apadi and Madhumita don't know each other that well, worked in my favour as the distance helped a lot in creating the space between the two actors. Working with Saurav is always a treat. Between all the characters and their issues he played the referee thermostat who balanced everyone.
The duo of Apadi and Pinky Bannerjee who plays Bela Mashi, the house help, worked like Diwali crackers. They bounce off each other really well and create the fulcrum of the family that Cheeni walks into. I had called in Chandreyee Ghosh and Alivia Sarkar for very major plot points and their enigma really stands out in bedding the story. And of course I can't leave out Ajopa Mukherjee (my stylist and friend) who always steps in and ups the comedy as an actor every time I've needed her to.
So what do I expect from Cheeni? It's a feel-good film that I believe everyone on some level will connect and identify with. It's the story of every parent and child. It's a story of growing up and understanding the role our mothers play in our lives. This film was a personal labour of love and it's the love that I hope to give to the audience. I believe the film will find an audience, but now is not the best time to think about when and where. In this holiday season I hope the love from Cheeni carries on within people, as family is everything and the bonds between sons, daughters, fathers and mothers is what really matter. Now more than ever before, we all need to take care of our parents.