Chaitanya on his film 'The Disciple'
Director Tamhane and producer Vivek Gomber chat about their multiple award-winning film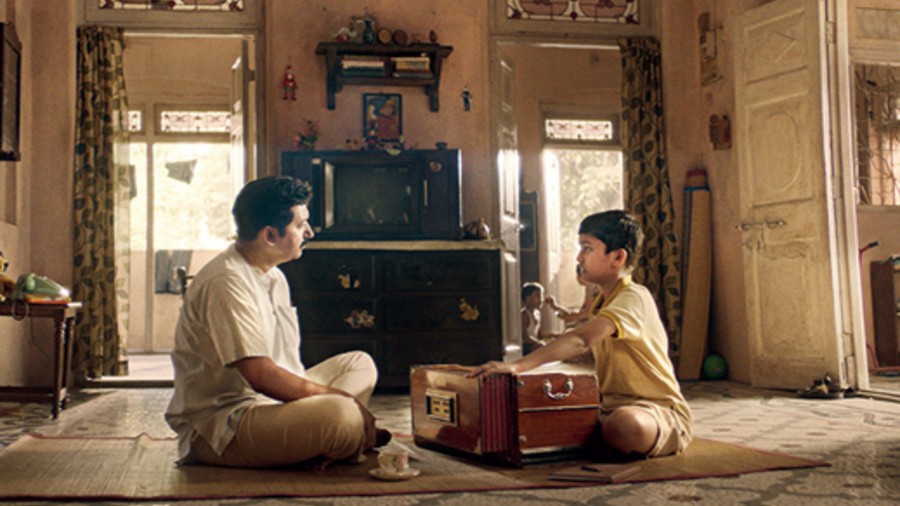 ---
---
A transcendental postcard from India filled with soothing music and enlightening insights'. 'A stirring cinematic tribute to Indian classical music'. An absorbing character study'. 'Chaitanya Tamhane again, proves himself to be one of the brightest and most talented film-makers working today'. These are just some of the many international reviews for The Disciple that have come its way ever since the film competed at last year's Venice International Film Festival where it scored two biggies — the FIPRESCI International Critics Prize and the Best Screenplay award.
The Disciple is directed by 34-year-old Chaitanya Tamhane, who created waves with his debut film Court seven years ago, prompting Oscar winning film-maker Alfonso Cuaron to take the Mumbai boy under his wings. Cuaron functions as the executive producer of The Disciple, that plays out in Marathi against the backdrop of Hindustani classical music and depicts a singer's lifelong struggle with mediocrity and self-doubt.
Ahead of the film's premiere on Netflix this Friday, The Telegraph caught up for a freewheeling chat with Chaitanya Tamhane and producer Vivek Gomber (who has also featured as an actor in A Suitable Boy, Sir and Bombay Begums) on the ethos of The Disciple, what keeps their collaboration going (they also made Court together) and the lessons learnt from Alfonso Cuaron.
Chaitanya, you reportedly had only a superficial understanding of Hindustani classical music before you started writing The Disciple. Wasn't it scary to venture into a hitherto unknown territory or did the challenge actually lie in plunging into a world you knew so little of?
Chaitanya Tamhane: I didn't even have a working knowledge of Indian classical music. In my early 20s, I actually had a bit of a problem with the extreme reverence and the concept of complete submission and blind faith that surrounds this field. But then four years ago, I found myself helplessly obsessed by a story that surrounded that world and I started experiencing that genre of music for what it is and when I started separating its nuances and the contradictions and the complexities, it all became very exciting and very fascinating.
But yes, writing the script nearly killed me! (Laughs) It was so daunting, it's an infinite ocean. It's all very exciting in the beginning when you have no agenda and you are soaking it all in, but the minute you have to start committing and refining it and exercising economy to start moulding it into a script, it becomes... (pauses) I don't mean to exaggerate, but I have wept tears of blood out of fear and anxiety! (Laughs) I had this huge nervousness and the feeling of being lost... 'What am I doing?!' Why did I decide to do this?!'
Did this feeling of being lost and wanting to find yourself make you soldier on?
Chaitanya: Yes, yes. I was looking for answers for myself. It's a deeply personal film. It's about things that haunt me, even though I am not in this field and I haven't grown up practising any discipline with this sort of rigour. One is always looking to find answers through one's work. But ultimately you soldier on because you want to put yourself out of this misery, you know! (Laughs) It's just an act of courage eventually where you say, 'Okay, I have to write that first page'. Like my protagonist (Sharad, played by Aditya Modak), I had to come to terms with the idea that I could fail at this. Only when I accepted that did I have the courage to write the first page. It was an intense journey.
Vivek, did you have a better understanding of Hindustani classical music or were you sailing in the same boat as Chaitanya?
Vivek Gomber: Worse boat... no boat! I was very far away from the shore. But I knew he was very passionate about this and whenever he's passionate about something, I know he has something. Honestly, I didn't know whether he could build the world that the film would come out of, but as a friend, I knew he was excited. His enthusiasm was good to see... it wasn't so attractive that I jumped in and went along immediately, though!
But eventually, I read the screenplay. And by that time I knew that things were getting serious. We had also spoken about the world around classical music and also the characters. In a way, The Disciple is a long-lost brother thematically of a play that we collaborated on years ago, which is when we first met.
I like the film because someone like me, who has very little to do with Indian classical music, got sucked in by the storytelling and the tools that he's used as a film-maker. It doesn't feel inaccessible, it doesn't feel like a niche film. It feels like a large-scale film that has a story that takes you along with it. I could feel it leaping off the page because he's very specific in his writing. The drive was to get my hands dirty and not let him down.
The last time we spoke, you had told me that every time you want to give up being a producer, Chaitanya tempts you with a script...
Vivek: That is true! I say it every time, but he always gets me back in (laughs)
Chaitanya: I called him up and said, 'Vivek, after Court, you still have one kidney left, right?! There is a script I have for you! (Both laugh)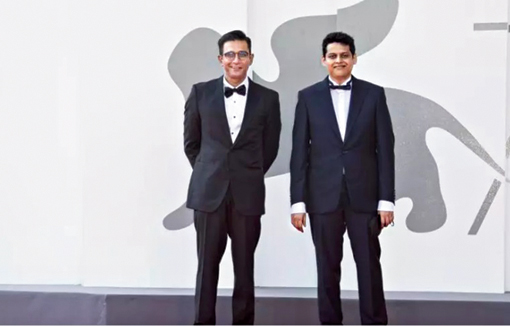 Vivek, you just spoke about 'passion' and Chaitanya dropped the word 'courage' a couple of times in the last answer. Do courage and passion primarily define the film-making journey the two of you have had so far?
Vivek: I think it's happened organically. There is a certain ethos that we share, there is a lot of trust that we have built over a period of time and we have learnt to submit to and rely on the process. We play by only three-four rules and we are fortunate that we have always got away with that.
Chaitanya: It's a very good question. It can seem like courage from the outside. Even to me, what Vivek has done with both the films (Court and The Disciple) as a producer seems very courageous. But if you look at it subjectively, from the inside, it's a mix of naivete, of optimism and a sense of purpose. Yes, the landscape is in a certain form right now, but we have to serve our purpose and do what we believe in. So it's also about being in touch with your own truth and your own reality and know what excites you enough to want to work in this medium. It's the light that slips through the crack, you know... it's really that (smiles).
The artiste in your film is in a state of creative crisis and is constantly plagued by self-doubt. As creative people, does that emotion of self-doubt resonate with you?
Chaitanya: If I get up and leave this chair right now, you will 'see' self-doubt left behind! (Laughs)
I think every artiste deals with things like imposter syndrome and self-doubt and anxiety. It can manifest in different ways... you can put out a braver exterior or develop an ego.... Because we are so vulnerable, because this art comes out of a certain sensitivity, because you are constantly grappling with the ways of the industry, with changing audience tastes and the form and way in which your film is eventually distributed... it's all nerve-wracking.
But again, The Disciple is a very universal film. It could be about an entrepreneur, it could be about a ballerina, it could be about anybody who has decided to make unconventional choices in life and there is an inevitable factor of risk that comes with it. But we all need to be courageous, find our answers and live in the moment.
Vivek: There is a lot of doubt and one doesn't know what one is doing. The whole of last year has been spent in not doing much work because of Covid-19. I have, actually, more doubts as an actor than as a producer. I just believe in him (Chaitanya) so much that my doubt translates into excitement in working with him. But as an actor, I keep second-guessing myself all the time.
I am scared every time I go on set as an actor... have I done justice to the script, the director, the co-star, the crew, the gaffer... there are so many people involved. But self-doubt is an integral part of who we are and what we do.
Chaitanya, The Disciple is a universal story. Was it imperative to set it in Mumbai?
Chaitanya: There were a couple of factors. I find Mumbai to be endlessly fascinating. I have been born and raised in this city, but even now, every time I enter a new lane or an unknown alley, I am taken aback by what all can exist in this city. It also happens to be one of the cultural capitals of the country and it is really the place for Indian classical music if you really want to follow the circuit. There are, of course, other cities like Calcutta. But then, I understand Mumbai better. And Mumbai is a character in the film. The way Mumbai plays on an artiste's psyche and the city also changes along with Sharad... it constantly interacts with him and his aspirations and his doubts. Mumbai has that unique texture and character and I wanted to capture that in the film.
I spent a lot of time in Calcutta and spoke to many musicians. And there are quite a few inspirations in the film from my interactions in Calcutta. I went to SRA (Sangeet Research Academy) and quite a few other places.
I went to the cities where this kind of music is predominant and where there are whole conversations about this kind of music. I was quite surprised by how dynamic this sub-culture is.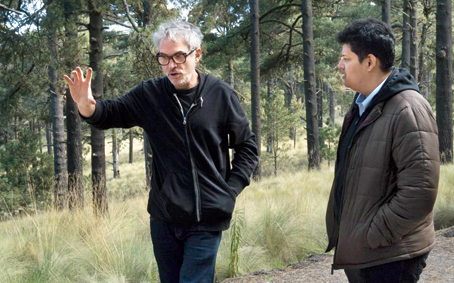 Chaitanya, how have you changed as a film-maker post working with Alfonso Cuaron? And what's the most valuable piece of advice he's given you about film-making and about life in general?
Chaitanya: I would whine and say, 'I can't find this, I can't write this, this is not good in India, I can't make this' and he told me, 'Yes, film-making is brutal, but it's also the best kind of brutality that there is. It's going to be beautiful, man'. And that kind of optimism, courage and the fearlessness to live it all out is the biggest lesson that I have learnt from him. During the making of Roma (2018), he was like a warrior fighting unsurmountable amount of obstacles and just pursuing his vision. You realise that no matter how much money or resources you have at your disposal, the problems remain the same. There will always be problems. That's again something that Alfonso told me... that the nature of the problems will keep changing, but they will always be there. It's said that film-making is a lifelong career in heartbreak (laughs). But he made me realise why we do it... and that's our passion for film-making and the love for it.
Working with him has, of course, changed me as a film-maker. It's expanded my vocabulary as a film-maker and made me more ambitious in a way. He's inspired me to demand the best and nothing but the best. And in the form of Vivek, I have the best producer in the world.
So are we going to get more films in the future from the two of you?
Chaitanya: Depends on how many kidneys he has left! (Both laugh)
Vivek: It's really insane how Alfonso has stepped up and supported the film. I thanked him for supporting us and he said, 'Don't thank me. I like the film and that's why I want to support it'. I loved when he said that and it taught me to own my work. Both he and Chaitanya give me a lot of hope and courage to make more films. Chaitanya should just keeping doing films, whether I am a part of them or not. That's most important.
Chaitanya, I know that you are into videogames and board games and magic, and then you go and make these intense films that are hailed as masterpieces. Do people, even those close to you, find it difficult to reconcile the two aspects of your personality?
Chaitanya: My brother who has lived with me all his life and then some of my closest friends say, 'No one is going to believe how you are in real life!' (Laughs) It's true... there is some sort of schizophrenia there. I guess people will find out over the years, though I hope they don't. It's two different parts of my brain. One is more personal, more reflective, more inward-looking, and then there is the other half that's crazier and louder!
Has Vivek seen that side?
Vivek: I have seen too many sides! It's been 12 years now and all sides have been seen. He is very funny and his films also have elements of humour. I wish people get to see more of this humour... he's really very funny. But his jokes are really tacky!