Saoli on exploring a 'new world'
One that combines theatre with cinema in Kamaleswar Mukherjee's Antony Kobiyal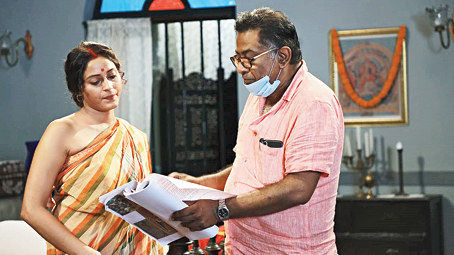 ---
---
Director Kamaleswar Mukherjee brings the experience of theatre and cinema together in Antony Kobiyal (as part of Jalsha Movies Originals). Having made an impact with her portrayal of an assassin who is also a doting mother in the web series Rahasya Romancha Series 2, Saoli Chattopadhyay plays Saudamini in Antony Kobiyal.
What is the storyline?
Antony (played by Shaheb Chatterjee) is from Portugal and after coming to Bengal he develops a fondness for the land, the Bengali language and the songs. He starts staying here and comes across Saudamini, a young Bengali widow. Overcoming all the social and religious stigma of that period of time, Antony proposes marriage to Saudamini. Saudamini is also attracted to Antony and the way he speaks and sings in Bengali despite being a foreigner. They get married but society of that time couldn't accept it. But both remain firm on their standpoint.
As an actor what attracted you to Saudamini's character?
It was Kamaleswarda! I had worked with him in Password before. So I was excited to work with him again. I was even more excited when I came to know it is Antony Kobiyal and in the format of a theatrical cinema. I have been involved in theatre since school and I've had experience with theatre documentation. I liked that Saudamini's character also knows how to sing. I have lip-synced to two beautiful songs. This character has two sides. She is a young widow and was suffering in her uncle's house. The next phase of her life begins when she is Antony's wife, the honour that she gets from that. So, there was a lot of scope to act. We did rehearsals through Zoom call but that really doesn't work out (laughs)! For two days the team rehearsed together by meeting up and that gave me a better idea about the concept. And then after giving the first shot on stage, I went with the flow, following the way in which the character evolved. Of course Kamalda guided us too. I also read the script a lot of times.
Theatrical cinema is a new format. What is the process like?
In theatre documentation, the camera is placed where the audience is sitting and we perform on stage. So, there is no change in acting. But here we were working in different zones. One was my bedroom, another was Firingee Kalibari, another zone was Saudamini's house. A part of the set was created like the theatre set and a part of it looks like a cinema set. So sometimes when the camera is in a close-up position, we cannot do theatre acting there.
We were slightly in two minds regarding a few things initially — on how to balance theatre acting with cinema's subtleness. Here, we needed to balance both. Kamalda guided us and we had a scope to do a technical rehearsal on the set for one day, to understand our zones and composition before the shoot and that helped us. I feel we did something new. Lalda (Suman Mukhopadhyay) has done it. But the format is new to us.
When we did a technical rehearsal we got a much better idea. In those rehearsals we got an idea of the camera position and operation too and gradually became more confident.
Tell us about your look in the film...
I have two looks. One of a widow and the other of a married woman. Poulomidi (Gupta) was our designer. A lot of research went into the looks to make it as authentic as possible. From costume to jewellery design, we did everything similar to that era. It was beautiful.
How was it working with Kamaleswar Mukherjee?
He is quite a serious person (smiles). In Password, we didn't get enough time to create that actor-director bond. But here we got a lot of time and there was a bonding. He told me later that he was very happy with my performance. And Shahebda is very friendly. He has also helped a lot.