Ek Jhoothi Love Story is winning hearts
We chat with the The Zee5 show's lead pair from Pakistan
---
---
Madiha Imam
The show has just started streaming and is getting good feedback. You must be happy.
Yes, I've just watched the show myself. My director Mehreen Jabbar has helmed it beautifully. The kind of feedback I am getting is incredible. So I am beyond excited. My role is of a college girl who is insecure about herself, her looks. She is the youngest of four siblings, so she always has to make do with hand-me-downs. She has nothing to call her own. She is an average girl but she is a fighter also, though she keeps failing and falling. She is trying to live her dream of becoming one of those girls who have all that they want. The show talks of some serious issues but in a comic, light-hearted way.
Is that why she creates a fake ID on social media?
In her head, she thinks this is a way she can live her dream, even if briefly. The story unfolds from there.
Are you happy you will get an international audience for the show?
As an artiste, you want more people to watch. If you see a platform, where you will have a larger audience and you will have a little bit more liberty, of course you are happy.
In what way would you say you get more liberty on OTT platforms?
We don't have OTT platforms in Pakistan yet. We have a couple on YouTube. There's one called Nashpati which does good work. But yes, OTT is the next thing. The world is changing. Each platform has its set of values. Even when the values change, the change happens only in comparison to how things were earlier. On the web, you can create your thing and leave it to the audience to decide whether they want to watch or not.
You have a film on the floor with Fawad Khan.
Ji, Neelofar. Corona ke chakkar mein we had to stop shooting. I have four to five days work left. We hope to resume in end-November. Fawad is an intelligent actor and he is producing this film also. So he is working on a subject he knows. My character is different from what I have done so far. It also has Mahira Khan. The actors who played Mahira's mother and Fawad's father in Humsafar (a popular Pakistani drama that was screened in India when the channel Zindagi was on air) are also there.
How is the experience of working with Fawad Khan?
Fawad has been working for a while. My body of work is not that much. A smart actor will always be a smart producer. He would know how to conduct himself. On the sets, his energy is of a newcomer — the way he performs and improvises. That energy inspires everyone. He is also a collaborative co-actor. In between shots, he will come and say: "Madiha, let's do it like this. What do you think?" He will give you your space. Of course, he is Pakistan's biggest star. So when I am in the frame with him, in my head I am thinking: "Oh, it is Fawad Khan!" But he will give you your space to perform. So he is very kind. The work I have left in the film is only with him. So I am excited!
You must have taken a dozen selfies with him by now.
I don't do that. Everyone keeps telling me to show pictures from the set. What's wrong with me! People tell me: "Madiha, apna Instagram handle ka haal dekho!" (laughs) So I went overboard and posted seven photos in one day! Next day, when I meet him I will ask him. He is also an introvert. So his phone is also somewhere else. We are supposed to resume shooting in end-November.
You have done a film with Manisha Koirala.
Yes, Dear Maya. It was my first feature film. I still remember the script by heart. It was new and fresh. Sunaina Bhatnagar is a wonderful director to work with. She was assisting Imtiaz (Ali) sir, so she has that way of conducting herself. Manisha ma'am loved me and I loved her. I have fond memories of filming in Shimla and Delhi. Though I was 24, I was playing a 13-year-old and I looked 13! (giggles)
How has the lockdown affected the entertainment industry in Pakistan?
It has. There are five-six producers in Pakistan who make projects. I am working for six years. So by now I know all of them. They say they will find out how bad this was only in 2021 because now they have some projects ready to put on TV for the audiences to watch. But next year when they have to invest again, this period, when all were sitting at home for six months, will tell. Creatively also, it is very frustrating. If you were in the middle of a project which got stalled, you will have forgotten about the character and will have to start all over again. Now we have web. Toh ek umeed wahan se bhi hai ki less budget mein we can work on that platform also.
You used to be a VJ.
Yes, I used to host on MTV. I was their youngest VJ. That was my first passion. I thoroughly enjoy hosting. I was with MTV for two years. There was a local channel called AR1 Music. I was with them for seven years. So I have been more of a VJ than an actor.
Do you follow Bollywood films?
Of course, I grew up on Bollywood movies. Talk about Judaai — I used to watch that film daily. When I was in India to shoot my film, everyone was talking about the same things that we talk about here. There was no difference at all, except perhaps for an accent issue as I come from an Urdu-speaking background. Otherwise, what they think of Shah Rukh Khan, how dignified Saif Ali Khan is…all of that was being discussed, just like we do.
Who are your favourite Indian actors?
Oh god, there are so many. I like Saif Ali Khan, Farhan Akhtar, Shah Rukh Khan, Amitabh Bachchan, Ranbir Kapoor… their body of work is so different I can't pick one. I like Sridevi's work and I like Alia Bhatt also. All of them are so good. But if you talk of charisma, may be I will pick Shah Rukh Khan and Saif Ali Khan, and stick to that. (Laughs)
Bilal Abbas Khan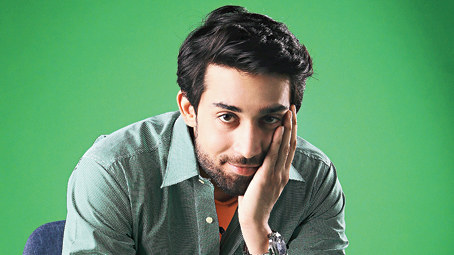 Your show Ek Jhoothi Love Story is being streamed in 173 countries, including across the border in India. Does the thought excite you?
This is my first experience with an OTT platform. I am so excited to be working on such a great script. I believe art has no boundaries. For me, it does not matter show India ke liye hai ki Pakistan ke liye. For me, it's another project.
In India, ever since the lockdown the upper middle class seems to be consuming more OTT content than TV. Is that true in Pakistan also?
Not yet. Pakistan drama industry is huge. In next five to 10 years, it may happen. But we do not have an OTT platform of our own yet. But yes, people watch a lot of Netflix and Amazon.
Why did you accept the role?
I always wanted to work with Mehreen Jabbar. This was my first opportunity. The writer of the show is Umera Ahmed, who also wrote Zindagi Gulzaar Hai. The story is simple and realistic. It deals with two families and talks about two different kinds of love as well as some social issues in a light-hearted manner.
The trailer hinted at fake identities created on social media.
It is not just about two people creating fake IDs and communicating through that. It also talks about why they do so. The story deals with a lot more. It's great fun to watch.
Where did you shoot?
Mostly in Karachi and for a small part, we went up north to Murree. My school was there. My father is in the police force. I am the first actor in the family. I used to do a lot of theatre in my school and college days. It's been six years that I am working as an actor.
Which would you call the bigger milestone in your career — your first TV show Dumpukht or your first feature film Thora Jee Le?
I would say Dumpukht because production houses started approaching me with work after that. The show gave me a lot of recognition.
Do you follow Bollywood?
I watch a lot of Bollywood. I'm a movie buff. My favourite actor is Ranbir Kapoor. The kind of performance he has given in Rockstar, Tamasha and Wake Up Sid is great. Being an actor, I can make out when a person is acting and not being in character. Ranbir's honesty towards his characters inspires me.