In conversation with Anupam Roy
The singer-composer strums about his new song with a political message and the music of Marathi film Avwanchhit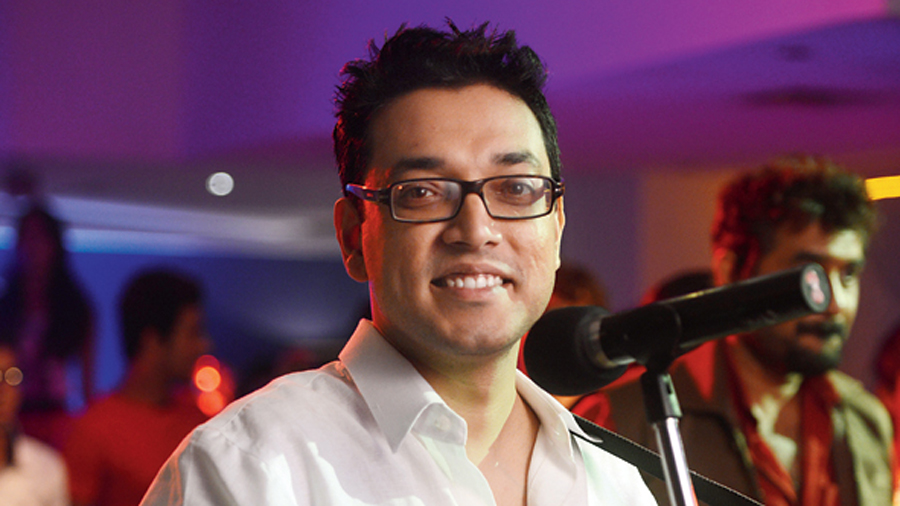 Anupam Roy.
Sourced by The Telegraph
---
Published 02.06.21, 10:24 PM
|
---
The soul-stirring song Bhalo theko 19 by Anupam Roy — which had dropped in August 2020 — took listeners on a journey of hope and resilience. It had arrived against the backdrop of loss of lives, social distancing and economic breakdown. At that time countries were trying their best to get the vaccine out. Stuck in his house, and  hearing the word "Covid-19" almost 19 times a day, Anupam had come up with the anti-virus song, Bhalo theko 19. In June 2021, things are different. The number of people being vaccinated daily has been increasing. Vaccination drives are on. At the same time, people have been suffering also. "Covid crisis, economic slowdown and constant scare are keeping us stressed 24x7. We are desperately searching for a silver lining somewhere.  My new song Manush bhalo nei reflects our mood today," says Anupam. A t2 chat.
What is the genesis of your new song, Manush bhalo nei?
We all know how we all are fighting this Covid situation. We are in a bad situation. And we are stuck in our homes.... children cannot step outside to play. Their whole system has changed; the exam schedule has changed. People who are on the verge of getting jobs this year are getting affected. It is a critical year for them. Everyone is confused... and it is gradually increasing. The moment you get restricted, other factors also take a hit, like the economic condition of the people. Manush bhalo nei, and all these different kinds of struggles and situations get reflected in the song.
How did the collaboration with Cizzy come about?
Once I finished writing the song, I was looking for a spark in it. Then I thought of having a Bangla rap section in the song, which would really make the song hard-hitting. This was the right moment for me to collaborate with Cizzy. He is a talented guy and I was very impressed. I'm very happy to have collaborated with him. We try to explore various kinds of genres in Bangla music, and rap is a phenomenon, which is now happening in our music. My best wishes are with all the rappers here. It is a new art form, and we can definitely explore it.
What are you trying to convey through the song and video?
There is a political message in the song, and it says how vulnerable the lives of people are. A musician is stuck at home. They cannot do stage shows now. They cannot perform now. In March, many shows got cancelled. Musicians were not getting payments. People often wonder why are the youth not getting into politics? Why will they come? What were they seeing? That some people moved from one political party to the other. And these things are getting exposed now. We know it is a dirty game but things are getting more polluted with each passing day. This was not like that earlier. There is another political angle in the music video, where we see a character trying to read Communist Manifesto but not understanding it. He does pronaam as well. So this character leads a contradictory life.

Why did you decide to compose the music for Avwanchhit, a Marathi film?
I found the subject, the way the story was written, quite interesting. I thought that I can contribute. It has a sensitive topic and I felt comfortable. Overall, I thoroughly enjoyed the music making process. I did the background score of the film... lots of Indian instruments were used. A violin was played in the Indian-style that was about the father and son theme. It is an emotional score.

The album starts off with Purano shei diner kotha. Tell us about the presentation?
It was required for the film. It was the director's idea... with the four lines, I composed a new Marathi song, and a fusion of Bengali and Marathi got created.

Chill pill has the exuberant vibe of a festive song. How did you come up with this one?
All the songs are situational in the film and I composed them keeping in mind the situations. Chill pill is a fun song.

Tell us about the back stories of composing Saad de and Makhmalee?
Two romantic songs were required. One was about celebrating romance, and the other was about falling in love. I had to compose around those situations. Once I would get the lyrics, I would then compose the tune. And then the director would listen to me sing the song. For Makhmalee, I wrote the melody first and the lyricist wrote the words around it. It was in the reverse process actually.

What were the main challenges of composing a Marathi album?
The language itself. I had to constantly translate it into English to know the meanings. Also, it was a challenge to fit the Marathi words into the pattern of my music.