When L went missing
Fans of the composers and Laxmikant's family were particularly incensed at what they perceived as an absence of respect to the late music director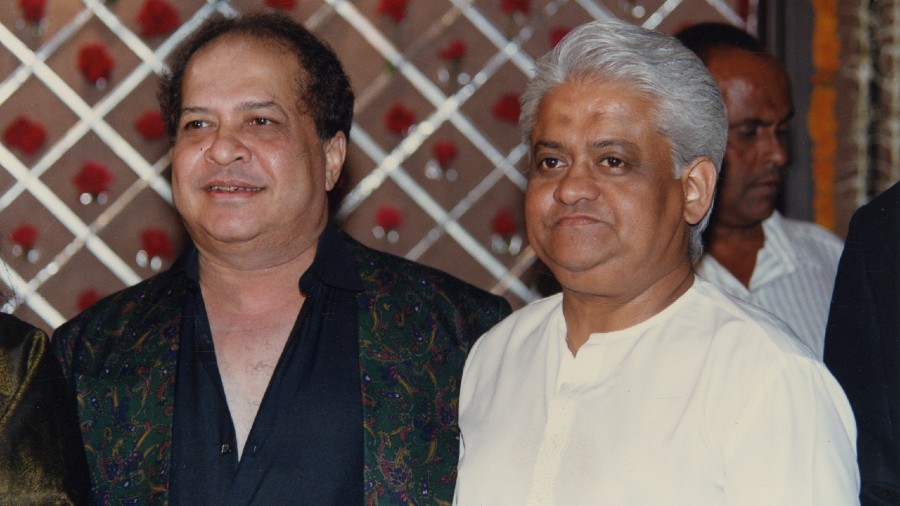 File picture of music director Laxmikant (left) with Pyarelal
Durgaprasad
---
Published 28.02.21, 03:51 AM
|
---
When a musical show is promoted as a Laxmikant-Pyarelal event, why would you play the R.D. Burman number Bachna Ae Haseeno… as an introduction? That and other stormy queries were raised after an immensely successful Laxmikant-Pyarelal episode was telecast on Indian Idol last Sunday by Sony.
Fans of the composers and Laxmikant's family were particularly incensed at what they perceived as an absence of respect to the late music director who passed away in 1998. It was heart-rending for Laxmikant's children and wife as they watched the show unfold without any reference to him or even a single photograph of his. To them it seemed as if the "L" in L-P never existed.
While Pyarelal, now 80 years old, was rightly felicitated, Laxmikant's wife Jaya and daughter Rajeshwari said, "We got to know about it only two days prior to the show, when the promos started airing. When we watched the episode, we were not only hurt, we were also anguished. It's just not done. The promos also didn't have even a photograph of his."
Coming up on the same programme will be an episode on R.D. Burman and Kishore Kumar. "There are huge cutouts of both
of them in the promos," commented Jaya, while Rajeshwari wondered, "When you're promoting it as an L-P show, getting all your publicity from it and making a lot of money on it, why can't due courtesy and respect be shown to my father?"
The family's only demand, "We want a formal apology from the channel. Why did this happen? We don't want a repeat of this either on this channel or on any other. We don't want them to think they can take us for granted and feel, Laxmikantji's family doesn't exist. We want to put across our message to the channel that they have made a big blunder."
When the family contacted the channel, "We were told, 'We can understand how hurt you must be, it was a mistake on our part.' But they really had no defence for it. Our question is, when you can organise a whole episode, invite guests, you had Mohammed Rafi's son, you had Pyarelal Uncle and his wife, why couldn't you acknowledge the man whose name comes first in L-P? Laxmikantji could also be represented by his family, his wife is still alive."
An offer by the channel that they'd do an audio-visual on Laxmikant by putting together his photographs and the family's bites seemed like an enforced afterthought. "You should have thought of this earlier and done it on the L-P show. What's the use of doing it now? The viewership they got was for an L-P show."
Laxmikant's family was equally wistful that Pyarelal, his partner of 35 years (with a friendship that stretched even longer), stayed a silent participant. "We wish Pyare Uncle had put his foot down and asked the channel to use Laxmikantji's photo, how can you do a show without any acknowledgment of his contribution? It was an L-P show, otherwise it should have been just "P". I told the channel, you should've called it only the Pyarelal concert," remarked Rajeshwari. "When we had organised an L-P night in Mumbai a few years ago, we had Pyare Uncle's photograph as big as dad's up there. They were equals."
Perhaps it didn't strike the ageing Pyarelal to speak up for his partner. There was also a striking personality difference between L and P. All through the amazingly creative partnership that scored over 3,500 songs for more than 550 films, it was Pyarelal who was the quieter, the more reticent speaker.
But here's a nugget from 1958 to chew on. When famous journalist Raju Bharatan met Shanker (of Shankar-Jaikishan) in the foyer after the premiere of the Dilip Kumar-Meena Kumari-starrer Yahudi, after the initial "How did you like the film? How was the music?", the composer asked him, "Which song did you like the best?" Bharatan answered, Yeh mera deewanapan hai (Mukesh's gem). Shankar beamed, which told Bharatan that it was his composition. But when he asked him outright, Shankar smiled and said, "It's our tune." That was the spirit of the partnership. 
Bharathi S. Pradhan is a senior journalist and author