The Jaggu juggernaut
Aage ki socho, don't look back. Humpty Dumpty sat on a wall, Humpty Dumpty had a great fall... Jo ho gaya so ho gaya.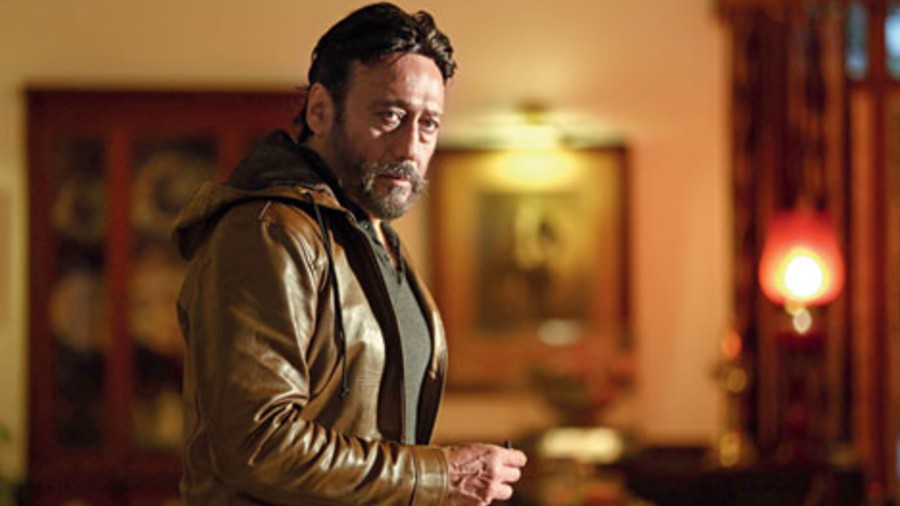 Jackie Shroff
File Picture
---
Published 20.12.20, 02:29 AM
|
---
While contemporaries such as Anil Kapoor (who got into a verbal skirmish with the Armed Forces after the trailer of AkVsAk went pub-lic) and Sunny Deol (who had to put out a clip about farmers) couldn't stay out of it, Jackie Shroff was the one big survivor who didn't get entangled in the toxicity of 2020.
Although son Tiger and Jackie could have been dragged into headlines that damned dynasties, Jaggu stayed silent like his favourite god, Ganesha. He had once told me that it was best to have a quiet trunk and a belly that absorbed it all.
On December 16, the 37th anniversary of his debut in Subhash Ghai's Hero, it was rejuvenating to catch up with the actor who was never considered a thespian but has more work today than any of his co-runners in every conceivable format.
"I'm not a good speaker," he offered an explanation for not spouting gyaan in the public arena like his colleagues are wont to. "I also don't like to analyse things."
He quoted instead the wisdom of one of his idols, Dev Anand. "Devsaab used to say, 'Aage ki socho, don't look back. Humpty Dumpty sat on a wall, Humpty Dumpty had a great fall... Jo ho gaya so ho gaya. You can't put it back together again.'
"There have been so many other issues — blood donation camps, pollution, backstage dancers, light boys, fighters, junior artistes, workers. I'd rather be involved with them. I'd rather look at plants and look away from issues that other people know more about." It was his gentle way of steering away from the politics that others so "knowledgeably" jumped into.
At the end of 2020, Jackie Shroff didn't want to talk about the year that was.
"I don't want to think about it, it's not a good visual. Yes, there were a few good things that (unwittingly) happened. Kam mein jyada dikhne laga. And people who hadn't spent time with their parents for years got to spend time with their families. But there were a lot of lows, a lot of disruption.
"I was blissful at my farm but when I came back home (to Mumbai), it was like a nightmare with everyone wearing masks. What kind of a world have we come to?" he wondered.
He added, "How is the generation that's to come into the world going to look at us? Will they blame us for the toxicity? It's just a matter of time before our children grow up and have their children. And I think of that (yet to be born) generation growing up in this world.
"But why stress?" he later remarked. "Let's linger on good memories. There's always a sunrise. Ye safar bahut kathin hai magar na udaas ho mere humsafar," he said, quoting Javed Akhtar from the song picturised on Jackie and Manisha Koirala in 1942: A Love Story.
His first shot for Hero was included in Jackie's stock of "good memories".
"I had to drive a jeep, park and look through a hedge at Meenakshi Seshadri who's at a camp. Subhashji, my director who knew how to make things easy for his actors, asked me, 'Do you know how to drive a jeep?' I said, 'Yes.' And he told me, 'I also said I know how to drive a jeep during Aradhna (in which Ghai had a small part) and I ended up breaking the set,'" laughed Jackie.
Thirty seven years later, Jaggu sourced his survival to, "Discipline and respect for my work. Also, I have tried to maintain myself, keep as fit as possible, I can throw a punch and take a punch. I'm never fussy about playing a goody all the time, I'm fine with any role that's decent for an actor. So I have a lot of options, I am blessed."
And he's everywhere — short films, feature films, OTT, the works. After the lockdown, Jackie has dubbed for the big budget Sooryavanshi, shot for Netflix's Call My Agent, done an ad and got more in the kitty.
Jackie Shroff may not want to give 2020 a second thought but with an invite to his farm where we can all down our masks, sunrise is around the corner.