The diva's outing
Managers who speak on your behalf and the visual of a posse of security guards help build the aura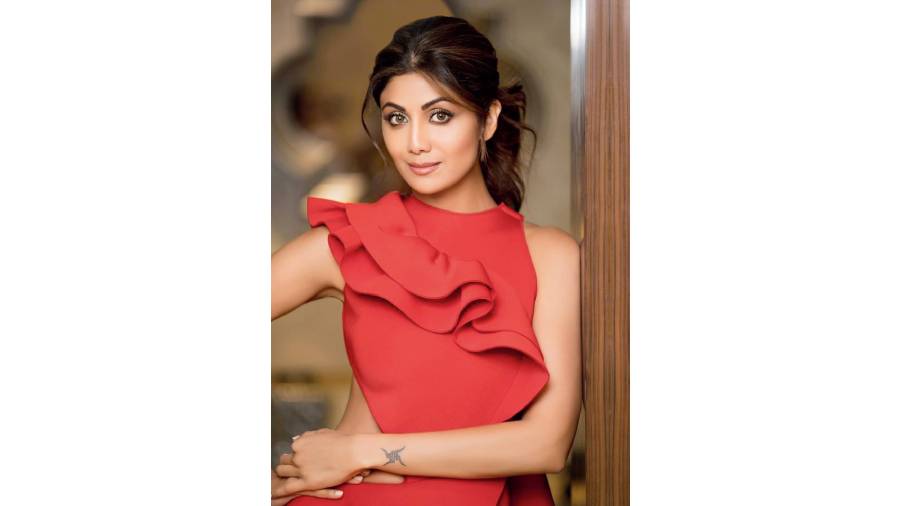 Shilpa Shetty
File Picture
---
Published 25.07.21, 12:09 AM
|
---
I wonder if Sunanda, Shilpa Shetty's chatty and friendly mother, had forecast what was in store for her when her daughter wed Raj Kundra. This is not a snarky swipe at Sunanda's astrological accuracy but a comment that springs from concern. For soothsayer Sunanda had foreseen international fame for Shilpa when she was not even on the top rungs of Hindi cinema.
Though Shilpa had flagged off her acting career with Baazigar (1993), it was Shah Rukh Khan and Kajol who had sprinted at full speed after its release. Though Shilpa did the chartbusting Churake dil mera in Tu Khiladi Main Anari (1993) and had dancing skills, it was Raveena Tandon, Karisma Kapoor and Kajol who were the big stars of the 90s. She did come up with the occasional Dhadkan (2000) or ensemble film Life... In A Metro (2006), Shilpa had far too many box-office setbacks to be up there.
At that time, to predict international fame for her seemed to be wishful thinking. But Sunanda was proven right when Shilpa emerged the winner of Celebrity Big Brother in 2007, giving her global recognition. She returned with a title and with Raj Kundra whose accent and wealth impressed the easily-dazzled media and the Juhu crowd. With a rich husband and her social skills, Shilpa became one of Juhu's favourite hosts and a must on every guest list.
Buying a stake in Rajasthan Royals further impressed everyone around with no questions asked. After Shilpa's and Raj's association with the IPL team came to an end under a financial cloud, even the fact that an erotic star like Poonam Pandey sued Kundra in 2020 for using her sex tapes didn't seem to disturb anybody.
An aside on what Poonam Pandey is all about. Since one couldn't recall any of her cinematic achievements, it was baffling to hear of Poonam as a "Bollywood actress". One only knew that this unknown girl had made news for offering to strip if the Indian team lifted the World Cup in 2011 and for uploading her own nude photograph after Kolkata Knight Riders won the IPL in 2012. A spot of research on the net threw up unabashedly explicit and erotic videos: a business association with her should have red-flagged Kundra.
Recently, Shilpa signed two comeback films — Hungama 2 (streaming this weekend on Hotstar) and Nikamma, with another Hindi feature film and a web series also in the pipeline. Meanwhile, despite a 14-year absence from Hindi or south Indian cinema, being at the forefront of IPL matches, turning fitness into a viable book and app opportunity, and a sparkling presence on reality shows on television have kept Shilpa relevant. It has also made her an attractive name for celebrity endorsements where Shilpa's fee has been between Rs 1 and 1.5 crore.   
Staying alive as a diva is not easy. Managers who speak on your behalf and the visual of a posse of security guards help build the aura. Throwing a little tantrum further seals it. Here's something from one of her endorsement shoots.
These days, star contracts specify working hours. For instance, Akshay Kumar's contracts stipulate he won't work beyond 6pm or on Sundays. But since he's punctual, stays undistracted during work hours and makes an exception when an urgent piece of shooting has to be done, producers are fine with all his clauses.
Shilpa, too, has her working hours laid out. But, according to whispers in the ad world, a client watched with disbelief as she fetched up leisurely, had an extended lunch with another actor who was shooting nearby and then refused to give one final shot that was pending. Her manager stepped in and escorted Shilpa out at 6pm.
That's how divas package themselves, with the paparazzi unwavering in its focus.
But, on a weekend when Shilpa would normally be seeking the limelight to revel in her return to films, circumstances have put her in a spot where she'll be running away from attention.
The lure of lucre has its own price tag.
Bharathi S. Pradhan is a senior journalist and author