Game of thrones: Archana on Sidhu and his brand of politics
In the run-up to Punjab elections, a chat with the actress who slipped into the cricketer-turned-politician's seat on Kapil Sharma's show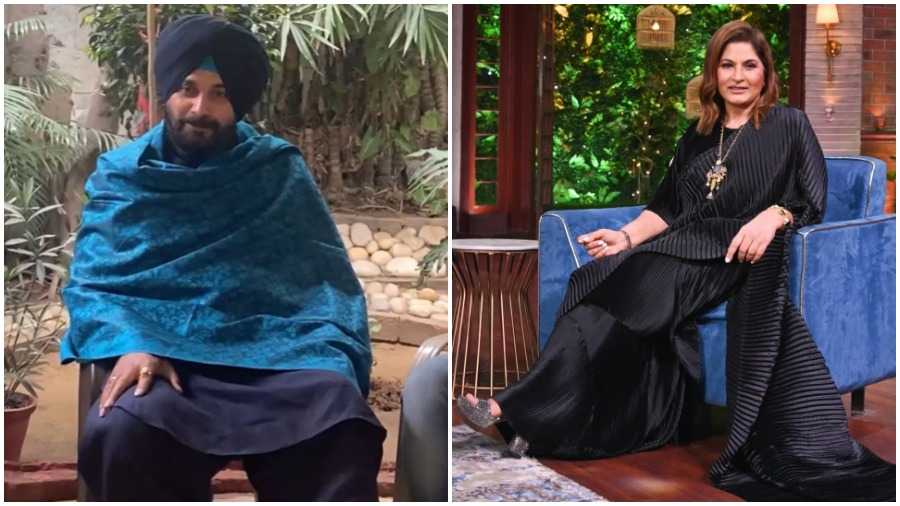 (L-R) Navjot Singh Sidhu; Archana Puran Singh
Instagra: @NavjotSinghSidhu; @ArchanaPuranSingh
---
Published 13.02.22, 12:08 AM
|
---
The chair that Navjot Singh Sidhu is eyeing is far bigger than the small little chair that I'm sitting on."
With the cricketer-turned-politician playing a new innings every second day in the run-up to the Punjab elections, a chat with the person who slipped into his seat on Kapil Sharma's comedy show brought out that quotable quote.
Archana Puran Singh had taken his seat many years earlier too, when politics had drawn Sidhu away and she had replaced him for two episodes. He returned to reclaim his seat on The Kapil Sharma Show.
"We do that all the time," Archana pointed out, explaining the workings of the television industry. "Some years ago, I had replaced Farah Khan for two episodes of India's Got Talent because she had to go somewhere. Then she came back."
When politics beckoned Sidhu once again in 2019, everybody thought it would be a repeat act.
"We expected Sidhu to come back," Archana recalled. "Nobody knew that the political situation would be so volatile that he would be unable to return. For nearly a year, I thought I was sitting on his chair on a temporary basis.
"It was an unexpected turn of events. I was asked to stay on for one more week, then another. And finally it was made permanent because Sidhu's departure from the show became permanent."
A veteran on Indian TV's comedy circuit, Archana had watched Kapil Sharma as a fledgling, as a contestant who consistently won on shows like Comedy Circus with which she was associated for over half-a-dozen years. So when she was called to replace Sidhu, "I'd already worked with Kapil."
In fact, it was on a Kapil Sharma show that she met Sidhu when she'd gone as an actor to promote her film Dolly Ki Doli. She hasn't met Sidhu after she replaced him. "I don't think he's come to Mumbai after that," she remarked. "He's been so busy with the politics happening in Punjab and he's at the centre of it most of the time."
It has been a frictionless takeover of Sidhu's seat. "I don't think he had an issue about my doing the show. He knew that somebody had to replace him."
It wasn't an unnerving experience either to slip into the shoes of a flamboyant Sidhu, who had a huge fan following.
She mused, "If I were a cricketer where he was the senior and I the junior, I would have been in awe of him and would have wondered if I could do anything to match him. I respect him for the position he held on the show, I admire his cricket. But since we're from two diverse fields, there was no looking at Sidhu with awe. Also, he has his own style of reeling off couplets while I bring my own energy to the show."
Talking of TV, when the publishing industry shook with the news of Amazon shutting down Westland, where was Kabir Bedi? His Stories I Must Tell was one of Westland's bestsellers which won the Amazon Popular Book Award 2021. But Kabir knew nothing about what was happening to his publishing house since he'd walked into the VIP edition of Grande Fratello, the Italian version of the reality show Big Brother, in early January. As a contestant, he had to leave behind his phone and go silent. While he's closeted, his wife Parveen and his team in Mumbai have been replying to messages and putting out social media posts on his behalf. Will Sandokan win Italy again?
A parting thought on Lata Mangeshkar, who attained Holy Cow status à la Gandhi in her lifetime but brought out the snipers when she passed on last Sunday morning. However, instead of lampooning her political affinities, what rated a mention was the "Mangeshkar Monopoly" that existed right through the 60s, 70s and 80s, when Lata and Asha, the siblings who were otherwise rivals, joined forces to edge out every female voice that dared enter their territory. It was a rare kind of musical mafia, one that warrants a deeper discussion at a more appropriate time.