From solo to swot
Sonakshi still gets to play the strong role of Sunderben, who led the Kutch women to reconstruct the airbase in the nick of time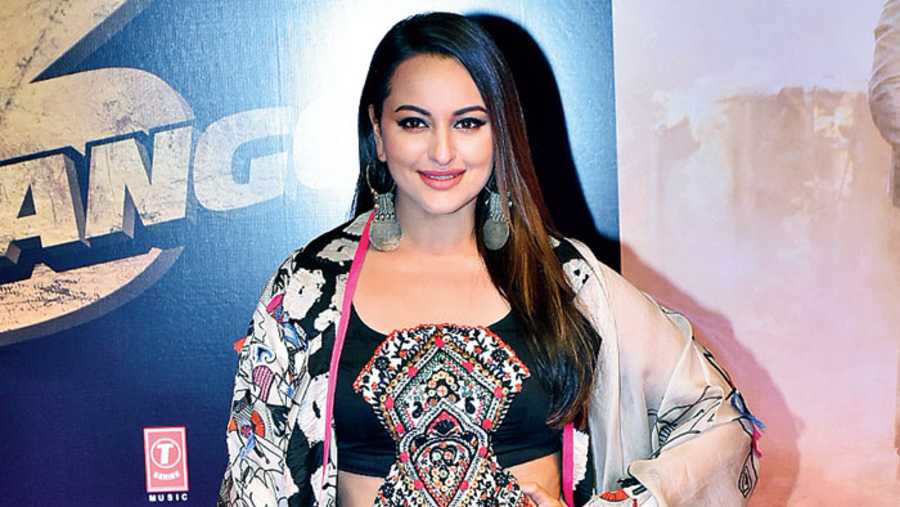 Sonakshi Sinha
File Picture
---
Published 18.07.21, 12:04 AM
|
---
The story goes that a certain director went to Sonakshi Sinha a few years ago with the script of a woman-oriented film he had titled Runway. It was a real-life chapter from the 1971 Indo-Pak war, drawing on the Sunderben Jetha Madharparya incident, where a local woman led a contingent of 300 rural women to help build an IAF airbase that had been destroyed in Rajasthan. The humble cow dung may be much vilified today but Sunderben and the women of Kutch had caked their makeshift runway with tonnes of cow dung, and our IAF aircraft had successfully taken off from that Bhuj airstrip.
It was a wonderful role for any actress but one heard that Sonakshi had told the director with great forthrightness that she had done a self-appraisal after the failure of Akira and Noor, films she had gone into with expectations of becoming another Vidya Balan kind of actress who could carry a film on her broad shoulders. Sona had chosen well. Akira was being directed by A.R. Murugadoss of the blockbuster Ghajini fame. Noor, based on Karachi, You're Killing Me!, supposedly a humorous novel by Pakistani writer Saba Imtiaz, was being produced by T Series. Bagging two well-backed pivotal roles at that stage of her career was a dream situation for any young actress.
But when the films tanked, soon joined by other failures — such as Khandaani Shafakhana in which she ran a sex clinic and Happy Phirr Bhaag Gayi, another intended comedy that didn't quite amuse the audience — Sona is supposed to have taken an honest look at her marketability. It's what her father Shatrughan Sinha would've called a SWOT analysis, a self-assessment that he highly recommends to one and all. Summing up her strengths, weaknesses, opportunities and threats, Sona arrived at the conclusion that she was not in a position to carry off a film on her shoulders alone. However substantial her performance, she required the commercial support of bigger names for a film to have a decent run.
And so she's said to have told the director of Runway that although he was offering her a terrific role, she didn't want to be the only name powering it commercially. It was an honest and sensible decision — once Sona did that reality check on her career, she went into very successful films such as Mission Mangal, where she could perform in a good role, leaving the worry of its commercial worth to names like Akshay Kumar and Vidya Balan.
Here comes the twist in the tale. One doesn't know when the subject of Sunderben Jetha went to an untried director called Abhishek Dudhaiya, but armed with the right financial backing, Runway morphed into an Ajay Devgn film called Bhuj: The Pride Of India.
Sonakshi still gets to play the strong role of Sunderben, who led the Kutch women to reconstruct the airbase in the nick of time. But it's Ajay Devgn powering the posters as Squadron Leader Vijay Karnik, who had to rebuild the airbase to win the 1971 war.  
The whole set-up has been further beefed up with Sanjay Dutt playing an Indian army scout and Nora Fatehi, a Pakistani spy. Ajay is reported to have given Bhuj so much personal attention that there were whispers of him re-shooting quite a few portions to weave the various strands into one cohesive narrative. He thus overshot the initial budget too.
Made ambitiously for big screen viewing, Bhuj: The Pride Of India will now premiere as a patriotic watch on Disney+Hotstar around Independence Day. What viewers won't know is the background story of how the solo track of a woman-centric incident grew into a commercially viable war drama.
BTW, the big question is how does a 60+ actor with stage 3 lung cancer make an impossibly magical recovery within weeks? It now transpires that Sanjay, who's hale and hearty, was never really a drastically ill cancer patient. Ah, the mysterious ways of the PR machinery.
Bharathi S. Pradhan is a senior journalist and author