Cast members of Hostel Daze Season 3 on why they are having fun working on the Prime Video show
Created by The Viral Fever, the web series Hostel Daze has earned a rating of 8.5 on IMDB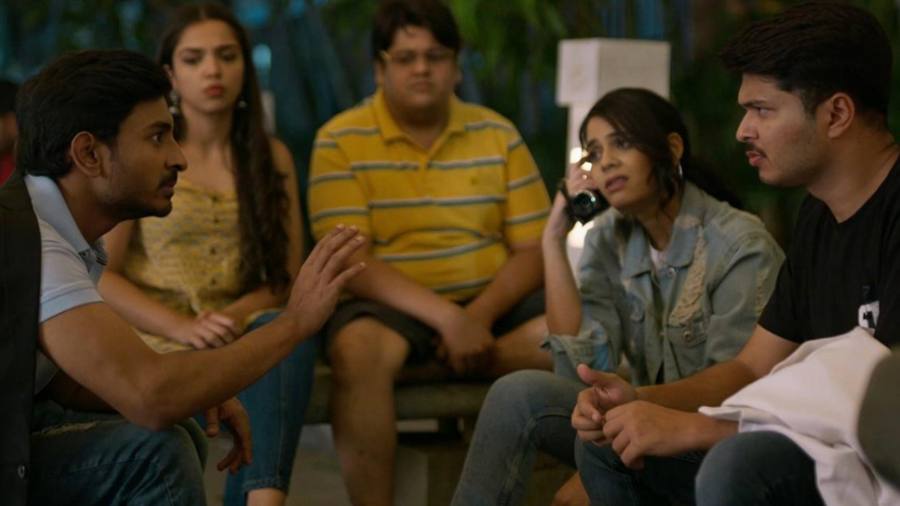 Hostel Daze Season 3 is streaming on Prime Video
Instagram
---
Calcutta
|
Published 23.11.22, 09:38 AM
|
---
The Viral Fever (TVF) never fails to capture core human emotions and portray relatable characters in their shows. From the makers of Tripling, Kota Factory, Gullak, Permanent Roommates, Aspirants, Yeh Meri Family and Panchayat comes Hostel Daze, mirroring life at an engineering college in India. Hostel Daze Season 3 cast members — Shubham Gaur (Jaat), Ahsaas Channa (Akanksha), Ayushi Gupta (Nabomita), Luv Vispute (Chirag) and Utsav Sarkar (Ankit) — talk to The Telegraph Online about the new season, the camaraderie, the success of TVF shows and the idea of sustaining in a 'freelance industry'. 
Every season of Hostel Daze comes with a new flavour. What new things are explored in Season 3?  
Shubham Gaur: This time we had more fun making it. The relatability factor, which was already there in earlier seasons, is intact but we went a bit wilder.
Ayushi Gupta: Things are consistent but the graph has changed. Every character is discovering something interesting in their lives. The two girls — Akanksha (Ahsaas) and Nabomita (Ayushi) — are very much part of the gang now. 
Luv Vispute: We portray things that happen in the third year of an engineering college, where you have both juniors and seniors. We explored all of it in the fun zone. 
Ahsaas Channa: A lot of surprises and guest appearances are there. Ankit (Utsav Sarkar replaced Adarsh Gourav in Season 3) and Akanksha had a crush on each other. This season, there is a relationship blooming. We have new directors (Abhinav Anand and Sachin Negi), so the vision is also different. I find this season is better than the last two. 
Utsav Sarkar: In the first two seasons, I was the audience. There have been changes in the writing. The characters are a bit mature and grounded now. 
Web series makers strive to keep the content intriguing season after season. TVF shows seem to be able to do it effortlessly. What's the secret sauce of TVF shows? 
Shubham Gaur: It's the writing! If people like something, it's because of the writing and when people don't find something entertaining, then it's also the fault of the writers. I want to give full credit to the writers. It is written well, hence it's well executed. 
Ayushi Gupta: Some shows get carried away by the success, but it never happens with TVF as it always puts across core human emotions. A collaborative space is created, so we evolve  and good things come up. 
Luv Vispute: TVF shows trust in new actors and writers. They are strong as creators, so they believe in people. 
The shoot experience must have been fun… 
Ahsaas Channa: Yes, when you are working with friends, you don't feel like you are working. It's actually like a paid vacation and you remain happy and fresh to perform. When the co-actors and the crew are fun to work with, it's not jarring at all. It gets easy-going as we were made to feel comfortable in a warm environment. The whole team was focused and worked hard. We had a 25-day schedule, but it passed like a breeze. 
Shubham and Ahsaas, besides acting, you are also popular influencers-cum-content creators. How are you multitasking? 
Shubham Gaur: We have chosen it, so we have no option but to do it well. (Smiles) We don't have anyone to blame. That's the motivation. If I have chosen this (to be a content creator) and created an audience, I can't let them down.
Ahsaas Channa: Yes, this is something that we wanted to become. I also chose this, and I love doing it. The team that works with me is brilliant.   
So, when you go for auditions, are you treated differently owing to your popularity? 
Shubham Gaur: No, thankfully it never happens. Though there are some people who think they should be treated differently. We create content, which is a different kind of work but acting is not the same. 
Ahsaas Channa: People who are casting us look at everyone similarly. This is a fair chance for everyone. Content creators and influencers are getting opportunities and they are killing it as they all wanted to act from day one. The OTT and the digital space are a blessing. 
Besides content creation and being an influencer, actors are also into script writing, direction, creating music and other creative jobs. What's the idea to sustain in the competitive industry? 
Utsav Sarkar: The only mantra is not to stop working. There can be a moment when nobody is paying us, but we shouldn't stop working. It's a freelance industry. During the pandemic, the industry was shut and cash flow stopped. I created things during that time, which I am selling now. You got to create so that it keeps you sane. I have been an actor for the past 10 to 12 years. It's not that I am a frustrated guy doing nothing. I was doing so many things and I am so happy in life. 
Ayushi Gupta: I feel we are in good times. We are luckier as good stories are coming up. We have more access and opportunities now.  
Luv Vispute: Everyone is experimenting in their own space. Nobody judges now. Hence, there is freedom. 
Shubham Gaur: One should reinvent to stay relevant. If one continues to do what they were doing seven to eight years ago, then it won't work. One has to adapt. Only if we do so, we will get work, and money will keep coming. 
Among contemporary actors, who inspires you to perform better? 
Ayush Gupta: For inspiration, there is Alia Bhatt but there are people among my co-actors such as Ahsaas and Shubham, who are extremely good. When I see Shubham's content, I wonder what he thought of it! 
Utsav Sarkar: The first time I saw Shubham's parody of Shoaib Akhtar, I felt that it was so accurate and funny. He is great. Ahsaas is also so good. Half of the time, even if I had reacted in a scene with her, I knew my performance would be great. She knows everything. Ayushi is also great. People who are around me are so talented, so why would I name Manoj Bajpayee? (Laughs) 
Shubham Gaur: I want to add that Luv is very funny. Not many people have seen his work yet. I keep pushing him to start posting what he has done so far. His observations are too accurate. He quickly adapts and can copy anyone. 
Tell us about your 2023 plans. 
Ahsaas Channa: I will travel to countries which are on my bucket list and obviously work. I will try to do workshops in other countries. I have to see my financial status also. (Laughs)  
Luv Vispute: I want to join Ahsaas on her world tour. (Laughs)  
Utsav Sarkar: We work a lot. It's good to balance it with something like taking vacations. 
Shubham Gaur: Kuch toh macha dunga! This year, the ICC Men's Cricket World Cup is in India and there is also the IPL (Indian Premier League), so I will remain very busy for a few months creating content around these tournaments and will surely do something or the other for the rest of the months.