Byomkesh has to survive the test of time and keep returning to our pathetic lives, just to inspire us from time to time
I still believe that Byomkesh needs to be made and is still relevant to my society and cinema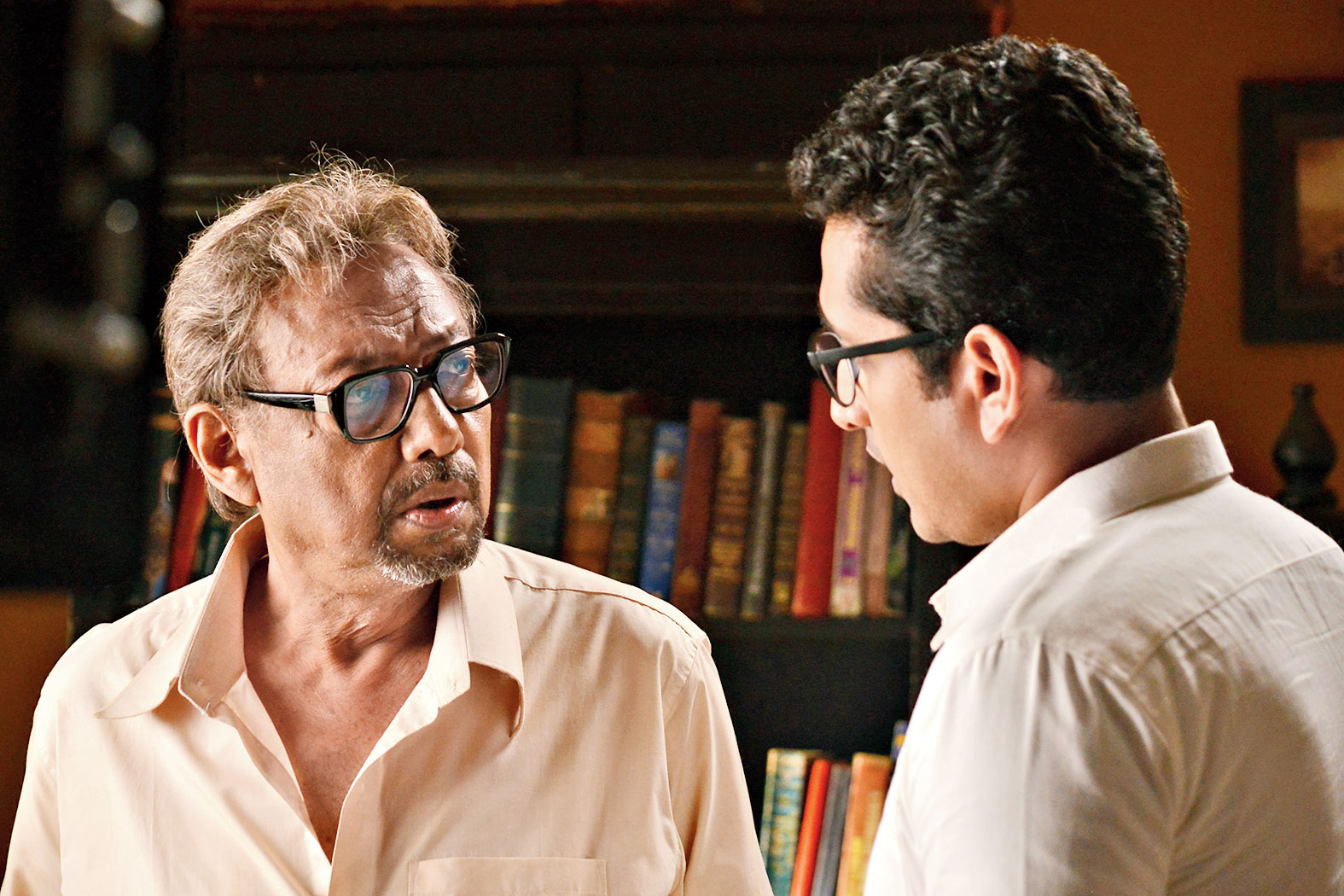 Anjan Dutt and Parambrata in Satyanweshi Byomkesh, which releases today
(Still from the movie)
---
Calcutta
|
Published 01.10.19, 03:44 PM
|
---
When I first bought the rights of four Byomkesh stories back in 2008, I never thought that I would be walking away from the franchise. I never thought that so many people would jump on to the bandwagon and saturate the brand, on screen, TV, web... and I would not feel excited of doing something exclusive.
I still believe that Byomkesh needs to be made and is still relevant to my society and cinema. To me, as I have read Sharadindu Babu, you cannot take away the basic premise of a location and the politics of the space. Neither can you place Durga Rahoshyo in Kashmir because it looks exotic, nor can you disown the inherent chamber drama that restricts Byomkesh to his middle-class house. You can change the time period depending on what the story demands, but you cannot make him an action guy. Ajit has to embody the iconic coffeehouse intellectual, a witty writer and not just a comic sidekick.
Those of you who have read the story will know that this one is about spies and betrayal of a nation. About politics and selling the country. Those of you who have not read it will have to simply grin and bear it cause you have never realised what the middle-class, utterly Bengali Byomkesh is capable of. To the latter it's still just another mystery story coated in their strange sense of Bangaliana. To me the dhoti actually has nothing to do with being Bengali. The entire nation wore and still wears a dhoti. Similarly, wearing jeans has nothing to do with being modern.
Similarly, to me giving Feluda or Byomkesh a cell phone is actually insulting their intellect and mental capacity to be ahead of time with their knowledge and intuition.
As far as I'm concerned, the world of Byomkesh is being torn apart with corruption and greed, with suppressed sexuality and passion that is destructive. Where ideology has gone wrong and money is ruling moral values. A world filled with traitors, blackmailers, sexual scandal and even incest. Only the middle-class, balanced Byomkesh has the guts to challenge this lopsided world because you can't buy him off with money. He relishes in finding the truth irrespective of the fact that he is not paid for it. Byomkesh is a crack shot but refuses to carry a gun and knows who to depend on when the gun is pointed at him. He can talk his way out of any dangerous situation without having to actually engage in a fist fight. Byomkesh is far more modern than us in his mind. Like Professor Shonku lives a highly middle-class life in Madhupur but is perhaps one of the world's greatest scientist. The sheer contrast is the fun.
Now, most of us believe we are evolved because we are watching Netflix. Yet, to most of us words like "edgy" or "gritty" are just words which we have accumulated without understanding its true meaning. Speed has actually no feature in our otherwise languid life steeped in nostalgia which is actually behind time. In such a world, Byomkesh solves an intricate, complicated case in actually two days. 48 hours. It does not seem like 48 hours 'cause he is not running or chasing cars. He is spending sleepless nights arguing with his friend Ajit, lying to his wife over the telephone, smiling at a gun pointed at his face and enjoying his "kosha mangsho". All at the same time. He is that intellectually aware and an extremely sharp Bong who refuses to pretend to be smart but is actually that when it comes to finding the truth. Yet he is polite to the one who is faking the "tough guy" out of desperation. He is equally bothered about the reputation of the country he belongs to.
I feel that such a character needs to be kept alive in our diluted, half-baked modern society ruled by mediocrity and money power, just to remind us of the pride of being a true Bengali. A man who lives a humdrum life and solves national and international crimes from his Keyatola home.
I feel, whether I do it or not doesn't matter. The true spirit of Byomkesh has to be kept in tact for the purpose of heritage, legacy. Byomkesh has to survive the test of time and keep returning to our pathetic lives, just to inspire us from time to time. Like the bell of a bell tower that keeps telling you what time of the day it is. It's purely for this reason that I have decided to be a part of this renewed attempt. So begins a new, refreshing journey with Satyanweshi Byomkesh, based on Magnomoinak.
Whether the trio (Parambrata as Byomkesh, Rudranil Ghosh as Ajit and Neel Dutt as the music director) has come up with something totally different this time is up to you to judge, but let me share my take.
As far as Parambrata is concerned, I felt it's high time we saw a younger Byomkesh. Since you don't have to be a traditional Bong to wear a dhoti, I seriously believe that Byomkesh does not have to be middle-aged to solve highly complex adult, political cases. He can appear to be the next- door young man who is a tad snappier than others yet can pull the carpet away from under any and everybody without much effort. It's a Byomkesh for the new Gen. Parambrata fits the bill and am proud of the fact that he performed effortlessly, being himself, in scenes where he rules. What happens with an effortless performance is that the subtext emerges. So Param, if I may call him that, let the subtext emerge. His personal political consciousness added to our discussions during the shoot and he, on one hand was easy with the young director, on the other finicky of the political context. That was rather refreshing for me.
Next is Rudranil Ghosh. Our connection goes way back to the days of Chalo Let's Go. Rudranil, like Parambrata, has changed over the years. But what I am extremely elated about is that he still retains the old-world wit. That wit shows. He makes you giggle but not break out into a guffaw. Despite Saswata Chatterjee embedded in mind, I quite like this Ajit who balances the dramatic tension of all the brilliant performances of his co-actors with his quizzical look and mischievous smile.
Neel Dutt understood the general shift of focus from the classical noir towards the retro and used the electric guitar, which gives the new score an uncanny zing. It stands out and clearly reflects that here is a fresh attempt.
The choice of Sayantan Ghosal (director) and his team was entirely mine, 'cause I thought and believed that it's time a bunch of young folks should invest their time and effort in recreating the old. A young team makes mistakes but because they are young they own up and correct them. Much of the supporting cast, including Suprobhat (a stunningly brilliant actor) Swaroopa Ghosh (an old friend and actress from my theatre days), Gargee Roychowdhury, Ayoshi Talukdar, Madhurima Basak and Sumanta Mukherjee were my choice and I am extremely proud of their contribution. I myself have always surrounded my Byomkesh with extremely good actors and kept repeating them in every film. The reason being that is Byomkesh's suspects and adversaries, bad or misunderstood, have to be of very high calibre. Yet Byomkesh finally outwits them all. Here again the same game is repeated and I am certain that you will find those playing suspects are absolutely superb.
Apart from the twists and turns in the narrative, the joy of watching a Byomkesh actually lies in the performance more that anything else. Here again, director Sayantan Ghosal focussed on the good actors, thereby giving them space to grow in each scene. I personally love close-ups on the big screen. It was nice to see the young team accepting this love and enjoy interesting faces. Since I grew up with Raymond Chandler, my scripts of Byomkesh had always been littered with sharp repartee.
But repartee or wisecracks can only work if the actors deliver them with aplomb. Every scene between Param and Suprobhat, or between Swaroopa Ghosh and Param, or Rudranil and Suprobhat work like magic because they enjoyed the repartee.