Buno Haansh turns six this August
Aniruddha Roy Chowdhury walks Down memory lane to relive some spectacular moments from the film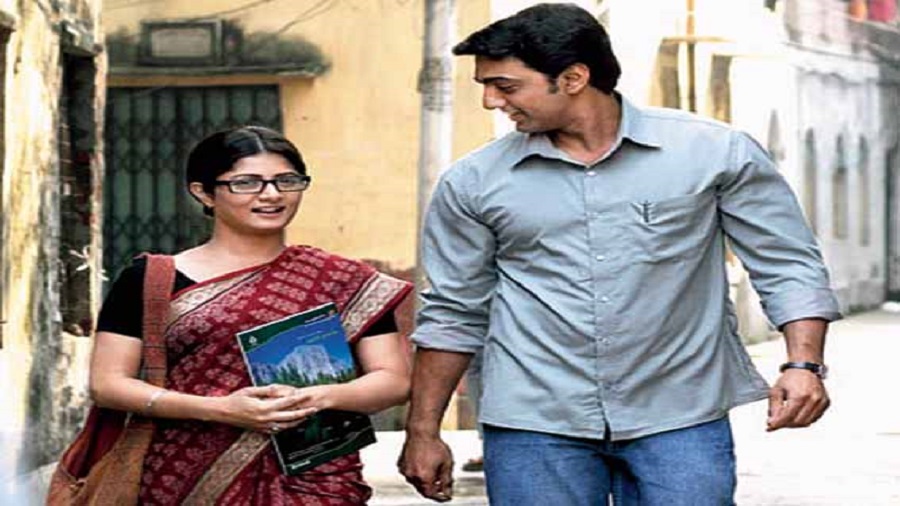 ---
---
Buno Haansh, the 2014 film directed by Aniruddha Roy Chowdhury, completes six years this August. On the occasion, The Telegraph dialled Aniruddha for a chat.

Real mirroring reel
This film is very close to my heart. My parents also came from Bangladesh to Calcutta. I know the pain and ordeal a displaced family goes through anywhere in the world trying to build their life afresh. You make one mistake and if you enter a dark world, you'll find it difficult to return.
Something similar almost happened with me. In the 1980s I was once asked to deliver a package (like Amal played by Dev does in the film) without any information on what it contained. I was promised a hefty amount, but was told that if I get caught, I would have to spend two years in jail. I didn't have the courage. But here Amal showed that courage. I have been to Bangkok and I have seen this happen. Amal depicts a very real character in the film. The film is beyond relationships... it could be called a social thriller.

Shooting with Dev
Shot extensively in Calcutta, Bombay and Bangladesh with a star like Dev, I was really amazed at how we completed the shoot. I had told him that he would be required to shoot in some real locations, though I didn't know how that would be possible. But he managed it well. He did a scene in a bus, where we followed him with the camera and before people realised he got down too! In Kalabagan, we had a scene, where five thousand people had gathered to catch a glimpse of him. Dev maintained his calm and explained to them that we need to complete the scenes. For me, cinema just happened that day because I had the right people beside me.
The most memorable moment was the way in which the team operated the camera and other equipment in a small lane full of people in shooting the scene where Dev went to have ilish biryani at a local shop in Dhaka, Bangladesh. Tnusree and Dev's scene of throwing the fake money in the valley turned out to be magically layered due to the direction of the wind blowing, with the notes flying over their heads.

Another hero
Shooting at a location in Manikganj where Ritwik Ghatak had shot a scene, there was a surreally beautiful moment that we could capture (Harendra Singh was the DoP) in the middle of the river. The water was on the ebb when we took the shot... but the tide slowly started rising and before that we completed the shot and came to the shore. There were thousands of people waiting for us on the shore. But I managed to save the cast, crew and even a little boy who came to watch! I jokingly told everyone on set that they should give me credit for being a real hero on that day. Buno Haansh could not have been possible without the support of my brilliant and dedicated crew members. We were like a family.

Memories and moments
The scene shot on the shore of the Padma river in Bangladesh was a tribute to my parents. The scene where Amal leaves his passport behind in the airport washroom and comes back searching for it frantically all over the floor, till the policeman comes and gives it back to him is one of my favourite moments. Another moment — shared by the sister-in-law played by Sudipta Chakraborty with Amal on the terrace before she sits down to wash clothes — comes to mind. Her body language exudes that frustration and Amal absorbs it. A lot of layers of their relationship surface through that scene.
The moments shared by the mother (played by Sohag Sen) with her son Amal is another favourite. I was reminded of my childhood, when Amal's mother put that drop of curd on his forehead as a blessing and bit his little finger as he was leaving for Bangladesh. Some of my other favourite moments are — Tnusree turning back in the airport to have one last look at Amal, the Esheche raat song sequence showing the bond between two childhood friends, Gargee's character asking Amal in the car to be a bit 'dushtu', Shantilal Mukherjee portraying the role of a vicious man effortlessly and effectively, looking fierce and giving threats to Amal's family.

Why change?
We can change a lot of things. But I fall in love with my films. Why would I want to look back and change anything? A film is a commitment. Obviously we can introspect, but given a chance I would not want to change anything. I don't perceive life like that. Why should I regret something I had made ? I don't see life always like a bed of roses. Some things may not be fulfilling always, but that makes us human. We can revisit a film and look at it differently. But it was an honest effort at that time.

Making a character-centric film
Buno Haansh is about marginalised people. It is just not Amal's story about trying to make a living. It is his mother's story who left everything and came for the unknown. It is the sister-in-law's story who never realised her dream of making a happy family. It is Tnusree's character's story who got trapped and trafficked in pursuit of a better life. It is the story of Srabanti's character's unconditional love too. I tried to portray the social fabric that actually exists — in dire situations people try to hold on to the last straw and often take to things which are not lawful. I wanted to search for that answer. Is it the person's fault or is it the social structure pushing them towards the unwanted space. We need to dig in deep and find out why? I wanted to explore that 'Why'.

The Sen connect
Moon Moon Sen while portraying her role spoke fluent and sophisticated English as I wanted to break a stereotype. I wanted to show that a sophisticated, well-educated person belonging to a well-off family as her house suggests in the film, could also be involved in such a
business.
Raima is a very close friend. She didn't even take money to do that role. I requested her only once and she agreed to do it. She was not well on the day of shoot, yet she turned up and performed (the dance number in a bar). It was a long sequence, and it was not at all easy shooting it. Raima is a good human being and a fantastic actor... she did it just for the love of her work.

Thoughts on the ending
I like that ambiguity. I will explain it with a metaphor. It can be done in two ways. I can show that the moon is slowly waning, the sun gradually rising and it is morning. Or I can show that the moon is slowly getting covered by a mist. I like to show the latter. Amal gets lost in Bombay. He gets engulfed by the dark world and gets lost. It could be done differently, but for me that getting lost was important. Maybe I want to do a sequel on it. I am not that old but I have seen life (laughs). But in life we don't really get a conclusion always.
For Antaheen also, a lot of people were curious whether the girl was murdered or died in an accident. I want the audience to think what happens. Similarly, Amal gets lost. Many people told me a lot of things about the ending. But I am happy with the ambiguity and mystery.
The film is our baby. When we did the film, we did it wholeheartedly with commitment and integrity. If I shoot it now maybe the ending will be different. But a film is a film, once released it becomes part of an archive. It is a very rooted film.

Buno Haansh is streaming on Amazon Prime Video