Buddhadeb Dasgupta on Urojahaj and more, on the sidelines of KIFF 2019
'I am not happy with my own creations. I want to better myself each day, each film. That keeps inspiring me...'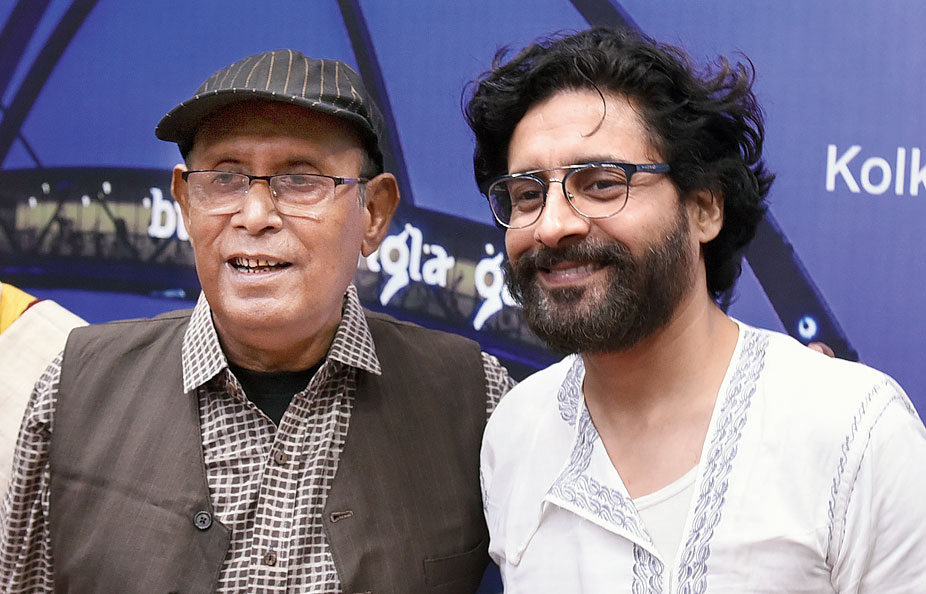 Buddhadeb Dasgupta and Chandan Roy Sanyal at KIFF
Picture: B. Halder
---
Calcutta
|
Published 13.11.19, 01:28 PM
|
---
Filmmaker and poet Buddhadeb Dasgupta took time out for a t2 chat on the sidelines of the Kolkata International Film Festival 2019. Excerpts:
Your film Urojahaj was screened at the film fest's Maestro section...
Nowadays, wherever my films are screened, they are placed under the Maestro or Masters category. I feel happy but there is nothing new in it any more.
You have said that this film is on 'journeys of dreams'. How relevant is it in today's age?
Very relevant; it's a dream of a person who is very ordinary otherwise and how his dreams threaten his existence, which has been happening all over this country. Any person who is dreaming for something better is questioned.
Does poetry seep into your films knowingly or unknowingly?
It does, without my knowledge. I am greatly indebted to poetry. It cannot be manipulated, it happens organically. When I write my script, poetry definitely contributes to it.
You write poetry and yet the film depicts a WW2 Japanese fighter plane, which is symbolic of war. How do you explain it?
In the film, a ghost asks the same question to the protagonist saying 'What will you be doing with this aircraft? Do you know how many people this might have killed?' So the protagonist replies, 'Now the destination has changed for the aircraft'.
Your film premiered at a film fest in Mumbai. What was the difference in audience reaction there and now at KIFF 2019?
After the premiere, there were a lot of good things said in the media. It's almost the same reaction here. And it was a great response after the screening. People were crying. The audience reaction in Calcutta was amazing, which helps me in reaching for my next film. People had so much to say about the film, about their feelings. It is my greatest award despite having won so many awards globally. It's the audience connect that matters.
What keeps you going?
I am not happy with my own creations. I want to better myself each day, each film. That keeps inspiring me.
What are your upcoming projects?
I am thinking about my next film. I am writing it. I haven't thought of the name yet. But I will get down to it after the release of Urojahaj next month.