Boston boy Zachary Ray on his musical relationship with Calcutta
We've taken the West and the East and adopted the best of both, says musician Zachary Ray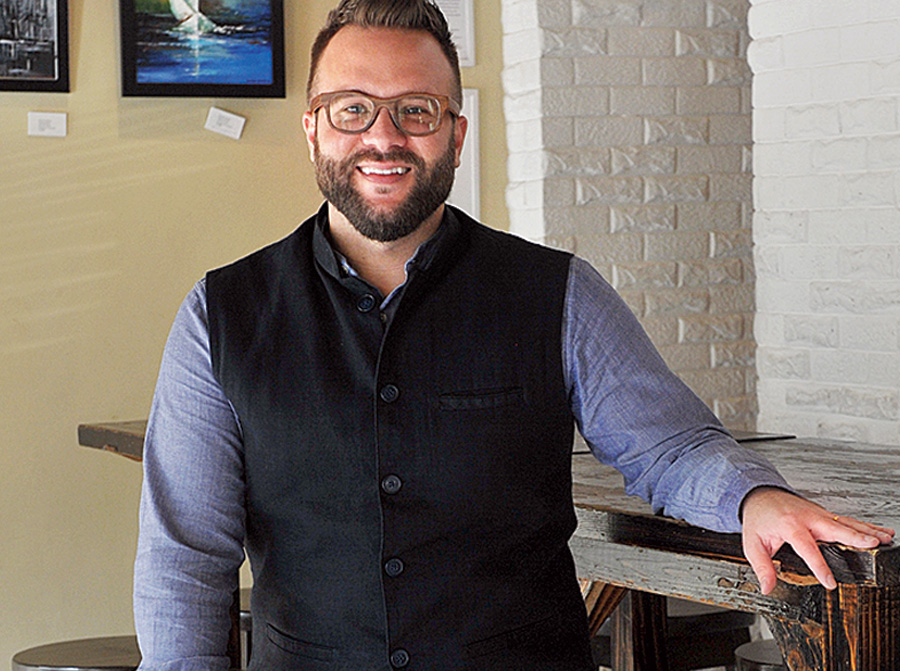 ---
Published 21.11.18, 06:56 PM
|
---
Amanda and I dated while living in Calcutta; we hosted our wedding reception in Calcutta; and, our son Kaden was born in Calcutta," says Zachary Ray (friends call him Zac) over a latte at 8th Day Cafe & Bakery. In the last eight years the Hindustan Park resident has made the city his home, has given promising musicians and artists a platform called Chaitown Creatives, flown down Angie Miller of American Idol fame for performances, taught vocals at Calcutta School of Music and has conducted several music shows, including the 50th edition of Assembly of God Church's annual Christmas celebrations last year. The 32-year-old from Boston is currently preparing for Christmas concerts, which will be held next month, and he's writing new music for an album. Here's more from Zac.
This is the busiest time of the year since you conduct several music shows in the city. What can we expect at this year's Songs of the Season (December 7 to 9), which Assembly of God Church hosts every year?
Songs of the Season is one of the longest-running Christmas productions in the city. The 51st SOS will not disappoint. It's a Broadway-style musical filled with wonderful songs, dancing and drama, and the 40-odd members of the choir and cast are working hard. I've also been working with the Kolkata Symphony Orchestra and the Kolkata Community Choir for their upcoming Christmas concert (December 8 at St. Paul's Cathedral).
You have been living in Calcutta for almost eight years and recently returned to writing music. Tell us what inspires you and can we expect an album.
There is something so wonderful about India, especially this city; such a sense of togetherness and this marvellous atmosphere of joy. After eight years of living in Calcutta I can proudly claim that a part of me belongs to the city; you can't separate it from my identity. A lot of my writing is coming from my life experiences and lessons I've learned in the past few years, living in India. I'd like to put all the songs I've been writing into an album and I'm pulling in a few friends from Calcutta to collaborate with.
You have also spent a couple of years in Mumbai. How do you find the music scene there and in Calcutta?
I never really lived full-time in Mumbai, but I did spend a significant amount of time there and I have quite a number of Calcutta friends who have turned Mumbaikars. Although all of them still proclaim loudly there is no city like Calcutta, Mumbai has so many different opportunities for musicians to make a living. To me, though, Calcutta stands out as a city with a deep-rooted passion and love for music.
What brought you to Calcutta?
We had close family friends who were living here at the time. After finishing my studies, I was given an invitation to work with young musicians, specifically to train vocalists.
What was your initial perception of the city?
All I knew about Calcutta was that Mother Teresa lived here. I look back and laugh because Calcutta is so much more than that. Amanda and I dated while living in Calcutta; we hosted our wedding reception in Calcutta; and, our son Kaden was born in Calcutta. He's now 15 months. Calcutta seems like a different world compared to Boston, but what I feel we've done as a family is taken the West and the East and adopted the best of both.
How did the journey from Berklee College of Music in Boston to India shape you as a musician and a person?
Berklee was a challenging place to study at. I grew a lot as a vocalist studying under some incredible professors. From Berklee to moving to India in 2011, and up until now, there has been a lot of life I've lived. There have been extremely painful events and extremely joyful events that have taken place in my life. I think one of the greatest lessons I've learned is finding joy — true joy — and leaning into that joy during life's painful events. I think losing our daughter Chloe and burying her here in India will still be one of our family's most painful events, and at the same time Kaden being born a year later will be our family's most joyful event. Not just our family, but so many loved ones here walked with us through that pain and joy. This journey of learning to put others first has and will continue to shape me as a person and as a musician. It's definitely shaping how I write and the message I want to get across in the lyrics I sing.
What have been some of the milestones for Chaitown Creatives, which you started to bring together artists and musicians?
Chaitown was started out of a desire to see young musicians and artists excel; to give training and new platforms. I think one of the milestones is 'artists collective', which is still going strong after almost three years. It's one of my favourite events that Chaitown hosts.
Do you intend to stay on?
As for now we are here and based in Calcutta; it's our home. We haven't put a timeline for our family at this point.
Five musicians from Calcutta you can't get enough of…
Paloma and Adil — "Paloma's voice is gold"
Whale In The Pond and Sourjyo Sinha
David Mani (singer-songwriter)
Deep Phoenix (percussive guitar)
Sherman Jackson (pianist from the AG Church)
Five places in Calcutta that inspire you…
Rabindra Sarobar, Jorasanko Thakurbari, Prinsep Ghat, the AG Church, north Calcutta (especially Shyambazar)
Five things in your wardrobe that's Indian…
Punjabi kurtas, Kolhapuris, Nehru jackets, Indo-Western suits, dhoti
Five Indian/Bengali dishes that have become a household staple…
Tadka dal (any kind of lentil dish). I love kaali dal, luchi and aloo dum, mishti doi, begun bhaja