Boss Bose: Tribute to a director and legend
Celebrating the Bengali film industry's centenary year, with a tribute to director and legend Debaki Bose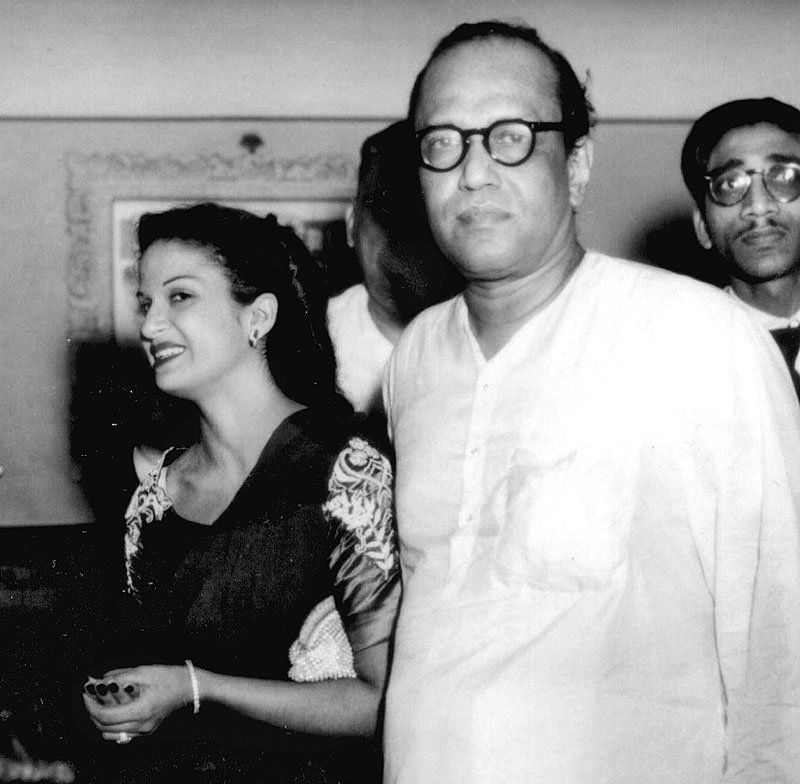 MAKE, BELIEVE: Debaki Bose with actor Kamini Kaushal
Courtesy, Debkumar Bose
---
Published 07.03.20, 07:09 PM
|
---
What should the nature of cinema be? At a discussion at the first International Film Festival of India in 1952, Italian-American filmmaker Frank Capra had said, "Cinema is something that through entertainment makes you a better person."
"Debaki Bose's films did exactly that," emphasises filmmaker Debkumar Bose, 86, who was among the audience that day at Calcutta's Eden Gardens. A veritable archive on cinema, Debkumar is also the son of Debaki Bose, widely known as the director of many firsts.
Born in 1898 into an educated and wealthy family of Burdwan, Debaki's father chastised him as "kulangar" (black sheep) when the young man announced his decision to enter the vortex of activity and enchantment that the film industry offered. "This kulangar will one day be your kul-prodeep (pride)," Debaki retorted, and left for Calcutta to work with Dhiren Ganguly, one of the first director- entrepreneurs who set up a number of production companies.
It was the dawn of the third decade of the 20th century. New Theatres, established in 1931, had in its employ talented actors such as Prithviraj Kapoor, Chhabi Biswas, K.L. Saigal, Bikash Roy and Pahari Sanyal, while the beautiful Kanan Devi was their star actress. Then there were musical masters such as Raichand Boral — he would eventually be known as the father of Indian film music — Pankaj Mullick and Timir Baran, and directors Premankur Atarthi, Pramathesh Barua, Nitin Bose and Debaki. One of Debaki's most significant works was Bhagaban Shrikrishna Chaitanya (1954). The octogenarian appears impassioned as he describes a scene wherein Nimai seeks Vishnupriya's permission before leaving for sanyas. The intense play of emotion on their faces, says Debkumar, was possible only because Debaki understood human psychology well. "Baba would spend hours sitting under the tree in Nabadwip where Sri Chaitanya had meditated, to allow his mind to absorb the nuances," he notes.
This film introduced Suchitra Sen to the world of cinema. Basanta Choudhury played Nimai — the young saint who went on to become Chaitanya Mahaprabhu — and Sen, his wife Vishnupriya. It was such an overwhelming experience that it left her quite transformed, says Debkumar. "Her perspective on life took a turn and her interest in cinema waned."
Once in conversation with Amit Maitra, best known for Jagtey Raho (1956), Debaki had some valuable advice on objectivity. According to Debkumar, he told Maitra, "If you have a liking for Sen, do not cast her… Your camera will focus on her more than required, and you wouldn't be doing justice to your film."
What about lovers? Says Debkumar, "From what I knew, Baba had no lovers... Leela Desai had once asked if I would write her autobiography. I agreed on the condition that she would have to bare the truth. 'I've heard you were in love with Debaki, I said to her… This made her leave in a huff and of course no autobiography materialised!"
For a big man and an extremely successful director, Debaki was humble and grounded. When the filming of Pather Panchali was suffering for want of funds, one producer offered to fund it only if it was directed by Debaki. But when the latter learnt that the young Ray had done much work already, he retracted. Says Debkumar, "When Bidhan (Chandra Ray) babu and father watched the film together, Baba said, 'Porajoy je eto modhur hoye, er aagey jantam na… That defeat can be so sweet, I did not know until now'."
"Indian cinema wouldn't have been as beautiful if it weren't for Debaki Bose," Tapan Sinha had reportedly said on his own death bed.
Perhaps the time and place were just right for the action. Or perhaps it was cinema's wont to be given direction through Debaki's imagination and industry. Whatever it was, Debkumar edits it to perspective: "The Calcutta of the 1940s had three things in currency — Mohun Bagan club, Netaji Subhas Chandra Bose and Debaki Bose."
Novelist Saratchandra Chattopadhyay, Debaki's earliest mentor, would often ask him, "Why do you make films on mythological subjects only; why not on my stories on social themes?" To this, Debaki would say, "To reach there we must first tell stories through devotion and mythology."
Puran Bhagat (1933), based on the legend of a Punjabi prince and saint, marked Debaki's directorial debut in Hindi. It was strung with music — six "enchanting" songs — and gave Boral his first Hindi hit. In Lahore, it ran to packed houses. Again, his Seeta (1934) became the first Indian film to go international — it was screened at the Venice Film Festival.
For 30 years Debaki churned out film after film that were apparently difficult to pull out of the theatres. Many of them were also released in Hindi, Marathi and Tamil. "But all was in tandem with his philosophical thinking, his pursuit of Krishna, the supreme consciousness," stresses Debkumar.
Young Debaki had quit studies to join Gandhi's non-cooperation movement. Later again, he rebelled against his father — saying, "I do not want a single paisa from you" — and became a hawker selling gamchhas, vests and other household stuff. "And this man went on to become India's highest paid director — he charged Rs 2.5 lakh per film, in 1940," laughs Debkumar.
Debaki led a disciplined life. He did not touch alcohol and industry people often referred to him as "cholochitrer sanyasi" or industry ascetic. Recounts his son, "He did smoke sometimes, but half a cigarette." He dressed in spotless white, his food had to be non-spicy and he ate small portions. "But he rode the best of cars, a Mercedes Benz usually. If you saw the magnificent flight of stairs made of the best Italian marble at his lakeside home in Calcutta, you'd know what I mean," says Debkumar.
As boss, however, he was a tough taskmaster. There would be pin-drop silence around him. "He was a bagh-er bachcha (tiger) in the studio, slapping anyone who failed to deliver. Suchitra [Sen] and Uttam [Kumar] too were at the receiving end. Kanan Devi regarded him as a guru, and Raj Kapoor called him devta," he says.
Baruah's love for alcohol was well-known. "One day while they were shooting for Chandrasekhar (1947), Baruah ambled into the studio inebriated. Debaki gave him a piece of his mind in front of everyone. Baruah, a hugely successful actor and director then, simply said, 'Box my ear; you're the only one in the country who can do so'," Debkumar says.
In those days shooting was done only outdoors, using reflected sunlight. Barua, a passionate photographer and close friend of Debaki, travelled to Paris and London for training in cinematography and studio lighting. The result was Aparadhi (1931), Debaki's directorial debut, produced by Baruah who was also the lead actor. "It is a historically important film — the first in India to use artificial lighting," says Debkumar.
Debaki's second film was Chandidas (1932), based on the life of the medieval poet, the basic tenet of whose teaching was — Shobar upor manush shotyo tahar upore nai… meaning, above everything and all is humanity, and nothing else. "As a filmmaker, my father's endeavour was to bring more and more people into the fold of cinema, hoping that they would begin to accept it just like they did literature," says Debkumar, "and his judgement was infallible."
Chandidas was a huge hit. It became the first Indian film to run a silver jubilee. And the first to feature a background score. "New Theatres became a brand," says Debkumar. Chandidas was so popular that Debaki made a Hindi version in 1934.
In another incident, Ritwick Ghatak, who was known for his waywardness, was smoking when Debaki arrived on the scene and someone asked him to throw the cigarette away. "But this is a bidi!" Ghatak shot back. To everyone's horror, Ghatak walked up to the senior director and said, "Eije Sir, this Chaitanya… What kind of a film is this?" Debaki saw it was useless trying to argue with someone so drunk. Director Arabinda Mukherjee later counselled Ghatak and urged him to apologise. At Debaki's house the next day, the senior man steered clear of any unpleasantness. Instead they spoke about art, the colour of the sky and such lofty things. Later Ghatak remarked to Mukherjee, "Sala… This Debaki Bose knows a lot!"
The little stories behind the making of a film make for quite a story. So also the stories behind a film that didn't make it. Somewhere around 1937-38, Debaki was in discussion with Rabindranath Tagore for a film based on his play, Tapati. "Guruji, I can make the film only if you allow me to change it a bit," the director said. All those present there — including Prasanta Mahalanobis and Charu Chandra Bhattacharya — were flabbergasted. How could anyone say this to Tagore? Debaki then explained, "Reading a book and watching a film are entirely different exercises. And Tagore agreed." Later, there were issues and the film did not materialise. "But he stood his ground," says Debkumar, "that if a shilpi does not have freedom, he will not be able to create."
Debaki did go on to make a film on one of Tagore's plays — Chirakumar Sabha (1956). One day during its making, the director arrived at the studio to find that his lead actor, Uttam Kumar, wasn't present. "Does he not know I'm in?" the master enquired. The hero was summoned from his make-up room. "I was going through my dialogues as I could not prepare them at home," he said. "You think you can deliver lines written by Rabindranath Tagore by memorising them in your make-up room? Would you be able to reach the depths?" The director threw a fit and ordered the unit to pack up. Despite the huge star that he was, Uttam Kumar accepted it humbly. He touched the ground on which Debaki had stood and said, "Director ho to aisa."