'Bollywood was exactly as suffocating as my house': Kangana Ranaut
Kangana Ranaut on her childhood, Bollywood and turning director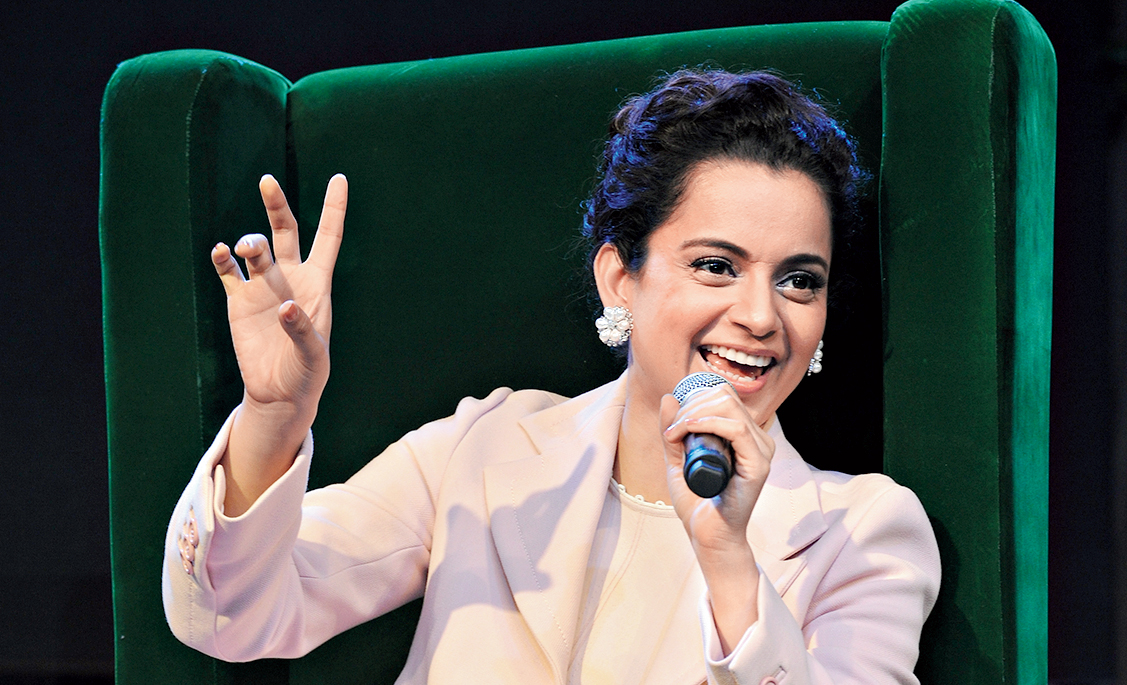 Kangana Ranaut at CC&FC.
Picture: Pabitra Das
---
Published 05.02.19, 03:31 PM
|
---
How do you turn your passion into a pay cheque? This is how host Cyrus Sahukar chose to commence the hour-long session of Signature Masterclass in front of a packed crowd at the Calcutta Cricket & Football Club recently.
And who better to talk about her "passion-to-pay cheque" story than Bolly powerhouse Kangana Ranaut, who has not only scripted some praiseworthy turns on screen, but has also now turned director, very successfully, with Manikarnika. Childhood stories to her first break to what drives her now, Kangana spoke on a host of topics at the masterclass. Sitting in the audience, t2 took notes…
What was your childhood like, including the atmosphere at home?
Kangana Ranaut: What a Bengali family can't even think of, my family was like that! (Laughs) Back home in the mountains (Kangana hails from Bhambla in Himachal Pradesh), we had no connection with music and dance was considered vulgar. Studying arts was for students who couldn't make it to medical entrance… the 30 per cent types. Jo kuch nahin karte hai woh arts karte hai! (Laughs) Films weren't considered good. In Himachal, we had very few theatres and people who went there were considered to be shady, and girls could definitely not go.
So it was a very conservative and stuffy atmosphere. Very patriarchal, with the idea of masculinity being completely warped. When he was a kid, my father would get my brother plastic machine guns and kind of provoke him. One day my brother got beaten up while at a cricket match and he came back crying. My dad told him that he wouldn't be allowed to come back if he didn't beat up the boy who had done this! So, children were taught violence.
Those were toxic ideas of masculinity, but thankfully, a lot has changed in the last 10 years, and not only in my family.
So you are the middle child?
Kangana: Haan… jo kahin ke bhi nahin hote hai! (Laughs) My sister (Rangoli) and brother (Akshat) have a lot of childhood pictures, but I hardly have any. I have to look for my pictures as a kid in some relatives' wedding album or something…. When I was born, it was like, 'Achha, chalo.'
As a kid, did you find yourself rebelling against these things?
Kangana: I was told there were different rules for me and different rules for my brother, and I found myself constantly rebelling against that. I was born with a very strong sense of being a life on my own. I always questioned this difference. People would constantly root me into physicality. Like when I would wear jeans, my grandmom would keep telling me, 'Look at your hips! With those hips, you shouldn't be wearing jeans anymore!' I didn't understand these things. There was also a sense of not belonging there. When my house was being renovated, there was a room for my brother, but none for me. My parents were certain that they would get me married and I would leave soon. So there was a constant feeling of insecurity.
After Class X, you decided to move to Chandigarh for further studies. What was it like leaving home and staying in Chandigarh?
Kangana: I wanted to seek my calling. In my hometown, I was the star of my class, but when I moved to DAV 15 in Chandigarh, it was quite overwhelming. It was an English-medium school and my parents had given me strict instructions to only befriend Himachali girls. The Himachali girls were very snooty and I felt lost. I became friends with these girls — Ronita and Bondona — from the Northeast and moved into their room. They didn't know Hindi and I didn't know English… we used sign language! (Laughs)
That was a wake-up call for me… I realised that the world outside is so vast. I got lost in the crowd… I didn't understand English and I couldn't cope with studies. I asked my parents whether I could do arts; Bondona was an arts student and she did sculptures and dance and I felt really connected with that. My parents couldn't believe what I was saying! (Laughs)
After that, you made some friends and moved to Delhi. Tell us about life there…
Kangana: Once I told my parents, I couldn't cope with what I was studying, my dad got aggressive and said he wouldn't give me any more money. I decided to drop out of studying for a year and made some new friends. Then started this whole new life of going out and partying. I was living the city life (laughs). That's when I started to give a little more attitude to my dad. He wouldn't give me money and I was like, 'Okay, fine.' Because by that time, I realised I could earn money by modelling. We were about six-seven girls living in one room in Lajpat Nagar in Delhi. We survived on bread and achaar, but that kind of life was good enough for us. Life became a big party for me and I drifted from that stress of not being able to meet my parents' expectations. I stopped talking to my parents completely. I met some really crazy and evil people in Mumbai, but Delhi was very good to me.
In Delhi, I joined a modelling agency called Elite. They started giving me small jobs, because I wasn't an instant hit in modelling. I would stand behind the main model, but even that was okay because I was paid well. At that time, I went with a friend to India Habitat Centre and chanced upon a theatre workshop by Arvind Gaur. I paid Rs 100 and walked in and people were doing workshops. I was asked to randomly join in and I felt so much at home there. I started going in more to these classes, without any thought about the future but because I wanted to spend time with Arvind Gaur, who had a big influence on me. He started to give me a lot of jobs.
At that time, I was doing backstage work for a play called Madhavi. The lead actor vanished one day, and Arvind Sir put a moustache on me and made me play the guy! He thought I was very good told me to look for a career in movies. This was the silver lining I was looking for.
You then moved to Mumbai. What role did Mumbai play in your life?
Kangana: In Delhi, I was always in the background, but in Mumbai, I came into the forefront. Before Anurag Basu gave me a lead role in Gangster (2006), I did a couple of different assignments. Honestly, I met some horrible people in Mumbai. I was open and inclusive and that went against me. People misguided me and someone I knew put me under house arrest. I had to go to the cops. Even when I joined Bollywood, I found that my lack of English-speaking skills was a big taboo whereas those who came in from London and knew no Hindi got away with it (smiles). I left the environment in Himachal to come to Mumbai and found the same environment!
In Bollywood, women are subjected to so much patriarchy; call time comes from the hero, schedules and roles are also decided by the hero… it was exactly as suffocating as it was in my house.

In Bollywood, women are subjected to so much patriarchy; call time comes from the hero, schedules and roles are also decided by the hero. I feel there is a lack of women in the industry and almost all the roles written for women are from the men's perspective
- Kangana Ranaut
How did Gangster happen?
Kangana: I got a portfolio done in Mumbai and that reached Anurag Dada. I met him in his office in Juhu and he asked his AD (assistant director) to record me and asked me to act drunk. That was easy! It was the role of a homeless drunkard; I was anyway homeless and drinking wasn't a big deal! (Laughs) I was signed on, but I had to go and shoot the film in Korea and I didn't realise one needed a passport to go to Korea! In fact, no one in my family had it. So finally, Mukesh Bhatt (the film's producer) pulled some strings and got a passport for me at the last minute. You did a lot of films after that, but we need to speak about Queen for which you had a dialogue credit. So you got into the film much more than just being an actor…
Kangana: I feel there is a lack of women in the industry and almost all the roles written for women are from the men's perspective. That's why I am always itching to do more than what's asked. When I could contribute in that sphere to Queen (2014), that's where the whole feminine energy came in. Our writer (Anvita Dutt) was also a woman.
You really upped your game after Queen… not only in your film choices, but also your interviews and the way you dressed…
Kangana: People think I learnt English and started dressing better in response to criticism; but actually, it was part of a process of evolving myself. I just wanted to reach out to more people and be heard on more platforms.
There was also a time when you weren't getting the kind of work you liked and you started acquiring other skills, including doing a film writing course from New York…
Kangana: After Fashion (2008), there was a big burst of awards, but surprisingly, for many years, I didn't get any work. I was very unconventional and I started thinking about what else I could do. The hunger was to reach out to as many people as I could. I wanted to direct and I did a screenwriting course and also directed a short film in California. I got Queen in the meanwhile and could pay my EMIs (smiles). I did small roles in films like Double Dhamaal and Rascals, but they paid well. Queen became a major success and it was unbelievable. I didn't know what to do!
How has it been turning director with Manikarnika?
Kangana: I think directing is an extension of acting, like dance is to singing. Directing has been a delight. I have learnt that actors are vulnerable and need a lot of attention. You really have to baby-sit them!