Blank cheque used as bribe to briefcase of cash as ransom payoff, firangi henchmen to suhaag raat, there's many an old Bollywood trope we don't get to see in our films any more. The Telegraph spotlights a few more that have thankfully (almost) bid adieu...
Dong to Dang
In '80s and '90s Bollywood, if you were a villain with flamboyance and flair (and an over-the-top wardrobe), then a bizarre name was part of the package. If Anupam Kher was Doctor Dang in Karma, then Mohan Agashe was Kooka Singh in Trimurti. Mostly, the names were descriptive, saving the audience's precious time in figuring out the villain's character traits. So Amrish Puri's slimy pony-tailed don in Vishwatma was named Ajgar Jurrat and Deepak Shirke's villain in Tirangaa, who aims to end the world, was creatively called Pralaynath Gendaswamy (though his Bachchubhai Bhigona in Gunda had a slight edge).
Gulshan Grover's pock-marked 'badman' in Sir was Chhappan Tikli and Kiran Kumar was Lotiya Pathan in Tezaab. Taking pride of place was General Dong in Tahalka, played by who else but Amrish Puri. Dong — sporting a bald pate with a braid, bluish eyebrows and eyes that were little more than slits — lorded over the fiefdom of Dongrila. When he wasn't hatching plans to become the king of the world, Dong played the sitar till his fingers bled, all the while singing, Shom shom shom/ Shom shom shom o sha sha/ Don kabhi wrong nahin hota.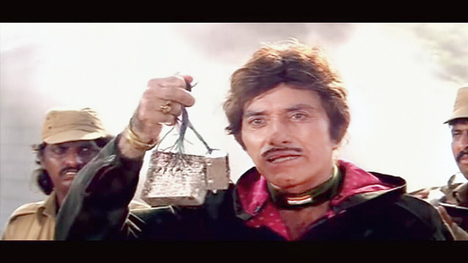 Sourced by the correspondent
Missile Mania
Suffering from a distinct colonial hangover, almost every larger-than-life villain of the '80s had one mission — to destroy India at the behest of foreign forces. And what better way to obliterate an entire country than with Bollywood's favourite weapon of mass destruction? No, we aren't talking about Tanishk Bagchi's remixes. Something a little less lethal — nuclear missiles.
The most famous instance is, of course, Mr. India where Mogambo's (Amrish Puri) 'lab', with its blinking bulbs and wailing sirens, had a white coat-clad Doctor Fu Manchu hard at work on a formula (pronounced "pharmula") to set off Mogambo's prized missiles and blow up the country, which in the end, however, self-destructed.
Tirangaa took the trope a notch higher (or is it lower?), with Pralaynath's long-cherished dream of setting off a series of missiles being destroyed by the smart antics of the James Bond-styled Suryadev Singh (Raaj Kumar, pipe in hand and pun on lip) who simply had to extract two innocuous-looking fuse conductors (the kind used to light bulbs) to take the mickey out of the missiles. Trust Raaj Kumar, at the end of it all, to say "Sirf dhuya hi reh gaya aur kuch nahin," in his inimitible style.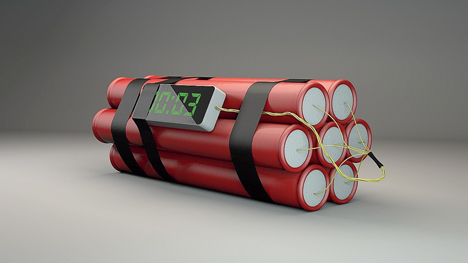 This or that?
The Bolly of yore played KBC long before Amitabh Bachchan baritoned "Swagat hain aapka Kaun Banega Crorepati mein". That was in the climax, which involved a time bomb strapped to a hapless wife/ mother/ sister/ sidekick. The all-important multiple choice question of which wire to cut to defuse the ticking time bomb set hearts pounding. "Peela ya neela" was almost always the dilemma, with the bomb invariably being disabled at the last second. Phew!
In the 2002 film 16 December, a nuclear bomb could be defused only by uttering the words, "Dulhan ki vidaai ka waqt badalna hain". Meta stuff!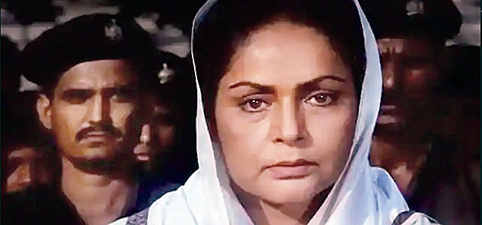 Sourced by the correspondent
Mom's the word
A widowed mother in an old Bolly masala film would most often end up as currency for the villain towards the end. The hero pummelling the henchmen to pulp in the villain's lair was the cue for a mysterious door to slide open, only to show the hero's mother, clad in a white sari, tied with a rope and choking in a swirl of smoke, which the badman was quick to point was some sort of poisonous gas. That meant it was the hero's turn to get a few blows, with the mother coughing and crying in equal measure.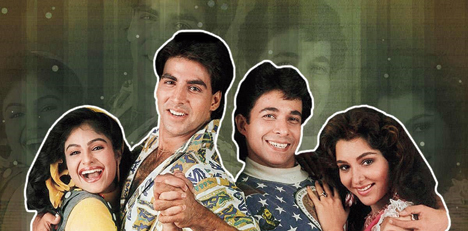 Sourced by the correspondent
Hero's sidekick
We still get to see him sometimes, but the leading man's sidekick is a thing of the past. Functioning as best friend, confidante, fellow eve-teaser and sometimes even taking a bullet for his best buddy, the sidekick also featured prominently with the hero in most songs that involved coercing (or bullying) the heroine to give in. In the '90s, Deepak Tijori had total monopoly over that role in almost every film.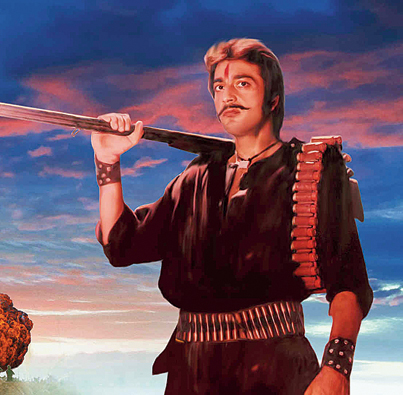 Sourced by the correspondent
Dacoits, ahoy!
Few came close to Gabbar and his men, but given the socio-political climate of the time, dacoits were a dime a dozen in '70s and '80s Bollywood. Some young men wronged and fed up with the system took to picking up the gun and horsing around in Chambal, like Sunny Deol in Dacait and Sanjay Dutt in Jeeva.
Dacoits are no longer the baddies we fear in Bolly. Irrfan did play one in Paan Singh Tomar, but that was a film set in the 1960s. So was the 2019 film Sonchiriya, playing out in 1975, which featured a group of dacoits facing an existential crisis.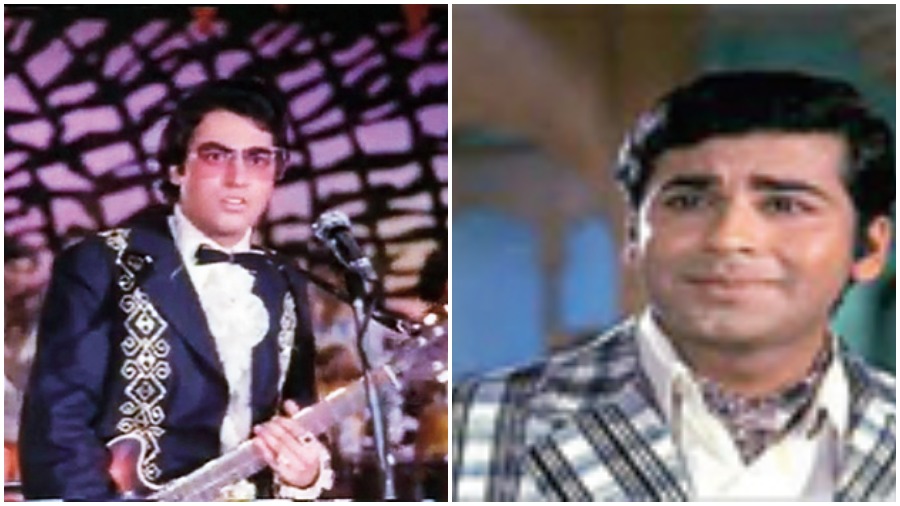 Song — like in Yaadon ki baaraat — was always at hand to bring them all together after a few decades Sourced by the correspondent
Family reunion
It didn't take a Kumbh Mela for siblings to separate in old Bolly. It could happen at the railway station, during an earthquake or storm or even under a statue, as in the case of Amar Akbar Anthony. But a family song — like in Yaadon ki baaraat — was always at hand to bring them all together after a few decades of their lives and two hours of the film's runtime. No family song? No fret. After all, what were lockets broken into two halves and strung around the necks of two siblings for?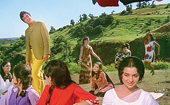 Sourced by the correspondent
Girl gang picnic
A staple of Bolly in the 1960s was the heroine cycling off with her gang of girls for a picnic. Giggling away, they would break into a song, with a few taking out skipping ropes or badminton racquets to keep the picnic spirit alive. Cue for the hero, sometimes accompanied by his own band of boys, to land up for some song 'n' dance and chhed-chhad. Few, though, stand out as much as Shammi Kapoor goofing around in a checked blanket, singing Tumse achha kaun hain....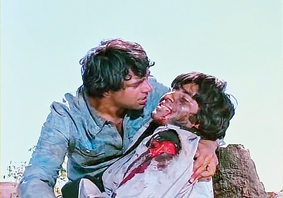 Sourced by the correspondent
The (prolonged) death scene
Let's face it. Bollywood could have saved many a character from a dramatic (and badly acted out) death only if the damned ambulance would have been called on time! The dying person had all the time in the world to unleash a speech, extract a few promises, indulge in a series of what ifs and also take the hero and heroine's hands in his/her bloodied clasp and almost get them married there and then.
A feeble attempt at calling an ambulance/ doctor would be shot down, with the character finally losing his breath dramatically. Followed, of course, by the ubiquitous 'Nahiiiiiiiin!'