Bohemian Rhapsody doesn't feel remotely authentic
You can do better with YouTube and a stack of vinyl records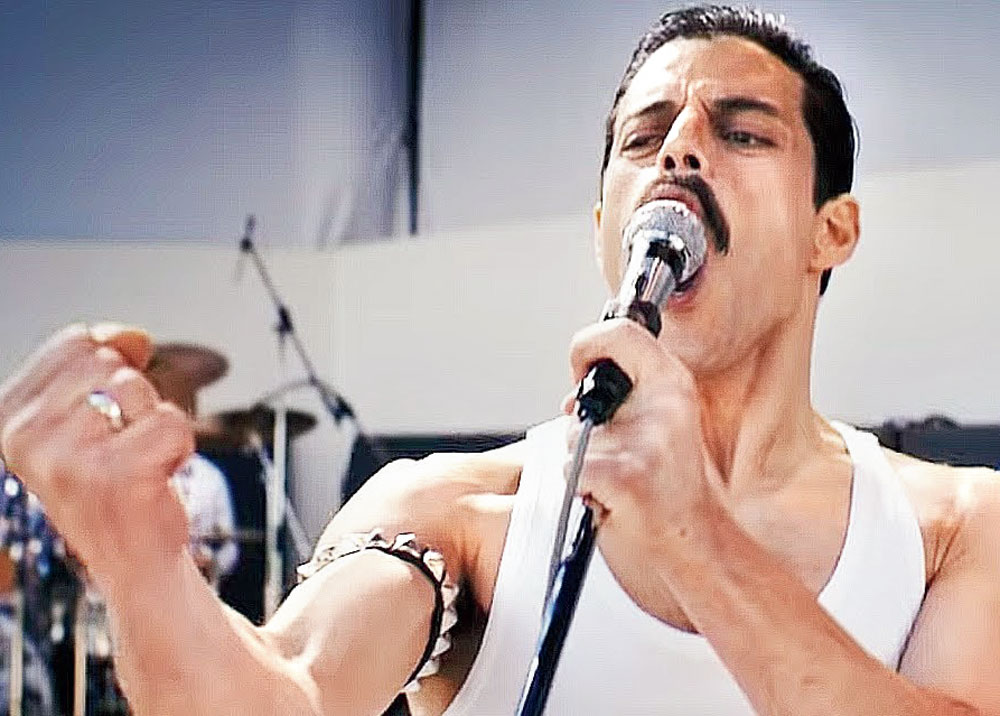 Rami Malek as Queen frontman Freddie Mercury in Bohemian Rhapsody
A still from the film
---
Published 16.11.18, 03:59 PM
|
---
Bohemian Rhapsody, the song by Queen, lasts nearly six minutes, a very long time for a pop single back in 1975. A baroque blend of gibberish, mysticism and melodrama, the track is a can of earworms, one of those musical confections that get into your head whether you like it or not and stay there forever. Some of us who were devoted radio listeners in the mid-'70s will surely sit up in our death beds and whisper "Galileo, Galileo, Figaro" with our final breaths.
Bohemian Rhapsody, the movie about Queen, lasts more than two hours, not a very long time by modern feature standards, even though it feels interminable. A baroque blend of gibberish, mysticism and melodrama, the film seems engineered to be as unmemorable as possible, with the exception of the prosthetic teeth worn by the lead actor, Rami Malek, who plays Freddie Mercury, Queen's lead singer. Those choppers may give you nightmares. And some of you who venture into the theatre will surely be inspired to exclaim "Mama mia, let me go!"
Is this the real life? Is this just fantasy? Like most musical biopics, Bohemian Rhapsody, which focuses on Mercury's thrilling rise and partial fall, is a little of both. Beginning with Queen's show-stealing performance at the Live Aid charity concert in 1985 — a very big deal at the time — the film flashes back to scruffier days in London, 15 years previously, when a young man named Farrokh Bulsara renamed himself Freddie Mercury and joined a band with a bunch of fellow college students.
Freddie's sometimes difficult relationship with his conservative Indian Parsi family forms one axis of the plot. (His stern father is played by Ace Bhatti, his doting mother by Meneka Das.) His generally harmonious, occasionally contentious relationship with his bandmates (Ben Hardy, Joe Mazzello and Gwilym Lee, in fine hair) provides another. If you've ever wondered how Bohemian Rhapsody managed to be released — there was an argument with an industry bigwig, cheekily played by Mike Myers — or how Queen came up with the beat for We Will Rock You or the bass line for Another One Bites the Dust, your curiosity will be half-satisfied. You will also hear a lot of music, which is nice.
Queen's hits were always more about sound and sensation than sense, and Mercury's lyrics were above all vehicles for his extraordinary voice. Sadly, absurdly, Bohemian Rhapsody is a plodding, literal-minded, conventional affair, in spite of Malek's game attempt to mimic Mercury's strutting theatricality onstage and his operatic moodiness in daily life.
The screenwriter (Anthony McCarten, who wrote Darkest Hour and The Theory of Everything) and the credited director, Bryan Singer (who was replaced by Dexter Fletcher late in the production), swaddle their subject in pageantry and spectacle, without supplying dramatic momentum or psychological insight. Mercury, as he struggles with his sexuality and his need for creative autonomy, is a collection of adjectives — imperious, vulnerable, witty, forlorn — in search of a personality.
His marriage, to Mary Austin (Lucy Boynton), is idealised, though it's also complicated by Freddie's attraction to men. The film doesn't seem to know what to do with homosexual desire — or with gay politics as the sexual liberation of the '70s gave way to the AIDS crisis of the '80s. Freddie's love affair with Paul Prenter (Allen Leech of Downton Abbey fame), a member of Queen's management team, is played for maximum scandal, a nightmare of debauchery, addiction and exploitation, with Freddie in the role of corrupted innocent.
The reality was perhaps more interesting, and more nuanced, but in any case the overall narrative architecture of Bohemian Rhapsody is a Lego palace of cliches. A band strives to get to the top and tastes the sweet and sour sides of success. A misunderstood genius suffers for his art, alienates those who care for him most, and finds forgiveness and redemption. A lot of the story may be true, but none of it feels remotely authentic.
Neither, however, does the film come close to capturing the glorious and unlikely artifice of Queen itself, a band whose scrambling of sexual and musical codes remains a remarkable phenomenon in the history of popular culture. Bohemian Rhapsody supplies a reminder that the band existed, but it conveys only a superficial, suspect sense of what it was. You can do better with YouTube and a stack of vinyl records. Easy come, easy go.