Bobby Deol goes down memory lane
His debut film Barsaat turns 25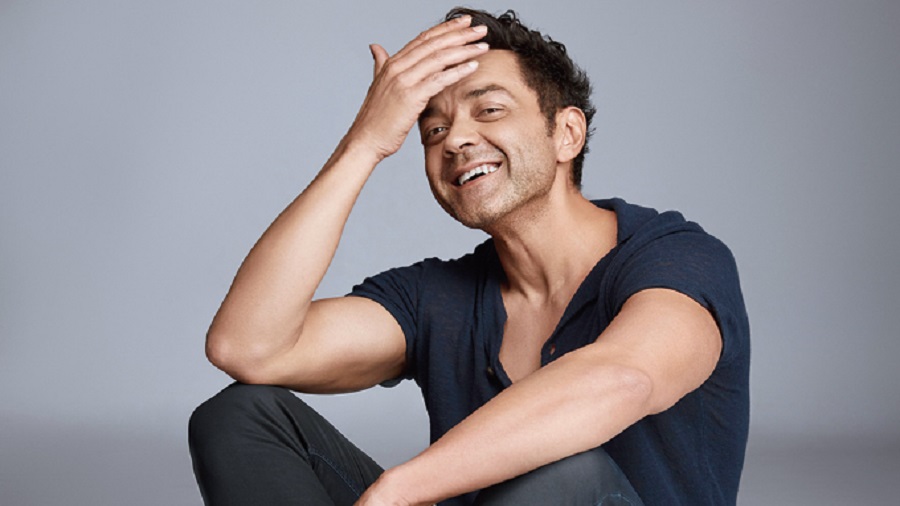 ---
---
Teri adaaon pe marta hoon, love tujhe love main karta hoon. So sang a young man with curly hair, sunglasses and a leather jacket. And an actor was born. It's been 25 years since Barsaat, and Bobby Deol revists his debut film with The Telegraph.

Twenty five years is a huge milestone. Does it feel like a lifetime or does it feel like yesterday?
It always feels like yesterday, we are all getting younger (laughs). I first started the film with Shekhar Kapur as director and we shot the film for 27 days. Strangely, I remember my first shot with Shekhar, but not the first day with Raj (Rajkumar) Santoshi, who took over as director later. I guess because that was my first day of shoot ever and that's bound to be special. There was a set made in an old factory and there was a little arena where I had to come in and do some kind of an illegal bout and win money. I had to walk down the steps and just smile... that was my first shot. But no one ever saw that because it didn't make it to the movie (laughs). Then, of course, I shot with Raj Santoshi because Shekhar was approached for Bandit Queen. It was a big step for him and he decided to do that film.
I still remember the days I was preparing to be an actor. I would go for horseriding, I would learn bike stunts on the beach, I went for dance and fight classes, I did a two-and-a-half month acting course with Mr (Roshan) Taneja.... When I was working with Shekhar, every third month the script would change! (Laughs) In one I was a drummer and so I had to learn how to play drums...
I went to Mohammed Ali Rd and got a drum set and (music composer) Aadesh Srivastava, who's no more and was a total sweetheart, was teaching me how to play drums. A few months later, the script changed and I was so happy that I didn't have to learn to play drums! (Laughs) Then I became a runner in the next script and I started learning how to run from Mr Adille Sumariwalla, who was a former Olympian and the coach of the national team at that time. I did that for 45 days and then the script changed again! In the next one, I became a juggler and I had to learn how to juggle. And then eventually, none of that happened. Shekhar himself didn't make the film and Raj Santoshi came in. And that's how Barsaat got made! (Laughs)

What went through your mind when the script kept changing so frequently?
I was both excited and frustrated. But I was very young at that time and I just wanted to act. When they would hand me a new script, I would start working on it earnestly and forget the frustrations of the earlier ones being scrapped. Eventually, the script had to be made in a way where the boy (Badal, played by Bobby) had to be larger than life... he had to do action, a little bit of comedy, everything. It was like making a complete showcase of Dharmendra's son.
My brother (Sunny Deol) took over the reins from dad because they decided that what dad had done for him, he wanted to do for his younger brother. It's a tough job to get everything organised on a film, and my brother didn't shoot for his own movies for a whole year while supervising Barsaat, that's how involved he was.

We eventually shot the film in Mysore, Bangalore, Mumbai and Manali... it had nice locations. Once the shoot was complete, my brother wanted to enhance my introduction sequence. There was a fight with a tiger in that sequence and my brother decided we would shoot it in a small town in Italy where a man had his own zoo and he took very good care of his animals. I went to Italy and shot with a real tiger... I was so scared that what if it pulls off a part of me?! (Laughs)
Then my brother decided to do more with my part. We went to Lake District in the UK and my brother wanted to do shots of me galloping with horses in the woods. That was the last shot I gave for the film because while galloping, I broke my leg. I broke my shin bone and I had to get operated twice for it and I have a rod in my leg even now. Luckily, the film was complete by then. We did the dubbing and the mixing in England because my brother wanted me to stay there and get treated.
When I came back, I had to start shooting for Gupt and some other films. If you watch Gupt carefully, in all the songs, I am mostly using the upper part of my body and doing a lot of hand movements, because I couldn't really dance (laughs). My leg hadn't healed.
But it was a beautiful time, I had a really good time making my first film... lots of good memories. It was so much fun working with Twinkle (Khanna), it was her debut as well. Santosh Sivan was the cinematographer, Tinu Verma was the fight master and Bijon Dasgupta was the art director. The music was by Nadeem Shravan... what great songs....

Do you have a favourite?
I loved Humko sirf tumse pyaar hain a lot. My sunglasses in Love tujhe love became a rage at that time. I was always fascinated with sunglasses — I still am — and I wanted to do the song with my purple Revo sunglasses. Raj Santoshi was like, 'Nahin, nahin mat pehen, aankhein nahin dikhti'. So I went and told Santosh Sivan and he said , 'Ya, ya, wear them, they look really cool!' (Laughs) I never realised those sunglasses would become such a rage....

So did your leather jacket...
Ya! It was my own jacket. Versus by Versace had just come in and it was by them. Anna Singh did the rest of my clothes in the film. It was such a fun time... I wish I could go back to those days.

While making the film, was there a moment of epiphany that told you that this is what you wanted to do for life?
I wanted to be an actor since I was a kid. I had really round cheeks and all my relatives would keep pulling them and say, 'Yeh toh actor banega, yeh toh hero banega' (laughs). I used to see the audience giving my dad so much love. When my brother made his first film (Betaab), I went to the sets on the first day and I was so excited to see him act. That's how it all started.

Barsaat opened big and you became quite a sensation. Did that catch you off guard?
I never let that get to me. I just felt that people were loving me the way they had always loved my dad. That was important for me. I did enjoy the success and the glamour but I never let it get to my head. I knew it wasn't sustainable and I would have to keep working hard. Obviously things didn't go the right way for me and after 12 years, it all started going downhill. I wasted two-three years of my life in the wrong direction and then I came back. And now 25 years after I started out, I am so happy that I have had two successes (Class of '83 and Ashram) back-to-back.

How do your sons react to Barsaat?
They have a smile on their faces when they watch it. My older son (Aryaman) has already taken the sunglasses I wore in Barsaat (laughs).

You did another film called Barsaat in 2005. Was that by coincidence or by design?
At that point, I was in that phase of my career where things were not going my way. The 2005 film (co-starring Priyanka Chopra and Bipasha Basu) was a social drama about relationships and it revolved around the monsoon season. The director (Suneel Darshan) was very adamant that he wanted the title Barsaat. I kept telling him I had already done a film called Barsaat but he wouldn't listen. I think I am one of the very few actors who has done two films with the same name! (Laughs)