Bittersweet moments of mother-daughter duo
'Moms are not always perfect, but it is a mother's imperfect love that makes the bond sweeter' — Aparajita Adhya talks about the film #Cheeni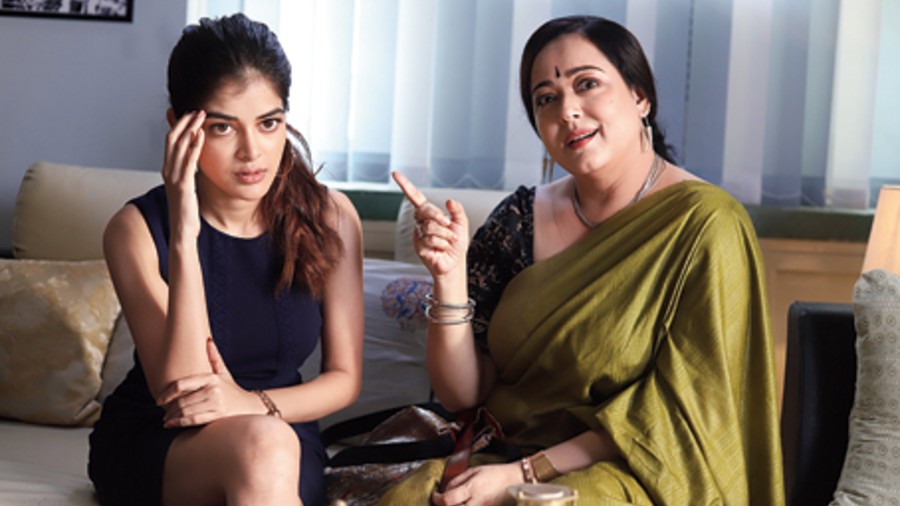 ---
Published 15.12.20, 01:28 AM
|
---
The film Cheeni, directed by Mainak Bhaumik, focuses on the ever-changing dynamics between a mother (Aparajita Adhya) and her daughter (Madhumita Sarcar). The bittersweet moments between the mother and daughter in the trailer of the film — releasing this Christmas — have come in for a lot of praise. A chat with Aparajita...
What was your first reaction when you heard the story of Cheeni?
When Mainak read it out to me, I was really interested in the script. Then from September onwards we resumed shoot. It was a challenging shoot. I am hoping that people will really like it because the script is really good. 
Tell us about your character
I play Mishti, Cheeni's mother. There are two phases in Mishti's life, from living with her daughter to the time when her daughter leaves the house. As women, we go through a lot of difficulties. But there comes a point in life when we want to break free and live life differently too. We could be wrong. Like a lot of things that my mother does, to me it seems wrong. But my mother is habituated to that lifestyle. A person's character undergoes a lot of changes at times. When Cheeni goes away from her mother, her mother's life goes through certain changes. That apparently seems wrong, but there is also a reason behind that. Cheeni feels her mother is always wrong. But after a certain point, she realises that no one understands her better than her mother.  Mothers are not always perfect, but it is a mother's imperfect love that makes the bond sweeter.
For playing the role did you seek inspiration from your own life too?
There's no similarity between my real life and this character. But I have come across such characters in my life. My best friend's life is quite similar. So, I do take references from a character that I have seen in life for the character I am playing.
You have worked with Mainak before. What was your experience of working with Mainak and Madhumita?
I need to like a director in order to work with that person. Only if I am convinced, I take up the work. Mainak is one of my favourite directors. Mainak, Shibu (Shiboprosad Mukherjee), Srijit (Mukherji) are the new-age directors who are really good. And I feel comfortable working with them. And Mainak likes working with me. So, both of us are comfortable working with each other.
With Madhumita also the experience has been really good. Madhumita is a sweet girl. I have seen her work on television. I like her work; she is very obedient, listens to everyone.
What is the best part about the film?
The whole film is made up of many moments. Every little moment is so beautifully created that every scene is a movie in itself. But my favourite is the scene where my sister-in-law comes to invite me for her daughter's marriage.
What does 'cheeni' mean to you?
For me, it is my mother-in-law's face. For me, the sweetest person is my mother-in-law.
Over the years many of your characters have become so popular. How do you select your roles?
I need to be convinced about the director and character. Until and unless I am convinced, I do not do the work. No matter how big the director is, I never do something just because my director is saying so. I need to be convinced and I see what I have to offer to the character... it could be a small character too.
You are a Covid survivor. How did you deal with it?
Initially, I didn't understand that I had contracted it. Then I suffered from fever and cough. After a few days, my mother-in-law also got fever. Since I stay in a joint family we all had to do Covid tests as recommended by our doctor. Until I got the report, I didn't have any physical problem. But the moment I got to know that I tested positive, I started getting panic attacks. I started taking medication for that. I am still under medication. Thankfully, I had my family members by my side throughout.
You also debuted with your short films on digital media, during the lockdown. What was the shooting experience like?
(Laughs) I wrote the script and acted in it. My husband directed. Actually, we both were involved in direction. It was difficult doing lockdown shorts, because whoever was acting in the film was shooting from his or her house and sending us. I was shooting my portion. So, getting the light right, matching the continuity of the shots... all of these were difficult. But that was an experience in itself. I knew that I can write, but never thought that it could turn out to be so much. All the films that we made were quite successful. We shot with many people who had no idea about cameras or acting. We did a film with a bank employee, where we made a real bank employee act in the film. And even that film was quite successful. 
How would you sum up 2020?
It's that one year everyone would like to erase. But from everything we learn something. 2020 taught us to be very patient. It made us realise that despite all kinds of situations, people can get by. For people like us, who couldn't imagine life without getting up in the morning and stepping outside, putting on make-up, it taught us how to stay at home. Despite all the bad things that happened, be it contracting Covid or not being able to travel or not being able to step out of the house for more than 100 days, I was happy to be able to spend quality time with my family. The day I stepped out for the first time, my legs were shaking. I couldn't get into the car. I have not stayed like this in the same house with my parents for so long. In my in-law's also, I have not spent so many days inside the house before. I work, come home, talk to family members over phone and run my family like that. It is for the first time that I stayed at home for so long. But I did not get bored. I got some opportunity to work for people too. The people who were in great difficulty due to Amphan or any other crisis throughout the year, I was able to reach out to them through people trying to help them. So, that was a great gift, being able to stand beside people in need.
What are your expectations from the film Cheeni?
It is a film that people would want to watch multiple number of times. People will laugh and cry; it will trigger emotions. Cheeni is a very nice film and will leave a lasting impression in people's hearts.  It will stay with the people.
What are your thoughts on digital release of films?
Digital release is the need of the hour. However, the experience of watching a film in the theatres is unmatched. I need that ambience to watch a film, and I make films so that people can also experience it in the halls.