Bhool Bhulaiya 2 is a crude attempt to live off the glory of something created 15 years ago
The film is like a mild soup in need of so many condiments that you might as well have cooked it yourself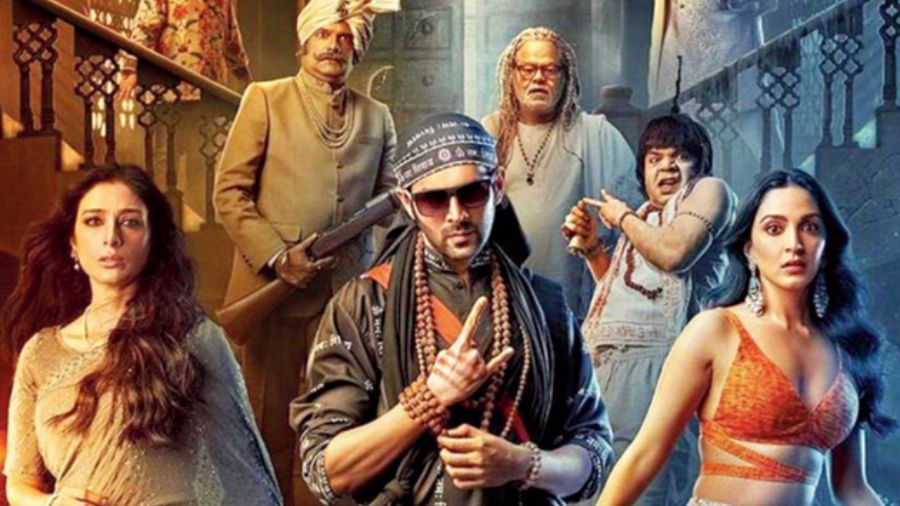 ---
Published 21.05.22, 12:59 AM
|
---
Bhool Bhulaiya 2 is concrete evidence of why Priyadarshan's 2007 eponymous film starring Akshay Kumar did not want to be associated with the sequel in any form. Except for the crowd-favourite soundtrack, a ghost named Manjulika and Chhota Pandit, the second film felt like a crude attempt to live off the glory of something created 15 years ago. Starring Kartik Aaryan as Ruhan, a good-for-nothing son of a business tycoon who lives to 'Illahi era jee aye aye' his life away and Kiara Advani as Reet, the apple of a ghost-ridden haveli's eyes, this film promises to be a horror-comedy and exceptionally fails at both ends. Chhota Pandit (Rajpal Yadav) and Panditji (Sanjay Mishra) garner a genuine laugh or two more on familiarity, nostalgia and impeccable timing of seasoned actors rather than great writing from the writers' room. Directed by Anees Bazmi of Hulchul and Welcome fame, there is only so much a director can do with a sinking script.
Reet and Ruhan meet unexpectedly on a ropeway ride in one of the many hill stations around Chandigarh and the latter is soon looped in to help the damsel in her complicated and unnecessary family distress. With a long shot of the gorgeous Indian desert, we are now in picturesque Rajasthan.
Reet hails from a gorgeous haveli that is stricken with a ghostly past. There stays locked the ghost of Manjulika who wreaks havoc in the household, killing eight members of the family and somehow, Reet has no memories of her frantic and traumatic childhood. She decides to hide from her family and live in that very haveli, unlocking the next level of the film along with its creaky doors. As the family suffers under the belief of Reet's untimely demise, Reet and Ruhan unleash a series of events that cumulatively build up into a series of misplaced humour and barely-there horror. Reet's sister-in-law is played by Tabu, our Indian Meryl Streep who can perhaps save any movie with her presence. However, even Streep couldn't save Mama Mia and Bhool Bhulaiya 2 becomes Tabu's Mama Mia.
Kartik Aaryan has a strong fan following as is evident from a portion of Twitter that has been gushing about him since yesterday morning. It was also evident from the 20-somethings seated next to me who burst out in genuine laughter at most of his jokes that refused to land. However, it is unfortunate when the only unsuccessful funny guy in the entire cast is the lead. Trying too hard to channelise an unforgettable Akshay Kumar, his dialogue delivery seems to have gotten worse since his misogynistic rant from Pyaar Ka Punchnama. While we understand that an act with Kumar leading the comedy and Vidya Balan leading the horror angles might be a tough act to crack but Aaryan leaves too much to be desired for all those who showed up for the first day first show in the theatre, still holding fond memories of their movie-going experience 15 years back.
The same can also be said about the music of the film. The male version of the Mere dholna song sounds like someone sang the harmony part and forgot to place the main track in it. And the lesser said about the rest of the OST, the better it is. Before today, we were unaware that it was possible to hold such negative feelings for a song. De taali changed that and how, and the only reason we remember the name of the song is because of the choreography and the irresistible need to find out the whereabouts of this perennially-present music festival in the middle of snow-clad mountains.
The second half of the film entirely belongs to Tabu. She is the reason you will feel the little satisfaction you do at the end of this film. She is reserved and flamboyant and her Bengali accent doesn't make us Bengalis want to saw our ears off. Special mention for Rajesh Sharma who plays Reet's uncle and does a great job in holding the fort when it comes to comic timing. The film also stars Amar Upadhyay as Tabu's husband and Milind Gunaji as the patriarch of the house. While the film begs a wait for OTT viewing, go watch it just for nostalgia sake.
Bhool bhulaiya 2 (u/a)
Director: Anees Bazmee
Cast: Kartik Aaryan, Kiara Advani, Tabu, Rajpal Yadav, Sanjay Mishra, Rajesh Sharma, Milind Gunaji, Amar Upadhyay
Running time: 145 minutes