Belsand to Bollywood: Pankaj Tripathi
Since the Newton-apple dropped on Pankaj Tripathi's head, directors have been chasing him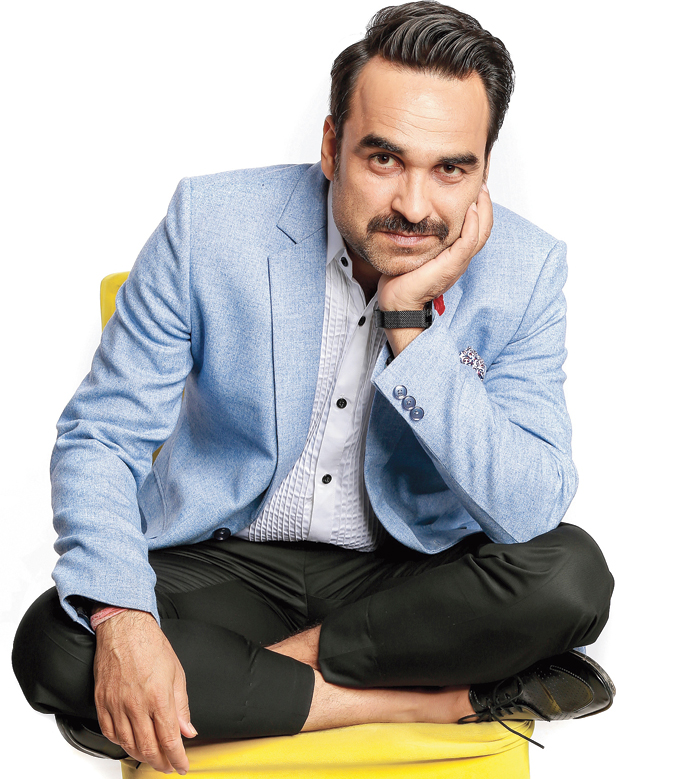 Compared to a film, in a web series you can go to the depth of a character
Sourced by the author
---
Published 14.09.19, 02:47 PM
|
---
Pankaj Tripathi was severely jet-lagged when The Telegraph caught up with him on a late August afternoon. The man who now stands for quality work on screens big and small had flown in to Mumbai the night before, after wrapping up a long schedule of 83 in the UK. 83 is director Kabir Khan's film on India's 1983 cricket World Cup triumph in which Tripathi plays the team's manager Man Singh. "It was a very good schedule. I had a lot of fun," says the actor when we ask him about the shoot.
Tripathi's voice is tired and the pauses between his words are long. It's not just jet lag that's the culprit. One look at the 43-year-old's filmography will tell you that the man has had an average of six-eight film releases every year over the last three years, and that doesn't include the work he's simultaneously been doing in the digital medium.
"Honestly, over the last two years, I haven't had any time to think. Mera dimaag chal nahi raha hai kareeb do-dhaai saal se!" he laughs. "If you ask me which film I was shooting for in January this year, I won't be able to tell you. I have to keep looking at my diary to remember what project I am working on currently," adds Tripathi.
So does it get overwhelming at times or does the actor — who's scripted a dream run from a farmer's house in Belsand, a village in Gopalganj district of Bihar, to land some of the most coveted roles in the Indian film and web space over the last few years — revel in his busyness? "It's actually a good thing and a bad thing. Maine bahut struggle kiya hai… bahut saalon tak kaam dhoondta raha. (I have struggled a lot. I searched for work for several years.) So for me to say 'no' to work is very tough. I feel I am doing something wrong if I refuse work. Lekin ab lagta hai ki mujhe naa bolna padega. Mujhe selective hona padega. (But now I feel I will have to say 'no'. I will have to be selective.) In fact, over the last few months, I have had to refuse 15-20 films because I didn't have dates," says Tripathi. He says he's planning to take "a kind of a break" next year, but isn't quite sure whether he will like being away from work. 
THEN TO NOW
Starting off with an uncredited role in the 2004 Abhishek Bachchan-starrer Run, Tripathi stayed on the fringes of Bollywood for years, landing bit roles here and there.
Today, he's one of the most sought-after actors, with six releases already in 2019, a stellar turn in Season 2 of the web series Sacred Games and with as many as 10 releases lined up in the next year. He's more than ecstatic to chat about his newfound success but doesn't shy away from talking about his days of struggle.
"Every day was a day of struggle. But then every day was also a day of learning. At that time, I would take care to ensure that no matter where I was, my mobile phone was in a place where there was full network so that if anyone wanted to get in touch with me for work, they wouldn't find me unreachable. Days would go by when I wouldn't get a singe call or message. And today, I keep my phone on silent mode all the time and mostly away from me because of the number of calls I get," he says.
Were there days when he felt like giving up? "Of course there were," he smiles. "But I laboured on. Aur koi choice bhi nahi thi. Bambai aaye thhe actor bann ne. Woh toh bann na hi tha." (I didn't have a choice. I had come to Mumbai to become an actor so I had to become one.)
"Nowadays, I see a film camera every day… I am shooting every day, whether it's for a film or a web series or something else. There was a time in my life when I hadn't seen a camera for two years. It's only passion that's brought me where I am today. I believe I have a long way to go… lekin mera mantra hamesha raha hai ki karte raho aur datey raho," he adds. (My mantra has always been to not give up.)
Tripathi believes that the 2017 film Newton was the turning point in his career, even though it was his turn as Sultan Qureshi in Anurag Kashyap's definitive gangster film Gangs of Wasseypur that catapulted him into the spotlight. In Newton — co-starring Rajkummar Rao and India's official entry to the Oscars that year — Tripathi walked away with much of the praise for his portrayal of Aatma Singh, a disgruntled and cynical CRPF commandant. "Newton not only gave me a role that made people see me in a different dimension, but was also responsible for the volume of work that came my way after that. Uske baad se toh main bhaag hi raha hoon (I have been overwhelmed with work since then)," he laughs.
Over the last few years, the list of award-worthy performances from Tripathi — Masaan to Nil Battey Sannata, Newton to Bareilly Ki Barfi, Anarkali of Aarah to Stree, along with web shows like Mirzapur and Sacred Games — is enough to illustrate that he's one of the best the industry has currently. The struggle he now feels is not to be caged in an image. "People either want me to do only comedy or only serious roles. I don't want to become predictable and I don't want to be slotted as either an entertainer or someone who only does serious, arty roles. Being unpredictable should be the only predictable thing about me. It's only when the audience comes to the theatre should they be able to figure out what I am doing in a film, not before that," he says. He feels that he's underplayed a little too much in his performances of late and wants to do something "crazy and loud" soon.
BEING GURUJI
So was the role of Guruji — the godman with a beatific smile and dangerous intentions — in Season 2 of Sacred Games, where he was cast against type, done to throw a curveball at the audience? "I hadn't played anything like Guruji before… woh kab sant hai aur kab Shaitan hai aapko pataa hi nahin chalega (You will never know when he is a saint and when he is a devil). I am a fan of Varun Grover's writing and I really like working with Anurag Kashyap. I primarily picked up this role because people never expected this out of me. And because of that I had to work doubly hard on this role. I had to bring in a lot of nuances to the character because it's probably one of the most layered roles I have played so far. If you don't watch the character very slowly, he came across as very simple, but he's actually very nuanced. A lot of people reacted very warmly to the portrayal. I remember someone sent me a message from Toronto that made me see the character in a whole new light myself," says the actor.
MIXING MEDIUMS
Tripathi may be doing some stellar work on the big screen but he's quick to concur that the digital medium is currently giving him more interesting roles — besides Sacred Games, he's won praise for playing a mafia don in Mirzapur, a small-time lawyer with drive and determination in Criminal Justice…. "Compared to a film, in a web series you can go to the depth of a character, aap uski bahut saare layers pakad sakte ho. The scope and time to explore is more in contrast to films that end in only two hours. Also, the digital space comes without the pressure of box-office collections. So, you have people not being afraid to experiment, whether it's in writing or in acting. People talk about the high of being seen on the big screen, but nowadays, these shows are being shot on a par with the biggest films, if not better. The kind of technology that's being used is mind-blowing. The only difference is that cinema evokes a collective viewership and breaks class divides — ek factory ka owner aur factory ka mazdoor ek saath baith ke picture dekh sakte hai — while you mostly watch these shows on your phone or tablet alone. But the reach of this medium is huge… Netflix reaches 190 countries at one go. When this season of Sacred Games premiered, I got messages on Day One from Afghanistan, Philippines, from the US…."
AWARDS & REWARDS
With increased work comes newfound popularity and that has proved to be a double-edged sword for the actor who is shy by nature and values his private space. He admits that selfies make him "awkward", but he's also aware of the love that the audience feels for him. "It does get overwhelming. I was in Edinburgh recently and I had gone to an ATM with my wife. A couple came up to me for a selfie and it was probably for the first time in my career that I felt I really needed my space and I refused. They were very understanding and sweet about it and it was only after they left that I started feeling very bad that I had refused… ek selfie ki hi toh baat thi, nahi manaa karna chahiye tha. But kabhi kabhi, main itna attention nahi le paata hoon. Mujhe bhi toh freedom, kuch chhoot miley zindagi mein. (It was only about a selfie. I should not have said no. But sometimes I cannot deal with all the attention.) But the dichotomy is that this is what I have always wanted and now I try and run away from it," says Tripathi.
He does value awards, he says, but he doesn't work in a film expecting one. "I don't go to award functions… I've probably gone only twice so far. I was elated when I won the National Award for Newton. But for me, my award lies in being able to recognise my mistakes and work on them. Khud ki ladaai chalti hai khud se hamesha (I am always at war with myself)," he says.
Feedback from the audience is, however, something he thrives on, especially when it comes from someone like cricketing legend Sunil Gavaskar who loved his work in Criminal Justice, currently streaming on Hotstar. "I met Sunil Gavaskar on the sets of 83 and he started talking about a scene in Criminal Justice when a senior lawyer (Mandira Mathur, played by Mita Vashisht) walks into the room and my character, being a junior, bows down and moves away surreptitiously. I had done that deliberately in the scene but I hadn't expected the audience to notice. Gavaskar saab was like, 'Woh tumne khud se kiya tha ya director ne bataaya tha (Did you do it on your own or did the director ask you to do it?)' I was so overwhelmed that Sunil Sir had noticed it, remembered it three months after the show and made it a point to tell me. What more can an actor want?" says Tripathi, the hint of a gleeful smile creeping into his voice.
STAYING ROOTED
For anyone experiencing the kind of career upswing that Tripathi has, losing touch with one's roots wouldn't be surprising, but the actor has worked hard on ensuring that he remains true to who he is. Despite his busy schedule, he takes a couple of days off every year, switches off his phone and goes back to Belsand to meet his aged parents. His father is still a farmer there. "When I go there, I don't think or talk about work. I spend five-six days with my parents without any distractions. I meet the people of the village. Whenever my batteries get discharged due to work pressure, I go back to my village to get recharged.
I am trying to initiate some projects in the spheres of education and public health in my village," he says. Tripathi himself worked as a farmer until he was in Class 11.
He does all he can to shed his celebrity image when he goes back to his village, but his popularity follows him everywhere. "It gets very crowded. People from even the neighbouring villages land up. I go to meet my parents and I have the whole village at my door. In this age of WhatsApp, koi photo daal deta hai aur log pahunch jaate hai. I can't even go inside my own house sometimes. But yes, it's nice to see that young people in my village are inspired by my journey," says the actor.
What's refreshing about Tripathi is how rooted he manages to be, but he says he has no other option. "Koi paudhey ko jadh se aap ukhaad do toh woh sookh jayega. Jis din main apne roots se disconnect ho jaaunga mere mein kuch nahi bachega, as a person and as an actor. People see the fruits and flowers of a plant, but its strength actually lies in its roots. If I don't remain true to who I am, I will become hollow. Main gaon ki mitti se banaa hoon… woh mere andar hai. Usey chhodna muskhil hai," he says.
Till he was in Class 10, Tripathi hadn't watched any TV or a film. "I didn't even know what they were. It was only when I was in Class 11 that I watched my first film in a movie hall. While I was doing theatre, Maqbool and Satya were the two films that had the maximum impact on me. Mujhe laga ki acting karni hai toh bas aisa hi kuch ho," he smiles.
The actor believes that it's his work that speaks for him — and will continue to speak for him — and not being seen at parties or being a regular on social media. "Kaam hi aapki asli pehchaan honi chahiye. I feel awkward at parties; I have never taken a picture with any celebrity, not even Shah Rukh Khan. I use social media sporadically. All these things may make me popular, but it's only the work that I do that will make me memorable," he says.
He also thinks that his diverse life experiences — being a student activist, spending a few days in jail because of that and also working in a hotel — have contributed to him as an actor and a person. "Every person is shaped by the experiences he's had. I have swum in the river in my village and also in the pool of the Beverly Hills Hotel in Los Angeles. Out of the 43 years I have lived, the first 15-16 years were completely spent in the interiors of my village where even today there are no proper roads. I have had diverse experiences in life, all of which I tap into to play the roles I get," he signs off.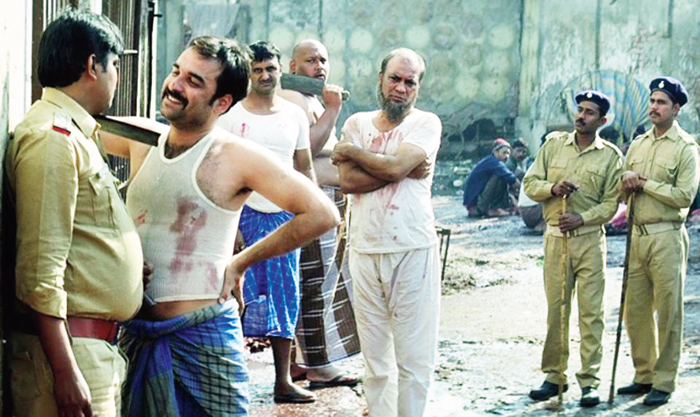 DAZZLING DOZEN
Gangs of Wasseypur (2012)
Eight years after his Bollywood debut, Pankaj Tripathi's breakout role came about in the hard-hitting and visceral Anurag Kashyap-directed two-part gangster film in which he played Sultan Qureshi, a gangster who loses his fiefdom and has only revenge on his mind. The film had a slew of talented faces — Manoj Bajpayee to Nawazuddin Siddiqui, Tigmanshu Dhulia to Richa Chadha — but Tripathi ensured that the audience noticed him.
Fukrey (2013)
Till then seen in mostly serious roles, Tripathi gave the audience a peek into his brilliant comic timing with his turn as the witty Panditji, a man who swore by jugaad and gave the sleeper hit some of its best moments. He was the only bright spot in its sequel Fukrey Returns, single-handedly carrying a lacklustre film on his shoulders, with just his presence in some scenes being enough to make the viewer laugh out loud.
Masaan (2015)
Masaan may be better known as Vicky Kaushal's debut film, but few can forget Tripathi's turn as the lovable Sadhyaji in the Neeraj Ghaywan-directed double Cannes winner. With this character, Tripathi overturned the image of the small-town government official, probing and curious about his colleague Devi's (Richa Chadha) personal life, but never making him creepy.
Nil Battey Sannata (2016)
The man has a special ability to bring something extraordinary to an ordinary part and that was most evident in his turn as the school principal in this Ashwiny Iyer Tiwari directorial. He made Srivastava an Everyman who touched a chord and yet kept the audience in splits. The role could have easily become a caricature, but Tripathi tempered him with both wit and warmth to deliver a winner.
Anaarkali of Aarah (2017)
Tripathi threw a curveball at the viewer with his role of the delightfully easy and light-footed Rangeela, the member of a song and dance troupe in small-town Bihar, in this film that took the conversation started by Pink forward. Anaarkali — with Swara Bhasker in the lead — may have had its faults, but Tripathi was on song, delivering dialogues with his trademark deadpan even as he showed off his comedy skills.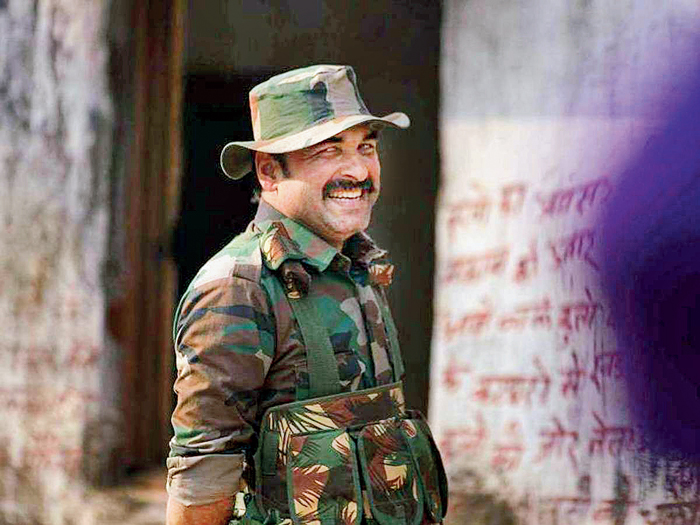 Newton (2017)
The role that the actor picks as his turning point had him winning accolades for his studied and effective portrayal of an angsty man in uniform. The Amit V. Masurkar film may have belonged to Rajkummar Rao, but it was Tripathi on screen — with a beautiful inscrutability to his actions and in his eyes — that made Newton the film it turned out to be.
Gurgaon (2017)
This dark and twisted film about power play within a family had Tripathi deliver a standout act as a property magnate whose conscience proves to be a hindrance in his family's way. His brooding act gave the film some of its most layered moments.
Bareilly Ki Barfi (2017)
Just when you think the actor can't surprise you any more than he already has, he does it again… and how! In Bareilly Ki Barfi, Tripathi won hearts as the approachable father to Kriti Sanon's Bitti, sharing a cigarette with her as organically as doling out life lessons. He even gave us a peek into his dance skills in the Sweety tera drama number.
Stree (2018)
Tripathi's natural flair for comedy was most evident in this 2018 blockbuster in which he kept the laughs rolling in. The screen crackled every time he was on it, with Tripathi having fun delivering some of the film's best lines, like "Sabka Aadhaar link hai uske paas!"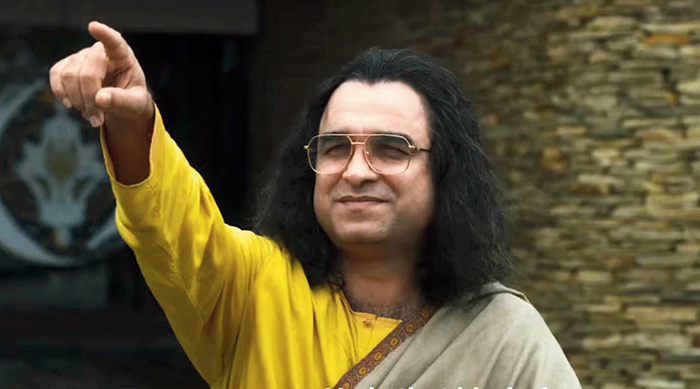 Sacred Games
His presence in Season 1 was minimal, but Tripathi's Guruji was the tour de force that propelled much of the action and drama in Season 2 of the Netflix web series. From that smile that belied his dodgy intentions to the way he delivered dialogues like "Power and narcissism f****d each other and gave birth to materialism", with trademark ease and confidence.
Mirzapur
The Amazon Prime web series had Tripathi calling the shots as mafia don Kaaleen Bhaiya. The man tempered his character with various shades — disgust, anger, disappointment, strength and vulnerability — making every trait palpable on screen. He was easily the best thing about an uneven series.
Criminal Justice
Tripathi delivered what is easily a masterclass in acting in this Hotstar series in which he metamorphosed from an opportunistic and greedy small-time lawyer to a man who develops a conscience and carries forward much of the drama. Every twitch of the eyebrow, every half-smile playing at the lip showed us what a class act the man is on screen.