Being appreciated nationally feels good: Anindita Bose
The actor is now ready to take on new challenges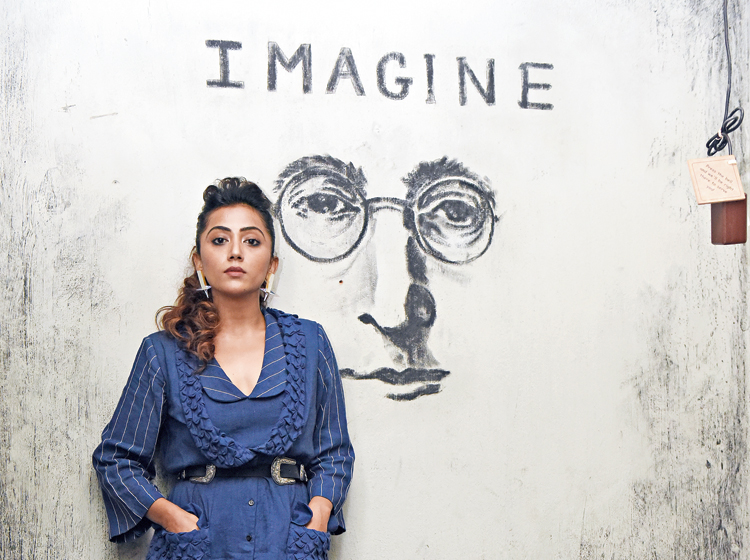 ---
---
Anindita Bose is busy shuttling between Mumbai and Calcutta. "I stay in Bombay now and come back to Calcutta for shoots. Of course, Calcutta is home," says Anindita. 2019 has been a "great year" for her. Having completed 10 years in the industry, Anindita, born and brought up in Bombay, is now ready to take on new challenges. The Telegraph chats with Anindita over Chicken Tandoori Momos, Butter Chicken Thali, Chicken Lasagne at Echoes Kolkata, a cafe-restaurant…
This has been a good year for you…
It has been a great year for me. I have already shot for four web shows in Bombay. I am trying to get into a bigger zone — films — through auditions. It makes me feel good knowing that I am being appreciated nationally. I have been a part of this industry for 10 years. Three years ago Saurav (Anindita's boyfriend) gave me a big push and told me to try it in Bombay… because there came a point in Calcutta where I was not getting work any more… people were not calling me.
What was the reason?
I wish I knew the reason. Everyone would say, 'We will work together', but I never understood the reason. There came a point where I started doubting myself as an actor. Lots of questions crept into my head like, 'If people say I am good at acting then why aren't they taking me?' We as actors are such insecure people that any small thing just triggers these thoughts in your head. That's when Saurav suggested that I take a break here and go to Bombay and try it out. I was sceptical about it since Calcutta had become like this comfort zone... people know me. I had to start from scratch in Bombay.
My parents live there… I lead a very luxurious life there. Initially, I gave around 40-45 auditions only for ads, and I got rejected in all. It was a big-time reality check for me. I have been appreciated for my work for seven years here…. I started taking the acting art more seriously than I did before. I started studying by myself, reading books… started going for workshops. I learnt newer things, and soon got my first ad, and then kept getting all these national ads. One particular ad got me a lot of attention and soon the web shows followed.
Your first show Bou Kotha Kou had aired in January, 2009…
I would really like to celebrate a decade of me being in this industry. What an amazing journey it has been so far. I have seen a lot of changes over these years. Our films have better content now, we have a number of streaming platforms, which have resulted in an employment boom for technicians and artistes alike. I still feel we have a long way to go. I wish I'd see even lesser discrimination at various levels, whether it is gender or colour. Also as artistes we put in a lot of hard work and therefore would like to see more rewarding pay scales across genders. But the pace at which things are getting better, I'm sure we will reach there soon.
We are fortunate to be in such times where we as women get to voice our opinions and actually be able to change things… who would have thought this was possible half a century ago. More power to us!
You also finished shooting for Pratim D. Gupta's film Love Aaj Kal Porshu…
It was a lot of fun. I play Leena, a character whose arrival changes the fabric of the film.
Talking about completing 10 years, your first film was Clerk, starring Prosenjit…
I knew very little then. I really didn't know what I was doing in that film. I did not think that I would become an actress. I wanted to do production designing because I had studied art. At that time I did not understand Bengali so well. In the film, Bumbada played a clerk and whenever his character came back home he would think that he is this really romantic guy. I played his neighbour, who had an eye for him. I had no dialogues in the film.
Rituda (Rituparno Ghosh) helped me to understand everything really well during Gaaner Oparey. I got to learn small nuances, and then I got my first award also. Getting into this field was never my choice. But it happened and it happened for a reason. I wanted to make my mark in my way.
You had to play the waiting game…
I knew that it would be tough. You know, I can feel the difference now. Even if I do one project in Bombay, I know that I'll be okay for the next six to eight months with a luxurious lifestyle. That option is not there in Calcutta. For my first ad in Bombay, I got Rs 75,000 per day.
Why not move to Bombay totally?
No, I am so used to Calcutta. I am in love with Calcutta.
Won't you miss out on work there?
No, I'll make sure that does not happen. That's how I speak to my managers in Bombay. Saurav is going to start trying in Bombay from next year. Both of us together are building a really good future for ourselves. Eventually we would both like to be in Bombay. Slowly and steadily we are trying to move towards that goal.
How different is the work environment in Bombay?
Workshops… before any project we at least have a minimum of 15 days of workshop, where all the artistes come together... they read scenes together, play out scenes together. And everyone is treated equally.
Saayori is being appreciated a lot. In the web film, your character's parents want you to get married but she isn't ready yet and wants to focus on her career...
And just like the character, my mom would tell me to get married. I am definitely not as confused as my character is... she is kissing her best friend, having sex with another and then going on a date with another guy. No… I was not like that. In college, I had a three-month thing with guys. First month was sweet and cute... in the second month I would get bored and in the third month I started thinking how to break up with the guy. And I had to do it in such a way where he breaks up with me. I was too scared to be serious with any guy at that point of time. The best part about Saayori is that she shows her individuality.
Are you in touch with your ex-boyfriends?!
No (smiles)!