For our cross-continental Zoom call, Bear Grylls is perched, almost like Indiana Jones (minus the fedora), on a rock atop a cliff. The ocean forms his backdrop, there's loads of greenery in the foreground and a dog wanders into the frame every now and then during our conversation. I am thankful for the 10 minutes I have to chat, not only because Grylls is the foremost name in the world when it comes to survival and outdoor adventure, but also because I can feast my eyes on the view behind him. He, unfortunately, only has my beige bedroom walls to stare at. When I tell him that I feel lucky, the 46-year-old laughs a hearty laugh and says, "Oh, I love India! You guys have some of the greatest wilderness on the planet. So yes, you are lucky!"
We are chatting because Grylls, the man who has been the face of many a survival series, is the host and executive producer of World's Toughest Race: Eco-Challenge Fiji, a new series that tests contestants to the limits of endurance and survival, and somewhat resurrects the franchise that was started more than two decades ago. Slated to stream on Amazon Prime Video from August 14, the 10-episode series is filmed in Fiji and has 66 teams from 30 countries racing non-stop for 11 days across 670 kilometres spanning mountains, jungles, ravines and oceans.

You've gone on record to say that World's Toughest Race: Eco-Challenge Fiji is "not a normal race". For someone who's tested himself to the limits and never really kept anything 'normal', so to speak, what made you say that?
World's Toughest Race is actually what it says. For us to put together something of this scale and ambition... it's unlike anything that we've undertaken before. The whole vision of Mark Burnett (creator and executive producer), when he came to me, was that he wanted to bring back the spirit of Eco-Challenge from all those years ago... and make it bigger and better than ever before. What we did with this show has been unprecedented... nothing has been done on this scale before.
We kept wondering, 'Are we going to be able to complete this?' The whole concept of going through 670 kilometres non-stop through the sort of terrain where you have high mountains, then rainforests, plains, rivers, swamps, oceans.... When I say it's unprecedented, I really mean it. I've done a lot of survival, endurance and adventure stuff, but the one thing that makes this show so tough is the team factor... the fact that you've got to finish together as a team, all four have to do this together and they can't afford even one person running out of steam. To complete it is truly remarkable. Each of the sections of the race is an expedition in itself. And when you put it all together, it becomes a huge expedition determined by a stopwatch. It really is the 'world's toughest race'.

You've also called it brutal...
Well, it is brutal (smiles), it really is. It was an unforgiving course and we knew that we would take casualties. There were some conditions that made it tough to keep up. The heat and the humidity on the first few days was relentless. Then we had a few storms up on the mountains. To navigate through all of that and make your decisions... it's an old-school style race. It's incredibly tough, and it tests your resilience under pressure... what are you really made of. When the storms come, can you show kindness and friendship to your team members, coupled with resilience and then some sharp thinking about how to navigate through this? It tests pretty much everything that you've got.

The contestants undoubtedly learnt a lot having you on the show. What were your biggest learnings watching them go full throttle?
I think what I get reminded time and again is that how incredible humans are. On World's Toughest Race, you see both extremes... you see how badly they fall apart and so quickly, but then you see them get up and get going with all humility and kindness and no drama. It's inspirational to see things like that. I was constantly reminded of the power of the human spirit under pressure. We are much more resilient than we give ourselves credit for. But you don't see that until you are really under that pressure.
Also, I saw how much being on this race meant to most of them. Whether it was a cancer survivor or veterans with disabilities... these guys have already beaten so many things in life. And then to see them putting it all on the line for this race was truly incredible. They faced many mountains on this show, both metaphorical and real.

So their personal struggles and stories add to the colour of the show...
Yes, the human stories always add a lot because then you understand what drives people. Months and months were given to training for this show and when you see that as a host, then you go 'Wow!' and you are a lot more invested in their struggle. Like your incredible Indian twins (sisters Tashi and Nungshi Malik, who are contestants on the show), I really loved them and I wanted them to shine and complete the race and show the world that they can defy the odds. You look at them and think that they are so small and slim and how will they cope, but they just showed all of us that survival is in there (points to his head).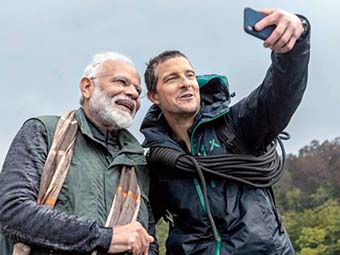 Bear Grylls with Prime Minister Narendra Modi Sourced by the Telegraph
Your trysts with the wild make you seem almost superhuman. Do you have any fears?
I am definitely not superhuman and I definitely have a lot of fears! (Laughs) My adventures are always about facing my fears and yet managing to keep going. Nothing in nature stands still and you've got to keep moving forward. What I love about the wild is not the gung-ho stuff or the adrenaline stuff... it's the human factor.

How would you describe your time in India, shooting episodes of your adventure series Man vs Wild?
I love India! I love the wilderness. I love the people of India especially, all big-hearted and kind and resilient. It's hard to describe India. I love the country and I have had the privilege to film with your Prime Minister (Narendra Modi) and also with some of your incredible movie stars like Rajinikanth and some others that we haven't announced yet. It doesn't matter if you are the US President or the Prime Minister of India or Bear Grylls, our connections to the wild are all the same. The wild is a great leveller and it reminds us all that what connects us is always greater than what separates us.