BARUN IN THE FANZONE
Sweet Child O' Mine — heart-throb Barun Sobti sings for and chats with six fans at a t2 lunch adda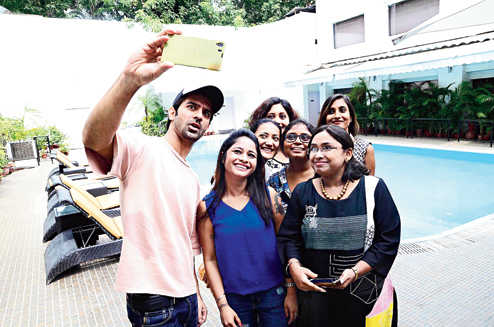 ---
Published 05.08.16, 12:00 AM
|
---
Barun Sobti is in town… please make us meet him!" t2's social media platforms have been flooded with this request ever since TV heart-throb Barun Sobti — the man who walked into our hearts as Arnav Singh Raizada in Iss Pyaar Ko Kya Naam Doon — has been camping in Calcutta shooting his cricket-centric film 22 Yards. Reason enough for t2 to play genie in a bottle to six readers — all Barun fans… and yes, all women! — and set up a chit-chat with their man earlier this week at Mythh in Hotel Hindusthan International.
Over an hour-and-a-half, Barun — who had pulled an all-nighter shooting till 8.30am and was accompanied by his 22 Yards director Mitali Ghoshal — chatted enthusiastically with his fans on love and life, career and me-time, between bites of Betki Paturi, Sesame Honey Butter Fish and, yes, Mishti Doi...
SHOOT AT SITE
Priyanka Roy (Team t2): How's the shoot for 22 Yards going?
Barun Sobti: It's been 10 days… it's pretty awesome. Hopefully it will turn out like we are doing it (smiles).
Priyanka: What's it been like playing a sports agent?
Barun: He is a cricket sports agent for sure, but the character goes deeper and is very layered. In that respect, I am having awesome fun. I told Mitali a couple of times that there are some scenes which when they get done in two or three takes, I get upset because then I don't have the chance to do them anymore! That's how much fun I am having...
Mitali Ghoshal: It's a difficult character to play. When I had narrated him the story, he got connected to it and the character very early…. and he looked very much like Ron Sen. He's a brilliant actor. Most of the time he's doing that…
Barun: Acting?! (Everyone laughs)
Mitali: He never sits in the vanity van. He's very active even when he's not giving shots. He's very interested in every aspect of filmmaking — script, dialogues — he goes on asking questions. I was always sure that for this role I needed a good actor. I got a brilliant actor in him as well as the rest of my cast. But in the bargain, I got to meet a nice person with a great heart. I never knew we would get so friendly.
Ratnalekha Mazumdar (Team t2): Do you see flashes of yourself in Ron?
Barun: Amartya (Ray), the guy who is playing Shome, has said at least five-six times that 'Barun is Ron Sen'. But I think only some parts of me are in Ron. There are a few things I know about him, a few that I understand about him and a few that I feel about him.
Tua Ghatak (t2 reader and Barun fan): You've been shooting all across the city, so what's caught your eye about Calcutta so far?
Barun: I love the character and the city. And the windows that are so consistent throughout the city… the green and yellow shutters. I like the bylanes and how narrow they are. I don't know how great this place is financially or economically. I don't care about that. I just see it and like it without any subtext (smiles).
GIRLS FALL FOR THE BAD GUYS!
Ratnalekha: We have an eclectic bunch of fans today… some are students, some are just out of college and the rest are working...
Barun: Today is Monday. How did you manage to get off from work?!
Jiya Pattanayak (t2 reader and Barun fan): Actually, today is my day off.
Barun: Great! I also have an off today… I mean half-off! (Grins)
Ratnalekha: So what were you like in school and college?
Barun: Actually, I never went to college. I started working when I was 17. I was very, very naughty in school.
Priyanka: Was there anything that got you into trouble?
Barun: I was in trouble all the time (laughs). My mom was practically in the vice principal's office all the time! Now I really feel sorry that my mom had to go through such embarrassment, but I was never a harmful person. School mein hota hai yeh sab, yaar!
Priyanka: Did you bash up classmates?
Barun: I bashed up people and I got bashed a lot of times… that happens a lot in Delhi. People have free hands and hitting someone isn't a problem (laughs).
Jiya: So was there anyone you crushed on in school?
Barun: I can't name that girl, ya!
I was in sixth standard. She liked me too. Girls always fall for the bad guys (laughs). I bumped into her five-six years ago, but I have no idea where she is now.
(Barun's "regular cappuccino with no added flavour" arrives. He takes one look at the foam on top of the cup and says: 'Arre, I don't want to grow a moustache!')
---
ON THE MENU
Prawn Teppanyaki, Betki Paturi, Kanchalonka Posto Baata Murgir Kebab, Sesame Honey Butter Fish, Gondhoraj Paneer Tikka, Chhana Koraishutir Chop, Tok Doi-er Chop, Salt and Pepper Mushroom, Mishti Doi, Rosogolla, Banana Honey Mousse.
THANK YOU, HHI!
---
OUT OF SIGHT, NOT OUT OF MIND
Sulogna Ghosh (t2 reader and Barun fan): Even years after your TV show Iss Pyaar Ko Kya Naam Doon, we still crush on your character Arnav Singh Raizada…
Barun: It's remarkable actually! Everyone told me that TV actors' popularity is based on how visible they are. When the show was on air, enormously popular actors used to tell me, 'Dude, you have quite a fan following!' Now everyone tells me that it's remarkable you have been away for such a long time and you are still managing to pull this. I don't know what it is… I think the Internet has helped me a lot, to be honest.
My mom and dad call me regularly and tell me that you are wearing this today and you are wearing that today… because the pictures are all on the Net! The primary reason for (the sustained popularity) is the absolute faith that people who saw me as an actor still have in me.
Sulogna: And we fans have always loved the chemistry you shared with your co-star Sanaya Irani on the show…
Barun: I am lucky to have the friends that I have, yaar. Sanaya is especially crazy! I love the twisted ones more! Both of us are very dedicated to what we do. We really love our work. She puts in a lot of effort in the scenes and we are also very comfortable with each other.
Sangeeta Ghosh Dastidar (t2 reader and Barun fan): Can we expect to see Arnav on screen ever again?
Barun: That's going to be very difficult… I won't lie to you. Everybody tends to think that it is only two people who make a show, but as a project, there are a million other things that have to be put together.
Sangeeta: Where do you want to see yourself, career-wise, 10 years from now?
Barun: I am not a very ambitious person. You won't see me taking up everything that comes my way. Thankfully with a lot of appreciation, I have come to a position where I know what I can do right and what I can do wrong. I live a lot in the present. Ten years later, I would love my parents to be healthy and probably have a small family of my own. That's about it.
I GET ROMANTIC WHEN...
Ritama Roy Chowdhury
(t2 reader and Barun fan): Who's your lucky charm?
Barun: My wife (Pashmeen Manchanda), ya! My friends… my educated, well-read and wise friends told me that my career just took off after I got married! (Smiles)
Priyanka: How did you meet Pashmeen?
Barun: We were in school together.
Priyanka: So she liked the bad boy in you?
Barun: No, no, when she came to study in my school, I switched my personality! (Laughs) In the 9th standard, I saw her and we started knowing each other. In the 11th (standard), we were together.
Ratnalekha: So how many years have you been together?
Barun: It's been a lifetime now… 17 years I think. Yeah, a long time!
Debolina Das (t2 reader and Barun fan): What are the things you guys like doing together?
Barun: We walk a lot. We do a lot of coffees and we love watching American TV shows together. We love eating out — we've spent a fortune eating out! We also like going for drives… throughout the world wherever we have been, we've gone on a lot of drives.
Debolina: Is she critical of your work?
Barun: Very specifically critical (smiles). But she's generous also. She kind of likes me (laughs).
Sangeeta: What's the most romantic thing you've done for her?
Barun: No, no... I am not answering that question! It's too personal (smiles).
Sangeeta: But are you romantic by nature?
Barun: Whenever romantic songs are played, yes!
Sangeeta: Do we play a romantic song then?!
Barun: The first requirement is… my wife has to be around! (Smiles)
Jiya: Is there anyone you have always wanted to date?
Barun: I am married!
Jiya: No one?
Barun: It's true! I am happy. Why would I want to ruin things?
FOOTBALL, FOOD AND FANS….
Tua: We know that you play football and are a Lionel Messi fan…
Barun: Yes, I really like Messi. But more than Messi, I was heartbroken when Sachin Tendulkar retired. But I don't follow football as much anymore. Manchester United used to be my favourite club at one point of time… majorly because of Ryan Giggs.
Ratnalekha: Football to food... what's been on the menu so far in Calcutta? We know you like shukto a lot…
Barun: I like shukto and the mutton preparations. I like the biryani as well. I like the dal and shukto we get served on set here.
Mitali: He likes fish as well… he had hilsa the other day.
Jiya: We know you sing well…
Barun: I can sing… but I am not great.
Mitali: You sing well!
Barun: I don't! Sometimes at a party with friends, I sing when I am requested to. And then when I sing, they say, 'He is horrible!'
(Cue for Jiya — and the rest — to ask Barun to sing. Flummoxed at first, he requests for a time-out and says he will sing towards the end of the chat.)
Sangeeta: What's been your craziest fan moment?
Barun: Yelling and screaming are common. 'I wanna marry you' is also common. And there was this one woman who just kissed me! And that too when I was with my wife…. and you had to see her expression! She was almost like 'Really?!'
SOCIAL MEDIA CRAZE WITH ONLY A 'HAPPY NEW YEAR'
Priyanka: You have a lot of fans outside India too if the messages we get on t2 social media are anything to go by…
Barun: Actually the show (Iss Pyaar…) ran in 51 countries…
Mitali: He has a huge responsibility to bring all the people to the theatre for 22 Yards! (Laughs)
Priyanka: Despite being so popular on social media, why aren't you active on it?
Barun: I just stay away from things that I can't do well. There are plans that people make now and then so that I become more active. But I don't want anyone else to be my voice. I am very bad with social interactions. I still haven't come to terms with the presence of such a strong social media generation. Facebook is how old? Some 12-15 years? So, I was 17 at the time it started. And when people were doing it, I didn't get the idea… I was like everyone I know and I wanna talk to is on my phone!

Priyanka: Have you ever been trolled on social media?
Barun: The only thing I have tweeted so far is 'Happy New Year' and 'Happy Birthday'. If there is a problem with that too, I am going to delete my account! (Laughs)
ME-TIME: TV FAVES TO WORKOUT MANTRA
Sulogna: What kind of TV do you like watching?
Barun: Because of the kind of person I am, I watch intense stuff more… Homeland is an awesome show. I also like The Good Wife… it's a phenomenally well-written show. Oh, we watch a lot of MasterChef Australia as well.
Priyanka: So have you picked up any cooking tips from the show?
Barun: Arre, are you kidding me?! (Laughs) Look at the equipment they use… I don't have stuff like that in my house….
Sulogna: Watching it just makes me sad I can't make all that food…
Barun: I know exactly what you are saying… and hungry! I get hungry every time I watch the show (laughs). And we are always like, 'Didn't we just eat an hour ago?!'
Tua: What do you love eating the most?
Barun: I like Japanese a lot. I am a hungry foodie… you can give me anything! Now I am having a lot of Bengali food as well.
Tua: And how does the foodie burn out all that he eats because it just doesn't show on you!
Barun: Yaar, I haven't worked out in a month. I have an ectomorph body type that means that my metabolism is very high. I have been very lucky so far, but I don't know what the repercussions will be when I grow old.
Ratnalekha: Are you tech savvy?
Barun: Nooooo! (Shakes his head vigorously) I just play Candy Crush and Scramble on my phone. That's it.
Tua: Do you play any musical instruments?
Barun: No, but I've always wanted to. I've always wanted to read a lot, which I am doing now. I wanted to train to ride horseback, but that hasn't happened. I always wanted to learn how to play the guitar. My wife gifted me one two years ago on my birthday, but it's still lying in the storeroom. I have a violin in my house… but I haven't learnt it.
(As the chat inches to a close, Jiya again coaxes Barun to sing. "What do I sing, yaar?" he asks. Suggestions range from Balwant Kaur (a signature number from Iss Pyaar Ko Kya Naam Doon) to Knockin' On Heaven's Door ("No, no, I can't sing that!"). Barun ultimately makes fan Jiya's day — and ours! — by singing another Guns N' Roses fave — Sweet Child O' Mine. And boy, does he kill it!)
Finally, Barun's message for his fans who couldn't be there:
"You really missed some great food! Anyway next time!"
The one question I want to ask Barun Sobti is.... Tell t2@abp.in
Pictures: Bhubaneswarananda Halder