Barrackpore girl Annmary Tom on playing Binapani in 'Gramer Rani Binapani'
'We know how to hold on to our culture with pride'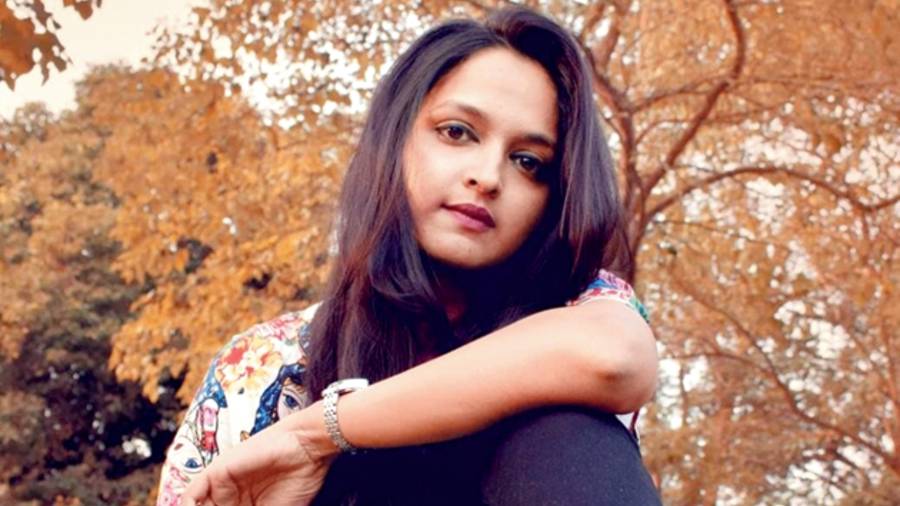 Annmary Tom
Sourced by the correspondent
---
Published 01.07.21, 10:46 PM
|
---
Passionate about dancing, Barrackpore girl Annmary Tom did not have any plan to get into acting but always knew within that she belonged in front of the camera. "I feel that Binapani is somewhere in me already, which warmed me to the character immediately. But I don't talk as much as Binapani does," says Annmary on playing Binapani in Gramer Rani Binapani, currently airing on Star Jalsha. The Telegraph caught up with the computer science postgraduate from St. Xavier's College and diehard Friends fan, for a hearty chat.
Being half Malayalee, half Bengali, you must have experienced the best of both cultures?
Courtesy Ma, I have experienced and lived the Bengali way of life and culture, and the Malayalee culture and way of life with Papa. He has lived here in Calcutta for many years now. He talks very sweetly in Bengali and addresses everyone as 'tumi'. Ma has taught me to say 'apni' to the elders. My Dida and Mama have also familiarised me with the Bengali culture and I have Bengali friends here. But when I go home in Kerala, I am told that I am a Bengali, but when I come back here, my Mama jokes, saying, 'Tui toh ekhono Keralite e roye geli.' And then I am like, yes, I am Malayalee, or yes, I am Bengali. Both the cultures are so rich in their ways and alike in some ways. We know how to hold on to our culture with pride and I have both the cultures in my blood.
How integral is dance to your life and did your acting spring from your dancing skills, since both art forms are rooted in emoting and expressing?
I am trained in Kathak and Bharatanatyam. I will never stop dancing. Dance is within me always, even while doing the serial, when I am holding out my hand for a scene, people on set quip, 'Eta kon mudra?' (laughs). When the serial just started, if you notice, you will find that my hand gestures and movements had a mudra or two (laughs). There is a scene with Shatadru where Binapani says, 'Thamo shobai' to everyone, but somehow, I am showing a mudra there! In dance, we emote through our movements. Whether it's dancing, acting, or modelling, I love being in front of the camera.
How did you land the lead role? And how did you react to the big news?
The audition person told me to come down to Calcutta from Barrackpore, telling me that the character suits me. The audition took hours with the look test; I completed it and left for home. When I was in the car, I got a call saying — 'Annie, you are selected!' And believe me, I cried; I didn't tell my parents right away because I wanted to see their reactions face-to-face. I called up my best friend while continuously crying the entire time... back at home, Papa and Ma were both crying happy tears too. I remember Papa saying, 'Didn't I tell you the time will come when you will do what you love, and here it is!' They were both so happy!
Tell us about Binapani and how does she resonate with you?
Binapani is very true to herself. She will look into your eyes and tell you if something is wrong. Just like me, she won't stand any wrongs being done. She has certain qualities that I want to imbibe in my life too. Binapani is responsible for the welfare of her village and the upliftment of her village folks and she is fighting for her village, against the wrongs brought down on them. The way she behaves with people and how she wants to do so many things for her village, and I love the spark in her!
Binapani being a village girl has taught me many things. I never thought that I would go down to the fields and sow paddy, but I learned to do that! This being your debut serial, did you face any difficulty in your portrayal of Binapani?
Initially, it was difficult for me to read the scripts in Bengali since I don't understand Bengali that well. My second language was Hindi, and I have studied in an English medium school. So, I couldn't study Bengali formally but learned it from Ma, so my knowledge of Bengali is practical rather than theoretical. Ma has always urged me to talk more in Bengali to understand the conversational language, and even more so now. And the entire team is aware that I still have some difficulty in speaking Bengali, but they always encourage and motivate me to overcome that. I was told to read Bengali books, read poems, newspapers and I took the advice. I used to get stuck a bit, which happens even now but overall, it's hard work that got me through! (laughs). I love how the storyline is progressing. Every day I get the script and go 'wow' and I am very nervous about the fact that I must give my best. I am learning the fundamentals of acting and the very composite process of serial put together, so I am eager to receive suggestions, everyone on sets helps me a lot.
The entire drill of shooting amid the pandemic, shooting from home during the lockdown must have been quite something for you…
Yes! But we have got back on the floor for the shooting. Like you said, shooting from home during the lockdown was quite an experience. I used to do the shooting on my own, doing it all on phone put on a stand you know, from setting the light for the correct exposure and all. Oh, how I missed everyone from the sets! And the first day when we got back on sets, it was a happy reunion, we exchanged happy pleasantries and how! (laughs) Everyone was glad to be back on sets. Very recently, we completed 100 episodes of the show, and that only added to the joy.
Any memorable anecdotes to share from your shooting experience?
When we went to shoot in Santiniketan, I had a scene on top of a large pile of hay. And, the thing was moving! (laughs) It was so high, was moving and someone jokingly said that there could be snakes too. And Binapani wears sari, so at that point, I was torn between whether I should climb up or hold up the helm of my sari or be careful to look out for any snakes lurking nearby — the scene was about me climbing up a stairway to put the hay atop the heap. That was funny.
How do you think the portrayal of female leads in Bengali serials has evolved?
I don't get much time to follow other serials in detail because I leave for work early in the morning and get back home only at night. But I don't feel tired at the end of the day because this is what I love to do, and I could continue acting round the clock. But it's just that there isn't any time left to watch other serials since I stay alone and do the cooking and household chores and everything by myself. I have watched a few snippets of other serials though, and that has helped me learn from my contemporaries too. To answer your question, I can speak for my serial. Binapani is single-mindedly striding ahead, not just for girls or women of her village but for the village folks altogether. Her journey is hinged on bringing progress and development to her village.
How was last year for you?
Believe me, it wasn't all that bad, because I danced! Last year, I started my YouTube channel. I danced throughout the year, along with doing photoshoots. I could spend quality time with my parents, and I could dance so much! If you go through my YouTube channel, I came up with two to three videos every month and I set the lighting and everything.
About four years ago, I had a severe accident, so I used to pray to God for me to be able to get back to dance. So, now that I can dance and play Binapani, it is a big blessing for me, and I cherish it to the core.