Bareilly Ki Barfi star Kriti Sanon feels comedy is a difficult genre to pull off
'It's a good thing to have butterflies and I want to have this all my life'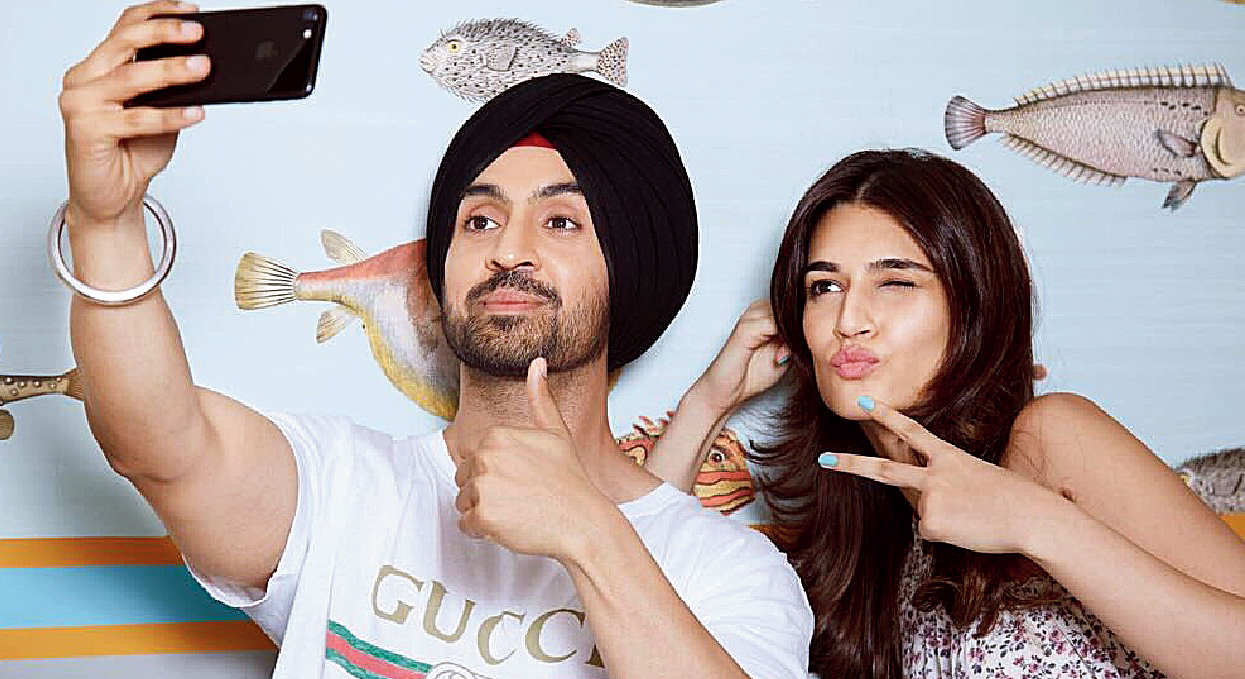 ---
Published 26.06.19, 02:22 PM
|
---
It's already turned out to be a good year for Kriti Sanon. The actress delivered a sleeper hit with Kartik Aryan in Luka Chuppi. Her second release of the year is Maddock Film's Arjun Patiala, which is directed by Rohit Jugraj, and will hit screens on July 26. The film pairs her with Punjabi actor and singer Diljit Dosanjh. While Kriti plays a journalist named Ritu, Diljit is in the titular role of a small-town man in this quirky rom com. In an early morning chat at Maddock's brand new office in Andheri in Mumbai, Kriti spoke to t2 about being funny in real life, the kind of traveller she is and her surreal first shot for her debut film Heropanti.
Congratulations on the success of Luka Chuppi. I remember you being quietly confident that the movie would work...
I think there are some films that you instinctively like on paper and there are those that get better while filming. This was one of the scripts that I loved on paper as it is — I laughed through the narration. That had happened to me with Bareilly Ki Barfi as well. I got the same feeling, of it being a very well-written script and when we shot it, director Laxman Utekar did take it a notch higher. I knew it was a family film, a film you would not dislike... how much you like it depends on you. That's why we were a little confident, but honestly didn't expect the kind of numbers it did. Ultimately, it's a small film, not a big-budget one. It's set in Gwalior and Mathura and we shot it in 45 days. So, it was a pleasant surprise when it did those huge numbers.
The film's success also brought to light our inherent sexism where we attribute the success of a film to the hero.
I feel I should clarify the fact that during the film's reviews, I never felt that I was not given credit. In fact, I was very happy and overwhelmed that my performance was appreciated. It was genuinely a film that rested on everyone's shoulders. When I signed the film, I knew the role was very strong. So, I never felt that I did not get credit. There were places I was asked a generic question around times when some reviewers forget to mention the girl.
But it's not just the reviewers, is it? It's also the industry as a whole...
This topic started when one of the digital platforms, in some article's headline had 'Amitabh Bachchan's Badla and Kartik Aryan's Luka Chuppi continue to do well'. Taapsee (Pannu) started the conversation when she tweeted that the girls had worked equally hard. We've been ignoring the fact that the mentions are still not there in headlines. It's a small thing but it's a sad thing. The lack of mentions in headlines was what started it. She tweeted, then I did and Arjun (Kapoor) tweeted. That was a good conversation around something that hadn't been spoken about before. It was not so much about credit... it was about acknowledging the fact that it's not a male-oriented film you're talking about. I was glad that the conversation started.
What made you want to be a part of Arjun Patiala?
I think it's a very different attempt on comedy, which is what attracted me to it. It's spoof-ish, which hasn't been done here. Films like Deadpool have been done in Hollywood where they make fun of themselves, and I love that genre but it's not been attempted here before. You've probably never seen a trailer that's making fun of itself. Here's a film that's laughing at itself and I'm sure it'll make the audience laugh as well. I feel kids are really going to love this film.
You've done your fair share of comedies.
In my defence, I signed this before Luka Chuppi (laughs). I love comedies. It's a difficult genre to pull off and I feel we need more comedies in our lives. There's so much stress in the world, it's nice just to make the audience laugh and have a good time.
In real life, are you funny?
Hmm... I'm not so funny, maybe subtle-funny. Sometimes, on my funny days, when I'm in full form I'll be dropping these one-liners but otherwise it's more subtle.
How was Diljit as a co-star? He can be very shy.
Yeah… he is very shy as a person. But the moment the camera rolls, you see a different person. He wouldn't be talking at all before the shot and suddenly you're wondering what just happened. He's got great comic timing. Also, I think, once he gets to know a person, he opens up. He's also very funny in real life. His comic side has not been seen much here, he's done very serious films so far. In Punjab, he's done a lot of comedy. He loves to improvise.
The first scene I shot with him, it was the end montage of a song. It's a scene where he's taken me to meet his family, and I get off his bike. There are no dialogues but just reactions and gestures. He gestures, 'Let's go in' and I go 'Your house is good'. And then I wonder why we're waiting and he goes 'Do your pallu'. I gesture that I'm not doing it and he goes, 'Oh okay'. It's just reactions, was never rehearsed and not told to us. That was my first shot with him and there was great chemistry, and I knew that it was going to be a good journey.
With him, you have to make the conversation. Once you make the conversation, he participates but you have to initiate it. He did open up towards the end, though. The maximum I chatted with him was on my last day. On the last day, we were on a truck and again, it was a montage shot. We were supposed to be chatting and laughing. So, we genuinely started chatting and kept laughing. So, that's when I found out that he does talk.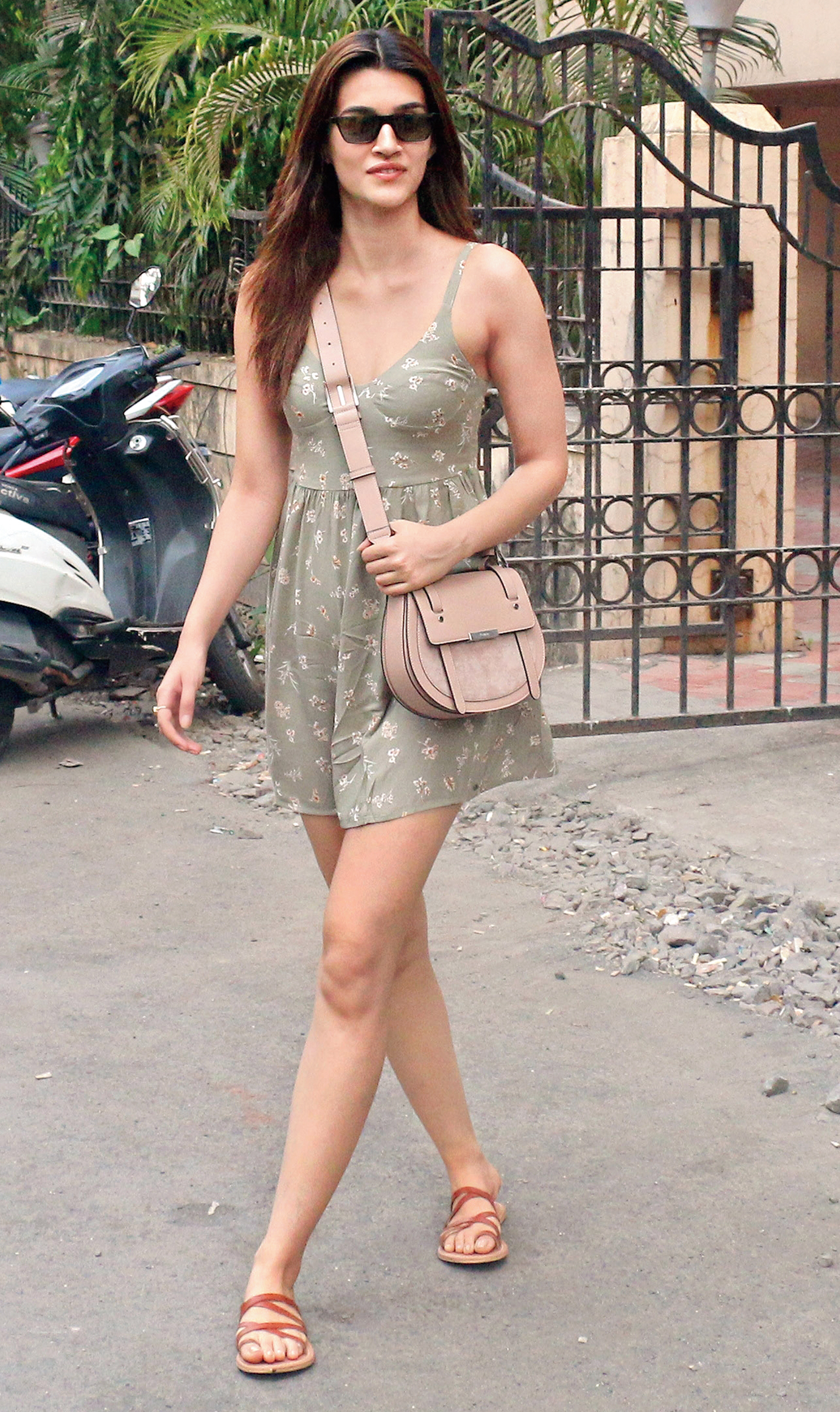 I'm not so funny, maybe subtle-funny. Sometimes, on my funny days, when I'm in full form I'll be dropping these one-liners but otherwise it's more subtle
- Kriti Sanon
You've been on a travel spree since February — Turkey, Maldives and Goa…
(Laughs) Yeah! Maldives was a holiday with my family. It was our first proper family holiday after five years and so it was much needed. The last time all of us travelled together was during IIFA (Awards) after Heropanti. Maldives was fun but I had only four days. Goa was just an impromptu plan with two of my best friends from college who stay in Delhi. I had three days in between my shoots and I had asked them to come here, but they suggested Goa, so it just happened. And Turkey was just a two-day trip for a magazine cover shoot. It was gorgeous but we saw nothing.
What kind of a traveller are you?
I need my people, at least one or two people. I'm not a solo traveller. I like spending time with the people I'm comfortable with and love seeing new places and their culture. I think I've opened up as a person now that I have the opportunity to travel. I am more willing to experiment with different things, whether it's water sports or other things that are specialties of a particular place. I try new cuisines, I used to be very stuck-up earlier. I just wanted yummy food and my taste buds are very north Indian. Now I am open to experimenting with new food.
It's been five years since Heropanti. Do you remember your first day of shoot?
Yeah, yeah, I remember the first shot also. I had gone before to Patiala to just see how the shoot was happening much before I was required. So by the time it was time for me to start shooting, Tiger (Shroff) and I had become very comfortable with each other. For my first shot, my director had very sweetly kept it as a walking shot so that I don't feel conscious. It was still surreal, and thankfully I had done one schedule of a Telugu film with Mahesh Babu before that. So at least I knew the basics of what was required of me as an actor.
So, technically, Heropanti wasn't the first time I faced a film camera. But I have to tell you about the nervousness I experienced the night before the first shot of Heropanti… I still get it. The night before the first day of shooting any film, there's this restless feeling in my chest that I don't know how to explain. Sometimes, it could start three or five nights before — it really depends on the film. I don't sleep well because I've figured the character a little bit with what I've done but until I'm in front of the camera I don't really know how I'm going to play it. It's not like A-B-C, you have to feel it and play it and until you've seen yourself on that monitor, you're still figuring stuff out. It's a good thing to have butterflies and I want to have this all my life.