Banks back on Broadway
Read more below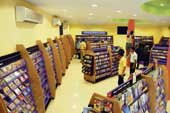 ---
---
Louiz Banks with his new jazz fusion band Matrixx at Someplace Else, followed by Israeli singer-songwriter Noam Vazana (below) straddling singing, keyboard and trombone on Sunday. Pictures by Rashbehari Das and Sanat Kr Sinha
Sweet memories and a strong connect with the Calcutta audience continue to bring jazz pianist Louiz Banks back to the city where he started out. Backed by his new band Matrixx comprising son Gino on drums, Bala Bhaskar on violin and Sheldon D'Silva on bass, Louiz provided the jazz core at Someplace Else's month-long anniversary bash on Saturday night.
Steady and palpable, the quartet made seamless changes from pieces titled Culture Shock and Spring to a 25-year-old romantic composition, Shanti, jazzed up with a Matrixx twist.
A t2 chat with the grand daddy of jazz in rewind mode...
Park Street magic
The last time I was here was in 2008. It's too long a gap for me. I miss the music-loving crowd of Calcutta. I'd like to come back and perform every three months if I had my way. This is where I became Louiz Banks, where people started talking about me and where I met my wife.
I'm glad that Someplace Else is trying to revive the live scene like it used to be in the Seventies. It was the golden era of music in Calcutta. Park Street was throbbing with live bands in every restaurant on both sides of the street. Park Street was like Broadway! It will never come back unless there is a glimmer of something that may happen in the future. I hear there are some good musicians in the rock genre. I hope the focus comes back and also the economy.
Starting out
Before I came to Calcutta I was a schoolteacher in Darjeeling. My dad lived in Kathmandu and he had a band. I'd go there during my holidays and jam with them when suddenly I was offered a job of playing music at the Soaltee Hotel, with double the money and the best of musicians to accompany me. Overnight I became a full-time musician from a schoolteacher!
At that time lot of jazz and cabaret artistes from Calcutta would visit Kathmandu during Christmas and New Year's. Once again I got a call and this time it was musicians from Calcutta who told me I was wasting my time and talent and I should come and join them as their bandleader. So I picked up my bags and arrived here.
Those were the days
I was leading a band called Louiz Banks Brotherhood at Blue Fox with Carlton Kitto, Pam Craine, Braz Gonsalves, Donald Saigal — all the music stars of Calcutta. It was five years of terrific time.
Then one day, after a show the waiter walked up to me and said 'Saab wants to see you'. 'Who?' I asked. 'RD Burman saab' he said. Those days I had very little clue about Hindi films and wasn't sure of who I was talking to. He told me he liked my piano playing and that he was directing music for a film called Mukti for which he wanted me to play the piano leads.
So I went to Mumbai to play for Shashi Kapoor, who would play piano in moments of anger, in sadness and during happy times. It was a new experience. But all the time I was there, my heart was in Calcutta with my band. RD asked me to stay back but I said no and came back.
Bombay boys
That's when the power-cuts started happening. It killed the entertainment scene in Calcutta. No bands could play. We used to stand outside, chatting and smoking, waiting for the lights to come back. Gradually it went from bad to worse. All of us were going to lose our jobs. I could see it coming because the management couldn't afford to keep us with that kind of business.
It was like a sign from god so I resigned, left for Bombay and went straight to RD Burman and said, 'I'm here, does your offer still stand?' and he said 'yes'.
I became a film musician with RD Burman's orchestra.
Then I got an offer to play jazz at a nightclub so I called some of my musicians from Calcutta. Braz and few others came to Bombay to join me but Carlton was the only guy who didn't come. He didn't want to leave Calcutta. Slowly I started making a lot of money. Money that I had never seen in Calcutta. What I used to make here in one month I was making there in one day.
A 'band' new day
I've been playing jazz for many many years now. It's a form that keeps evolving so I was looking for opportunities to play with like-minded individuals who want to take music to different dimensions.
Matrixx is a new band I formed last year with a bunch of young kids, half my age. I take off on their energy and focus. I teach them but I also learn from them. It's helping me with such new ideas that I'm getting charged up all the time. We do original music.
Our core members are Gino on drums and Sheldon on bass. Bala, our new member, adds a strong Indian element with his violin. I'd label the band as progressive jazz fusion. It's non-vocal but the violin sings.... We played at the Montreal Jazz Festival last month.
Mohua Das
Is Louiz Banks the best jazz musician? Tell t2@abpmail.com