Awake, Arise, Award!
Glamour girl in her heyday, Asha always took care to colour her hair and look beautifully coiffed in public till 2019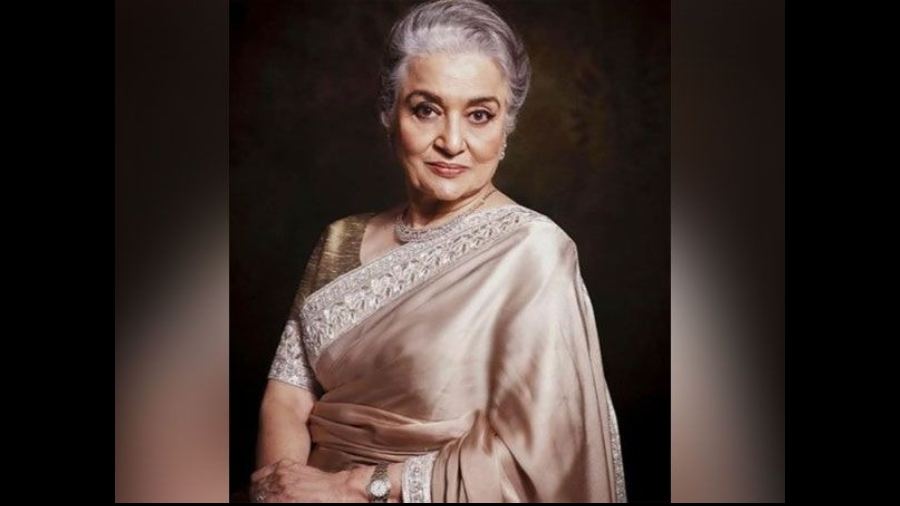 ---
Published 02.10.22, 04:31 AM
|
---
It was 4am in Boston, US, when the calls began to pour in from India. Asha Parekh had returned from a function, where she was felicitated, and was fast asleep when the information and broadcasting ministry frantically tried to get through to her. Sleep disturbed and many calls and messages later, Asha Parekh woke up to the thrilling news that she was the 52nd recipient of the Dadasaheb Phalke Award.
"It's been on since 4am," she laughed happily over the phone after quickly cancelling her plans to celebrate a family member's birthday on the 30th in Detroit before flying home. She flew to New Jersey instead to be in Delhi on the 30th and receive the award from President Murmu. The jury that decided on Asha included her namesake Asha Bhosle, MP from Mathura Hema Malini and Poonam Dhillon.
The award is for her contribution to Indian cinema but she also deserves to be acknowledged for her beneficence towards society. Besides knowing her as an accomplished classical dancer, suburban Mumbaikars knew of the Asha Parekh Hospital she set up at a very early age. It was a hospital that she was actively involved with until a handful of years ago. Articulate and socially aware, she was also the first female chairperson of the CBFC and headed the Cine Artistes' Association where she helped resolve many a dispute.
Asha shares her birth year with Amitabh Bachchan, with both celebrating their 70th a decade ago. It was one of those unexpectedly rainy days in Mumbai when she threw a spectacular party on October 2, 2012, at Sun-n-Sand with a multi-generational guest list. The foyer of the hotel had turned into a picture wall capturing her life and career with photographs of her best moments.
The Internet still has stories on how Asha once said that she didn't work with those she didn't like — she never worked with Dilip Kumar. But bonds shapeshifted over the years. Dilip Kumar in his famous formal suit and wife Saira Banu were prominent guests at her 70th, which also had Manoj Kumar, her Do Badan, Sajan and Upkar hero, making a rare appearance. He was still up and about 10 years ago. Firm friends Amitabh and Jaya, and comparative youngsters Sushmita Sen, Madhuri Dixit and Juhi Chawla were all around when she cut her cake.
Yash Chopra had just turned 80 and he was there too. Asha Parekh's 70th and Amitabh's 70th a week later, on October 11, were the last two parties that the filmmaker attended before he succumbed to dengue the same month.
Known as the quintessential glamour girl in her heyday, Asha always took care to colour her hair and look beautifully coiffed in public. It was only sometime in 2019 that she decided to join her friend Waheeda Rehman and began to step out with elegantly styled silver hair. Asha, Waheeda and Helen are a travelling trio who once in a while opt for the comfort of a wheelchair at the airport, enjoy the lounge and take off to a different foreign destination for a girlie trip.
Still in touch with her friends from J.B. Petit High School in Mumbai, Asha has a life and a circle of acquaintances that go beyond the film industry. When we'd go to various literary festivals where our respective books were being discussed, she'd be as comfortable chatting with Vikram Seth as she'd be shopping for an Assamese sari. A wee bit naughty with a whole load of dignity, Asha Parekh couldn't have asked for a better gift than the Phalke award as she turns 80. Happy birthday to the woman who retains her sparkle.
It also dripped nostalgia when R. Balki had a special screening of his latest film Chup. On screen was a guest cameo by Amitabh Bachchan besides snatches of Guru Dutt's last film Kaagaz Ke Phool with Waqt ne kiya and Jaane kya tune kahi playing in the background. And right behind me in the cinema hall were the elegant Waheeda, lyricist Kaifi Azmi's daughter Shabana Azmi and AB's wife Jaya. It was surreal.
Bharathi S. Pradhan is a senior journalist and author