Atanu Ghosh collaborates with Prosenjit for his next - Shesh Pata
His upcoming film focuses on the mental and emotional costs of debt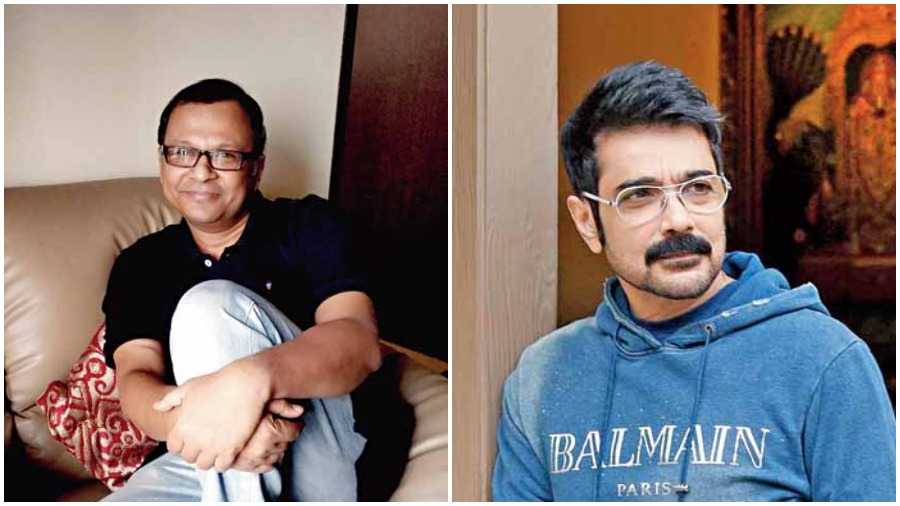 ---
Published 21.07.21, 01:06 AM
|
---
After successfully collaborating for Mayurakshi and Robibar, Prosenjit and director Atanu Ghosh have come together once again for the film Shesh Pata, which is produced by Firdausul Hasan and Prabal Halder from Friends Communication. The film stars Prosenjit, Gargee Roychowdhury, Vikram Chatterjee and Rayati Bhattacharjya. The shoot of the film begins in September. A candid chat with director Atanu Ghosh.
What is the genesis of the film Shesh Pata?
Pay off your debt, and you're a free man. That's a common saying. But debt or loan is not restricted to money only. It can be anything under the sun. Debt, its repayment, and the sense of freedom arising thereof are the three pillars of Shesh Pata. We all know there are significant mental and emotional costs of debt. And some type of debt weighs heavier on the mind than others. Curiously, the person to whom you owe might also be deeply unsettled over the issue. So it affects both the giver and the receiver. I thought this would be quite an absorbing theme to explore.
You are working with Prosenjit once again. What kind of a bond do you share?
We share a bond of faith, mutual trust and expectation. I think these factors are very important in any actor-director relationship. Besides, he has always expressed the desire to work with me again after we finish a film. That does not happen with all the actors you work with.
What makes Prosenjit such an intrinsic part of your film?
We will strike a hat-trick with this one. It's always a pleasure working with someone eager to come out of his comfort zone despite being a superstar, is not afraid to experiment, and, above all, is interested to work with you.
What is the storyline of Shesh Pata?
It's about Balmiki, an arrogant non-conformist writer of fiction who was popular in the Bangla film circuit during the Eighties and Nineties of the last century, for his unconventional themes. But some drastic turn of events changed the course of his life and he now leads a life of sheer neglect and isolation. He is the vortex around whom three characters come into play. Medha, a sensitive and sophisticated middle-aged woman, suddenly finds her life thrown out of gear and must find poise and purpose back at the earliest. A young man of 30, Sounak has a family to support, a younger brother who's studying. And a father, who was a colourist in the film industry, lost his job after the process turned digital and he couldn't adapt to the new technology. Sounak must achieve the target set for him in his career or he would face dire consequences. For the last seven years, Sounak is in a relationship with Deepa, a  painter in a ceramic factory, desperately fighting for her existence and dignity. One fine morning, these four people — Balmiki, Medha, Sounak and Deepa discover themselves at crossroads and must find their perspective, dream, or desire to survive.
Why is the film called Shesh Pata? Does it have anything to do with the O. Henry story The Last Leaf?
No. Here, shesh pata is the last page of a manuscript! But O. Henry is one of my favourite writers and the philosophy of his stories do creep into my work. Shesh Pata is a story of values and moral vision, the pangs of conscience and search for light at the end of the tunnel. Actually, debt is ageless, faceless, and genderless. Hundreds of millions of people you see every single day on the streets are walking around with some form of debt. Just think of that!