Apple TV + show Dear Edward highlights best part of ourselves during worst times
Creator of 'Dear Edward' Jason Katims shares his experience about his creation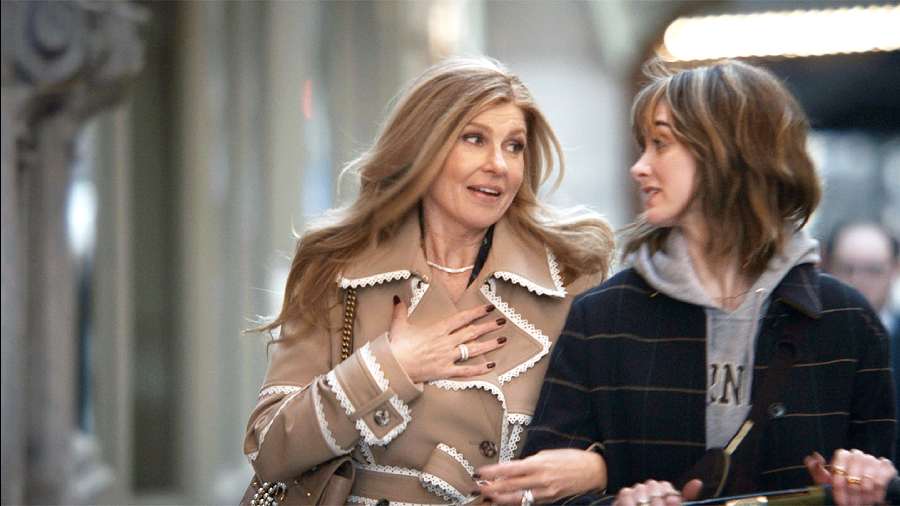 Connie Britton and Audrey Corsa in Dear Edward, premiering February 3 on Apple TV+.
Pictures: Apple
---
Published 25.01.23, 05:04 PM
|
---
Ann Napolitano's novel Dear Edward begins with the crash of a flight from New York to Los Angeles. The chapters that follow bring readers back to the flight in its final hours, delving into the lives of some of the doomed passengers, all rocketing towards an empty piece of land in Colorado.
Everyone dies — an ageing rich man who is always travelling to make more money for his family, a discharged soldier grappling with his sexuality, a young woman hoping to get married… but there's a survivor — a 12-year-old boy named Edward (played by Colin O'Brien), who after losing his parents and brother, has to live with Aunt Lacey (played by Taylor Schilling of Orange is the New Black fame). It's based on a 2010 incident when a commercial airliner from South Africa to London crashed in Libya. Only a nine-year-old boy survived. Media became obsessed with it and Napolitano decided to write a version of the story set in the US.
What makes the book successful has also been captured perfectly in the Apple TV+ adaptation, also called Dear Edward, created by Jason Katims, who is known for the sports drama Friday Night Lights and Parenthood. The dual timeline structure is integral to the book and the show — on the one hand we see the passengers on the plane in their final moments and on the other are lives they have led. The show builds on that tension.
Playing an important part in the show (unspools on February 3) is Emmy Awards-nominated Connie Britton (Nashville, American Horror Story, Friday Night Lights, The White Lotus and Spin City). Her character Dee Dee is head over heels in love with her husband, who she believes works all the time to keep her and their daughter happy. He is always away from home but there is obviously more to the story. Here's what the 55-year-old told The Telegraph over a video call.
It's exciting to see you reunite with Jason (Katims, the creator of Dear Edward) after Friday Night Lights (sports drama TV series). What was it like to collaborate again? Will we ever see Connie Britton back in Friday Night Lights?
First of all, it was wonderful to collaborate again. Jason has created a set that is built around respect, collaboration and trust. And I don't think you're going to see us doing those roles again. At the same time, I never say never.
Timing is everything on Dear Edward. And it really just came down to the character I play… I love it. Personally, I'm raising a son. And that's really my focus and my priority now. I love to work, particularly with people who are important to me, and have a great working relationship with. I'm at a point now when I want to work with people I appreciate and Jason Katims is one of them. So to have him call me and hear him say that he has created a role for me, means a lot. Also, I loved that it is an ensemble show with a limited number of episodes. It just felt like all of the pieces fell into place for me both in my personal life and also creatively. That made it just the right thing.
Though the show is around a tragic incident, there are so many layers to your character of Dee Dee who loves life and loves to have fun.
Yes, there's something that's a lot of fun about my character, especially in a show where obviously we have so many characters dealing with grief. I really wanted to maintain the levity of who she is in the world. And even when she's going through this extraordinary loss in her own life, I still wanted to have a sense of humour because I also think that it's one's sense of humour that's important in getting through grief, at least in my personal experience… in my life. I really wanted to make sure to represent that while playing the character.
What's the best piece of advice you have received when it comes to happiness?
Always remember to laugh. For me, it's about that really. It's about being able to find joy, even in times of greatest sorrow, and even gratitude. If you can find laughter and gratitude, I feel that will always take you a long way.
While researching the character did it teach you anything new about grief or the handling of grief? 
I think for me the experience of playing this role and telling this story, this collective story was really about trying to create that connectivity. Because we… globally… are in grief. There is just so much loss going on around the world, starting with a pandemic, but also the climate crisis and the vast destruction… that is creating tremendous amounts of grief for people around the world. I'm hoping that this show will provide an outlet for that, or at least a sense of community. And it's important to find a way to have a conversation about this collective grief that we are all going through in very different ways, depending on where you are, depending on what your experience is. But that sense of loss and that sense of grief, it's like there's something very fundamental and very human and very primal about it. No matter what your experience is, no matter where you're living, no matter how devastating the experience… the sense of grief is primal and shared.
Who are the people helping you go through life?
I have the most incredible family and we are completely connected. In terms of the pandemic, we kind of created a little pod together. As difficult as that was, we created a system so that we have a support system. I think the pandemic taught a lot of us how important having some connection is to get through difficult times. I'm hoping the show will remind people of that as well.
How does Dee Dee control her feelings? 
The situation she is in is new. Dee Dee is always well-behaved. Her life changes. Viewers know things will change and she will start crying. Every character I play, I'm always trying to explore life through the female perspective. And there is something about being a woman who's constantly told that you need to behave yourself, you need to live within the confines of very specific cultural norms. I feel that Dee Dee, in some subconscious place, believes in that… by conforming to all of these ideals.
At the beginning of the show, we see that she has created this amazing life for herself. To not conform to that… to not be a "good" girl and not keep it together would also mean losing everything. During the course of the show, we see her lose everything. But she still has this very deeply entrenched idea that I think is very relatable to a lot of women, and probably to a lot of people, but I'm most interested in it from women's perspective… that she holds on to this idea that she must behave, she must keep it together. But, of course, she can't because she's human. To me that made the character very interesting. There's a complexity to her character. It's not just as simple as she has full control over her life.
Any scene that's special to you?
There's a scene that involves cupcakes and another that takes place in the graveyard. There are several scenes that I loved doing and we did a lot of improvisation in some of them. I love that these scenes show what control is about. In some scenes, you will see that I am upset but I also know that now I have to let go of certain things.