Aparajita Adhya: 'I let go of Chrome Pictures' Trial Period with Manav Kaul and Genelia D'Souza for Dilkhush'
The Rahool Mukherjee film also stars Madhumita Sarcar, Soham Majumdar, Paran Bandopadhyay, Kharaj Mukherjee, Anasuya Majumdar and Ananya Sen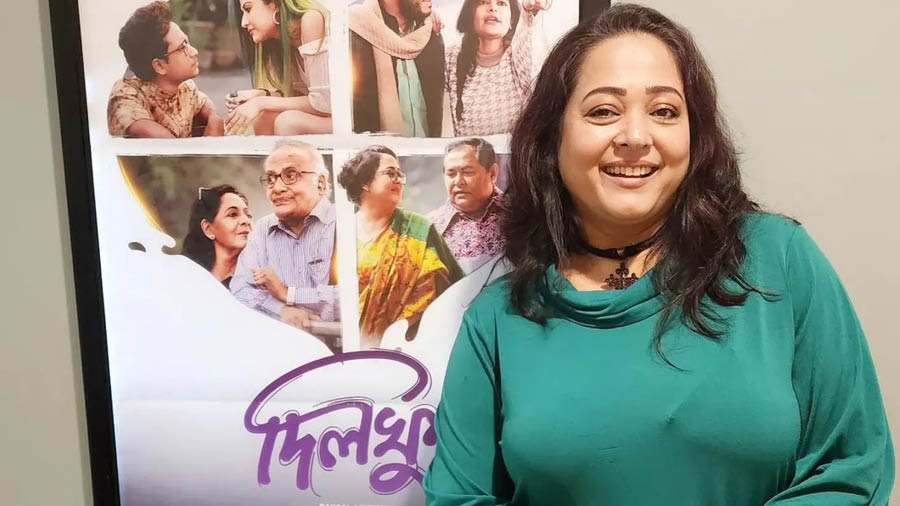 Aparajita Adhya stars in Dilkhush, which is running at cinemas.
Instagram
---
Calcutta
|
Published 03.02.23, 03:25 PM
|
---
The camera doesn't scare her and the story is the make-or-break deal if you want to sign her on for a project. Aparajita Adhya, one of Tollywood's and Bengali television's most popular stars, opens up about her acting journey and the Rahool Mukherjee-directed Dilkhush, which she has made her dil very khush. 
Your new film Dilkhush follows the story of eight individuals. What got you excited about it? 
Aparajita Adhya: For me, the story is very important in whatever project I am in. Director Rahool Mukherjee had sent me the script of Dilkhush and I absolutely loved it. I was supposed to do Chrome Pictures' Trial Period at the same time. The film had Manav Kaul and Genelia D'Souza. Since my dates clashed with Dilkhush, I decided to let go of the Bollywood project because I loved the story of Dilkhush. Also, I want to do more films in Bangla. 
My character Dolly in Dilkhush is a simple and crazy woman. She has a lot of needs. She wants to achieve a lot of things in life. She is not perfect, she has flaws. It's a  very real character. 
Any particular scene from Dilkhush that you loved doing? 
Aparajita Adhya: There are three scenes that I loved doing. In one of the scenes, Kharaj Mukherjee and I are waiting in a bus stand. It is a breakup sequence. There's another scene where I'm doing standup comedy. The third is one where my character has a conversation with her daughter, played by Ananya Sen, on the terrace. If you watch the film, you'll see that each of these scenes is an individual piece of cinema. 
How do you make your character relatable to everyone?
Aparajita Adhya: When I act in a film or a television serial, I tend to feel I am the character. I never feel that I have to act like a character. As soon as the director says action, I turn into the character. My father always used to say that whatever I do, I should be able to give my hundred per cent. I do that even now. 
Among the characters you have played, which has been the closest to your heart?
Aparajita Adhya: The roles that I perform in films are very easy. They are not difficult. The ones I've done in TV serials have been very difficult. My characters like Ananya Guha in Kurukshetra, Pratima Roy Chowdhury in Maa, Tomay Chara Ghum Ashe Na, and Minati in Ek Akasher Nichey are very close to my heart. My character Pari, in Jol Nupur, is another favourite. I feel nobody can ever play that role. 
How is working in films different from working in television? 
Aparajita Adhya: The two mediums have different methods. The production in television is very meticulous. In films, the quality is going down. We are always in a hurry to complete the shooting. In films we do look tests, but we fail to hold the look till the end. 
I put in the same effort whether it is films or television. In television, I get to play a character for a longer span. It is fun. It becomes more exciting if the script is good. The story has to be strong, otherwise people lose interest. I always give inputs when the storyline loses track. I regularly knock the directors and scriptwriters and ask them to change the storyline and make it interesting. 
You have done quite a few reality shows. Does that excite you? 
Aparajita Adhya: I love anchoring. I'm a very easy person to talk to. Anchoring is about how easily you can communicate with your audience. I don't like doing reality shows but I get a lot of love from the audience when I do a reality show. If the person sitting in front is happy, it makes me happy too. My first reality show was Taka Na Sona. It started in the 2000s and was a superhit back then. 
Your new reality show is Ghore Ghore Zee Bangla. What is it about ? 
Aparajita Adhya: In this show, Zee Bangla and I visit various families in their homes. The members of the family get to interact with me. In other reality shows like Didi No.1,  it becomes difficult for the senior citizens of the family to take part. They have to stand for long hours during the shoot. But they too have a wish to take part in these shows. I go to their house, meet them, and chat with them. We play games, give them gifts. They love me… they break into tears and give me a tight hug. It is a different kind of joy altogether. 
You started acting at a very early age. What inspired you to become an actor? 
Aparajita Adhya: I started dancing when I was 14 years old. My acting career started after I gave my HS boards. I wanted to be a dancer. My family was very strict. I did theatre under Sankar Dasgupta, who used to write scripts. We were rehearsing for one of our plays when Shankar Chakraborty, who was rehearsing with his theatre group on the first floor, saw me perform. He liked my acting and recommended me for a serial. 
The next day, I left home saying that I had a friend's birthday to attend. Else they would have not allowed me to go for the audition. I didn't know what an audition meant. They told me that I would be given a few dialogues and I would have to read that out. After I finished, the director said, 'Your shooting starts tomorrow.' They selected me for the serial, Manorama Jedin.
Was that the first time you faced the camera?
Aparajita Adhya: On the first day of the shoot for Monoroma Jedin. The director asked me not to be conscious of the camera. He said, 'The camera is your slave. The camera will follow you. You just keep on acting.' My first day of shooting was with renowned theatre actor Asit Sen. I was playing the role of his granddaughter.  In the scene, my character returns home from the market after buying some vegetables and the grandfather asks her where she got the money from. Then he throws the vegetables away and I had to make my grandfather understand while crying. The whole floor clapped after the scene ended. Sabyasachi Chakrabarty, Koushik Sen and Chandan Sen were present... I have always thought of the camera as a boka baksho (idiot box). The camera has never bothered me. 
What are your next projects?
Aparajita Adhya: My next film is Love Marriage. I am working with Ranjit Mallick again after a long time. I have done another film, Eta Amader Golpo with Saswata Chatterjee. These two will release soon.