Anurag Kashyap on his journey as an actor-director
Most people think I am a very dark person. I would just like to tell them that I am not my movies: Anurag Kashyap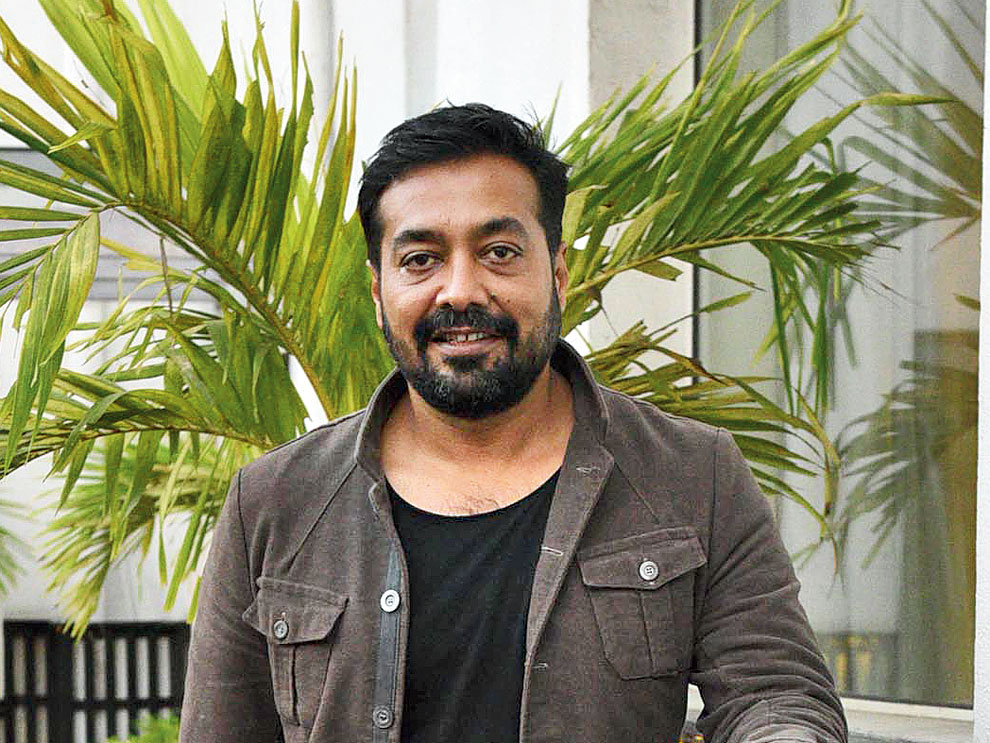 Anurag Kashyap poses for our camera at The Park, Calcutta
Picture: Rashbehari Das
---
Published 24.02.19, 01:09 PM
|
---
He's made several trips to Calcutta as a director, but when Anurag Kashyap came visiting the city earlier this month, it was in a different capacity — that of an actor. The man behind films like Black Friday, Gangs of Wasseypur and the recent Manmarziyaan has acted in a short called Fool for Love, written by and co-starring Tolly actress Ritabhari Chakraborty and directed by her mother Satarupa Sanyal.
The 14-minute short, streaming on YouTube, has Anurag playing Ritabhari's estranged husband and is produced under the banner of Royal Stag Barrel Select Large Short Films.
Before the short screened to a packed house at The Park, The Telegraph sat down for a chat with Anurag — Ritabhari for company — on being an actor-director, what attracts him to the short film format and why #MeToo has a long way to go in India.
Anurag, how's it been in Calcutta this time?
Anurag Kashyap: My Calcutta trips are always short and are mostly always about food. This time it's work…
Ritabhari Chakraborty: What?! You had Bengali food for lunch! And he wants a Bengali thali for dinner also…
Anurag: I have a lot of school friends in Calcutta who are determined not to let me sleep tonight! For lunch, I ate luchi and kosha mangsho… paturi fish and dingri…
Ritabhari: Chingri! Chingri malaikari!
Anurag: Haan! (Laughs) Prawn malaikari.
Do you eat Bengali food in Mumbai or is that only reserved for Calcutta?
Anurag: Ya, ya I do! Ghar pe bhi banta hai… mustard fish. Otherwise, I go out. Earlier there was only Oh Calcutta! Now there is Bhojohori Manna, Calcutta Club…. I keep eating Bengali food. There's a new 'fake' Bengali place in Bombay now; they only make good cutlets… the rest of the food is terrible.
Ritabhari, what made you write Fool for Love?
Ritabhari: Sam Shepard (American playwright and author) died in 2017. I have always been a huge fan of his writing and I always loved his play Fool for Love. His writings are surreal but also relatable. What I have written is not inspired by anything that he's written, but is inspired by Sam Shepard the person. I have called it Fool for Love as a tribute to him. It has a lot of my emotions, but it's not my story.
When I was writing it, it just flowed. I happened to pitch it to a very, very nice actor who I am very fond of. He loved the script, but he fell sick and couldn't do it. The husband's part (Allan, played by Anurag) is not simple and not many actors can fit into that space. We had AK's (Anurag Kashyap) name on the list and by then, Large Short Films was on board (as producer), so his name came from them as well and also from my mother (Satarupa Sanyal) who's directed the short…
Anurag: I think my name only came from Satarupa! (Laughs)
Ritabhari: Nooooo!
Anurag: Satarupa really loves me…
Ritabhari: That she does! But I spoke to AK and told him I had a script and whether he would read it if I sent it across. But before I sent it, I removed my name as the writer!
Anurag, did you like the script immediately?
Anurag: I did. I liked the director (laughs). I didn't know who had written it, though! If she (points towards Ritabhari) had said she was the writer, I don't know… (laughs)
Ritabhari: See, I didn't want any judgment from the beginning and that's why I didn't send in my name.
Anurag, do you like doing these occasional acting jobs?
Anurag: No! I somehow don't enjoy acting; I really love making movies. I can only act if it's a short commitment like this one. And Satarupa prioritised me… she finished my portions first and they kept shooting afterwards.
But I must tell you how tough it was for me. For the first time I was being directed by a mother and doing a making-out scene with the daughter. You have no idea what was going through my head when I was doing that scene. She was so clinical about it; the more clinical she was, the more nervous I became (laughs).
But you are a director yourself…
Anurag: When I am a director, I can make people do anything! (Laughs)
Ritabhari: He actually told me on set that he was awkward. I was like, 'What?! Anyone but you!' He was like, 'I have a daughter'. I told him everyone has a daughter, a son or a mother, but you still have to shoot!
Anurag: When I did Chhuri (a 2017 short), there was a scene like this with Surveen (Chawla), who's a very good friend. It took us half-an-hour to shoot it and after I was done, I told her 'Surveen, I haven't done this!' When my daughter (Aaliyah, 18) saw it, she told me 'Papa, I don't want to see you make out!' She said that right on my face! (Laughs) She thinks I am a two-year-old.
Does she know about the scene in Fool for Love?
Anurag: She will know… she will see it, of course (laughs sheepishly).
Ritabhari: She's far more mature than he is, by the way.
Anurag: In Fool for Love, we were so good at it that we didn't need a second take (laughs). We just did it. I was like, 'Retake nahin hona chahiye!'
What was the vibe on set like?
Anurag: Very good. I think Satarupa and Ritabhari have very good chemistry. It felt like I was on a professional set. This set was all about one big women's gang, except the cameraman and me.
Were you intimidated?
Ritabhari: No way! There is something called a 'ladies' man' and there is a man who belongs to ladies. AK is in the second category!
Would you call yourselves 'fools for love?'
Anurag: Everyone is a fool for love. Whoever is not a fool for love makes the world a bad place. I have been foolishly in love all the time… from my mom to my daughter to all the other people in between (smiles). I also make movies totally out of love.
Ritabhari: I can't do anything that doesn't stem out of love.
Anurag, what is it about the short film format that's made you make a couple of them?
Anurag: That it gets over soon! (Laughs) Also, it's free from the burden of box office and yet is a very expressive medium. It can be non-comprising. I keep making short films all the time. I made Lust Stories last year and I plan to make three shorts this year.
When you are an actor on someone else's set, does the director in you strain to come out?
Anurag: Then I am just an actor. I leave the director in me at home. I never see the monitor and I only follow directions.
Ritabhari: Before this, I had never thought of AK as a co-actor. On set, he was so nice and made me feel very comfortable. There are real emotions in this short and acting is all about reacting… and he gave me that comfort. We hadn't done any workshops before shoot, but we came together very well on set. It helped that both of us are completely no-drama people.
Anurag: Oh God! Too much praise!
Ritabhari, what's your favourite Anurag Kashyap film?
Ritabhari: Dev.D! He knows that.
Anurag: Dev.D was an adult film. How old were you when it released?! It released 10 years ago.
Ritabhari: Okay, I was 15. But I was an adult at 10… so it's okay!
Anurag: Broad daylight waala crime!
Have you watched Ritabhari's films?
Anurag: Not much. (Pauses) Wait, wait!
Ritabhari: Nooooo!
Anurag: I was having early dinner once at Bhojohori Manna and the TV there was playing one of her songs and I texted her….
Ritabhari: It was from this film called Bawaal that I did with Arjun (Chakrabarty)… as commercial as it gets! (Laughs)
Anurag: But yes, I actually saw her as an actor in Fool for Love… I liked her in it.
Dev.D turned 10 earlier this month. What are your abiding memories from the sets of that film?
Anurag: I was trying to find myself through that film. The most abiding memory would be… my daughter was with me the longest on that set. She was seven at that time.
Everybody has a favourite moment from Dev.D. Lekin main jab ek film se nikal jaata hoon toh poora nikal jaata hoon. When Dev.D turned 10, I think I was the last one to tweet about it!
Do you get detached from every film so easily?
Anurag: I get attached to the next one so fast that I get detached from the previous one automatically (smiles). I am somehow more attached to the films that don't work at all.
You've said you thrive on lows and you've had quite a few in your career. What makes you bounce back stronger every time?
Anurag: I learn more from failure. I love life, I want to go out and do things, I want to fight…. Something somehow always keeps me going. I am always working… I never stop. The biggest strength I have — and also my biggest weakness — is that I move easily from one thing to another. I think I've seen enough pauses in life… I have waited many years initially to see my films hit the screens.
Last year was very busy. I had Mukkabaaz, Sacred Games, Lust Stories, Manmarziyaan, Sacred Games Season 2… it's been a rollercoaster ride, but I love it.
Any recent film made by someone else that you really loved?
Anurag: I want to see Gully Boy... I am dying to see Gully Boy! It looks good, feels good, everything about it smells good. I am so jealous of that film! I am so jealous of Zoya Akhtar. I text her every day saying I am jealous of her and she replies with, 'Ha ha ha ha!' Last year, I watched a lot of films. I loved Badhaai Ho, October…. I am so happy such great films are being made.
How would you define Anurag Kashyap now? Are you still the angry young man who's aged a wee bit?
Anurag: (Laughs) I still keep doing the same thing. I think people expect me to keep having the same impact, whereas I am in my own process. And my process varies. I am the most selfish filmmaker, I purge through my movies. I deal with my problems through making movies. I am process-oriented, not result-oriented.
Have you mellowed down?
Anurag: I have found peace. I can be with myself for longer periods of time now (smiles). Earlier, it was hard…. Most people think I am a very dark person. I would just like to tell them that I am not my movies (laughs).
But the anger still shows up on social media sometimes, right?
Anurag: That's not anger… that's straight talk. I don't bullshit… I say things as they are.
But the industry you work in doesn't welcome straight talk…
Anurag: I realised that a long time ago. I am aware of the consequences and I am not afraid of them. Honestly, I have nothing to lose. As long as I am on the side of truth, that's all that matters.
You recently found yourself in the middle of a Twitter war of words over the title of your new film 'Womaniya'…
Anurag: Yes, it's now called Saand Ki Aankh! (Laughs) It's about two women sharpshooters (played by Taapsee Pannu and Bhumi Pednekar). 'Womaniya' is a word that I coined in Gangs (of Wasseypur). Somebody (Pritish Nandy Communications) took it and trademarked the title. That clearly shows an agenda, na? I have the IPR (Intellectual Property Rights) but someone else is using the title for money. And on top of that, he's pretending he doesn't know what's happening. He's done that a lot of times to other people as well.
What's it been like making Season 2 of Sacred Games?
Anurag: I've finished shooting, now the post-production is on. I have directed the Gaitonde (played by Nawazuddin Siddiqui) portions like I did in the first season and Neeraj Ghaywan has directed the Sartaj (played by Saif Ali Khan) bits. Vikram (Vikramaditya Motwane) is the show-runner. He's the God of the show. He sits there and sees what Neeraj and I have done and he gets to be the boss!
You've also stepped in to supervise the edit of Super 30, after your Phantom Films partner Vikas Bahl was accused in #MeToo…
Anurag: Yes I have. I just have to oversee things while the original team works on the edit of the film (starring Hrithik Roshan). Most of the work is already done.
Do you think the #MeToo movement fizzled out without much impact?
Anurag: It didn't become a movement like a movement should be. In some cases, it became celebrity targeting. It also became very film industry-specific. Such power equations are prevalent throughout the country. This movement became restricted to the rich and famous and those who are perceived as rich and famous. It hasn't gone beyond that. Also, every account needs to be an honest account. Some are, but some aren't.
There are a lot of years of conditioning that needs to be addressed. A lot of corrections need to be made. One also needs to decide if this movement is about correction or is it about punishment. On the other hand, it's great because a lot of people are purging… a lot of anger is coming out. People are scared, they will think twice before using the power that they have. They will be responsible. Inclusiveness will increase. But there is so much more that needs to be done.
First, we have to un-condition ourselves. I still tell things to people and then I am told I am being patriarchal. And then I have to be made aware of what I said was wrong. We say a lot of things without realising. But women are also conditioned by patriarchy.
#MeToo in India is mostly restricted to social media and the elite. It hasn't become a movement. There's a lot that needs to be done on a basic level. A few years ago, I said something against the term 'Twitter Feminist' and received a lot of backlash for it. But there were so many women who reached out to me and told me to ignore these armchair activists. But they explained to me where I was wrong and I apologised.
In #MeToo, if we want to punish those accused, then it has to be done the lawful way. But no cases have been filed. Even in my case (the one involving Vikas Bahl, that led to the eventual closure of Phantom Films), the judge told me I can't be a crusader on someone else's behalf. We also have to learn to distinguish between what constitutes power play and what amounts to harassment. There needs to be discussion and debate. People need to sit across and talk. It can't be on Twitter in just 280 characters. The problem is that it's driven so much by anger that everyone's only looking at punishment.
You just spoke about inclusiveness, but Bollywood still has a long way to go. How do you react to someone like Kangana Ranaut, who you have worked with, claiming that she constantly feels marginalised despite being so successful?
Anurag: I'm not in her shoes. I don't know what she faces and how she feels and I shouldn't really be commenting on that. There has been marginalisation in this industry for years, but it's also changing now. Last year alone, we saw the 'outsiders' making a dent. Kangana, in fact, was one of the first people to make a dent with Queen. It will take time. In the meantime, you have to let out what you feel… I let out all the time on Twitter (laughs).