It's purely about Mowgli's journey: Andy Serkis
On Netflix this Friday: Mowgli, the performance-capture version of The Jungle Book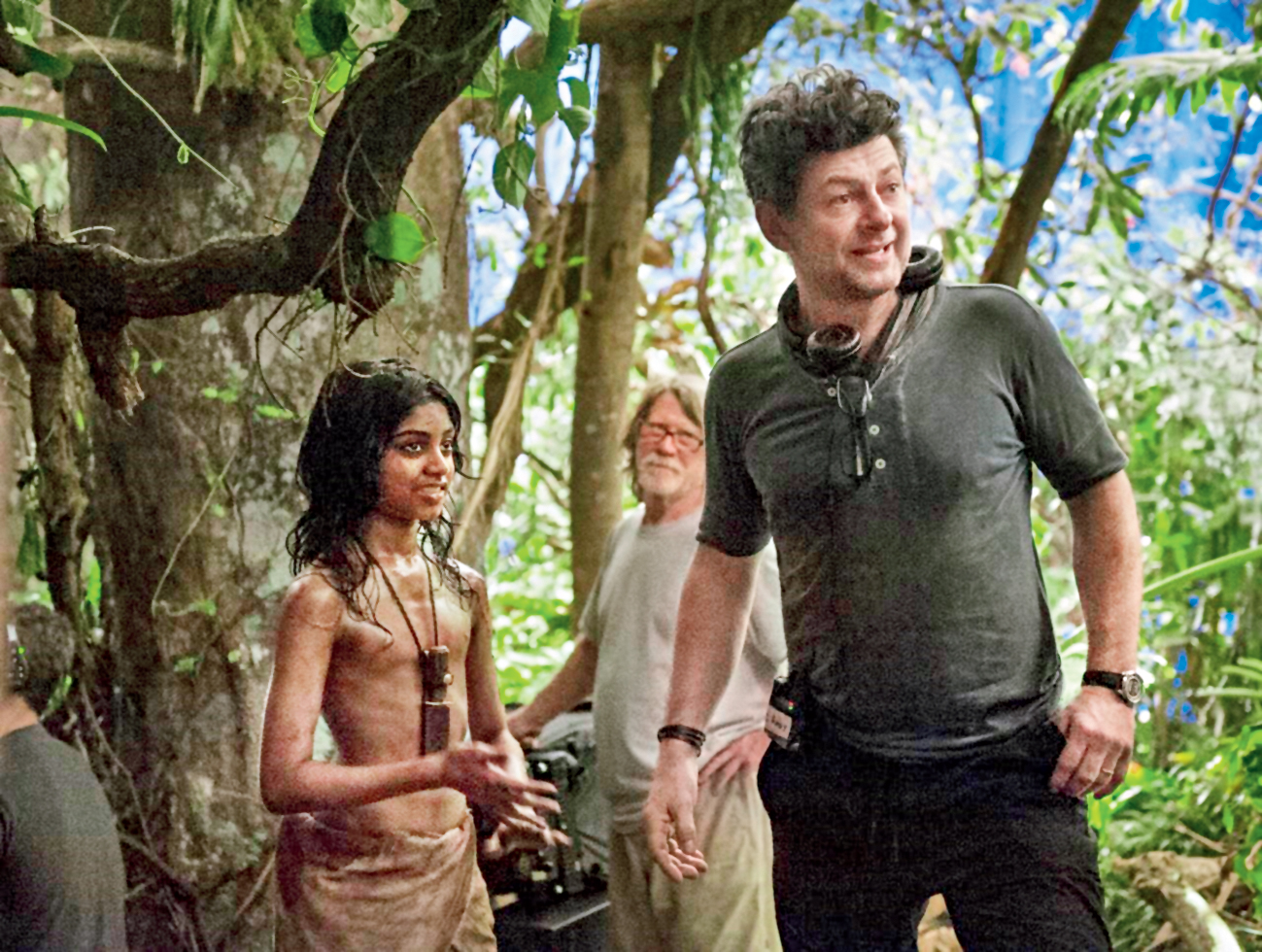 Andy Serkis with Rohan Chand on the sets of Mowgli
Agency
---
Published 03.12.18, 06:33 PM
|
---
As the bounding ape Caeser (The Planet of the Apes series) and prowling Gollum (The Lord of the Rings films), Andy Serkis has played two of the most captivating non-human characters in film history. Son of an Iraqi father and English mother, the Londoner helped revolutionise a new method of acting with these two sagas. In the world of performance capture (and not motion capture as he patiently, but firmly, corrects me), there is no name bigger than 54-year-old Serkis.
For his second film as director, Serkis is at the helm of Netflix's Mowgli, a live action/performance-capture version of Rudyard Kipling's The Jungle Book, that drops on Netflix this Friday. Unlike Disney's version that released a few years ago, Serkis's film deals more directly with Mowgli's difficulty in reconciling his human nature and his animal upbringing.
Before his maiden trip to India for the premiere of Mowgli, Serkis sat down with t2 at the Marina Bay Sands in Singapore during Netflix's See What's Next Asia event.
Mowgli has been in the making for about four years. What caught your attention when you first came across this script?
Unlike any other adaptation of the novel, it seemed very fresh and truthful, and emotionally engaging and that's what kept me going. I never faltered because I knew this was a film that I wanted to make. The terrific script felt very personal to me because of my relationship with feeling like an outsider myself. I suppose some of the characters I've played throughout my career have centred on that, when you think about Gollum or Caesar.
Pretty much from the first hunt between Bagheera and Mowgli, you can sense that this version is darker. Is that what you meant by 'fresh'?
Yes, absolutely. In most adaptations of The Jungle Book, the animals are the stars of the show; they turn up and they're entertaining and they're wonderful, glorious characters but they don't add to Mowgli's journey. In this version, it was purely Mowgli's journey that interested me and they reflect aspects of his personality. 
You've watched Jon Favreau's The Jungle Book that released a few years ago. Why did you watch it?
I didn't see any reason not to. I knew that the two films were totally different beings, and I knew they existed in a totally different sphere. I guess I was interested to see how it had gone because there had been lots of rumours flying around. At one point, we had started off and then they started and we were running neck and neck to see who would be first to release, and then we began asking ourselves whether it was even important to be in that race.
Why do you say it's important to acknowledge the Indian roots of the story?
When I took the job of directing this movie, it was very important for me that it was culturally and specifically located to India because I don't think any other version has really acknowledged it, except for maybe (Zoltan) Korda's version in the 1940s.
In taking on the story, you can't deny the world in which Rudyard Kipling was writing it. Within the realms of magic realism and metaphorical language, we are looking at the misappropriation of the jungle by man and his expansion, as a form of colonialism; the arrival of the white hunter, which is a tiny little passage in the book. Shere Khan as a lame tiger is unable to hunt so he kills man's sacred cattle, and by doing that he brings danger into the jungle. And in the book, there is mention of brown men coming with drums and white men with guns, and that for me was a small but very significant passage that informed how we were going to set up the different societies and tribes within the Jungle Book storytelling.
The 'Indian' portion of the film was actually shot in South Africa. What kind of research went into creating the village?
We set it in a colonial India, to the time the book was written and gave it a historical background. So, we did a lot of research into the period. Then the village was thoroughly researched and we had a lot of Hindi actors be a part of it.
You've put together a stellar cast for this film. How hard was it to get all these A-listers together?
They all wanted to do it, that's the thing. I think the cast came together because they loved the script; it's a classic story that does bear retelling particularly the way the script was adapted. It is an emotional journey that is very much rooted in the search for identity, and I think the cast really responded to the underlying themes of the script and the fact that we do live in a world that is challenged by it; identity is a very important topic at the moment, and knowing who you are and how you fit into society, especially for teenagers. It was a very exciting time to get to work with them all and to have them all in the same room and space and to shoot with them was extraordinary.
What was it like shooting with the incredible cast? Did you shoot them along with Rohan Chand who plays Mowgli?
Yes. There's a range of physicalities, but some people were more physical than the others. Like Peter Mullen, who played the wolf pack leader Akela sitting on a rock... it's all in his face and his performance is quite stoic, and his face is like a piece of rock.
At the opposite end of the scale would be someone like Tom Hollander who plays Tabaqui the hyena who would be bounding around on arm extensions. So, the animators were not only able to take the facial capture, they were able to take physical cues from the actors' performances, who all acted with Mowgli. Every single performance is linked and that's what gives it its emotional connection. 
This isn't a technology that a lot of actors would have used in previous films. Did they have any questions that you thought were interesting?
Yeah, the only person who had come across it was Benedict (Cumberbatch) who had played Smaug (in The Hobbit: The Desolation of Smaug). So, on the first read-through, everyone goes, 'What's the secret?' (Laughs) It's about creating a character, you're not just creating the physical movements of a tiger or a snake. It's investigating who this character is and what it means to the story, and how it affects Mowgli. In that sense, it's regardless of the animal in a way, although you're bringing characteristics. In a sense, they're human characters who just happen to be animals.
Performance capture isn't about puppeteering or overacting or pantomiming a character; it's really about the internal psychology and emotion of the character as anything you do in live-action. So, it's finding their link to the animal and the way we design the animals really do reflect the facial expressions that our actors use to express themselves.
Breathe was your first narrative as a director, but there you were directing yourself. Was that different?
That was the hardest part, actually. As a director, when you're objectively watching a scene or emotionally engaging with it, you're able to go in and help the scene come to life, if necessary. At times, it's important to shut up and not say anything. But when you're putting yourself under that pressure of acting as well, then part of your mind is also thinking about the other performance and monitoring that. And a live-action movie would be difficult enough, but with all the technology and everything, it was a little more challenging.
You're a classically trained theatre actor, whereas over time you've come to represent this new frontier in storytelling. How did that transition happen and was it easy for you?
Before I became an actor, I studied visual arts; I went to college to study painting and graphic design. I joined a student theatre group where I was designing posters for shows and making props and designing sets. I gradually started acting, but during that time I was also making short film ideas. So, it seemed natural when Peter Jackson offered me the role of Gollum.
The directing side almost wanted to kick in then and at that point, I started to make short films and Peter Jackson knew that I wanted to direct. It was then that this epiphany happened, where I realised that this technology allowed for actors to play any kind of character, and it expanded my desire to tell different stories.
It's been a long journey from motion capture to performance capture, right?
Absolutely. The technology itself has changed, but the ethos behind it hasn't. When I played Gollum, it was only motion capture — the actual act of capture was only for the body, and my face was filmed by traditional camera and the animators would copy my facial expressions. After that we started using facial dots to drive the digital mask using a head- mounted camera. And then the technology evolved again during the (The Planet of the Apes) series by being able to take all of that equipment outside and shoot on live- action locations. Then I found the Imaginarium Studios which is a sort of a sandbox for exploring the possibility of actors playing other things apart from humanoid characters. That's when we started to work on Animal Farm and then that led to The Jungle Book. 
In the last few years, you have been a part of the Star Wars and Apes films, you've directed Breathe and this one and you've done Black Panther. How insane has your life been?!
Yeah. It was crazy. This project has been an umbrella for me, over the last five years. There was one time I was filming a war for The Planet of the Apes, I was getting up early to do visual-effects calls back home to England, between 3 and 5 in the morning and then going to set. It was like that for a long time. At one point, I was editing Breathe and The Jungle Book and shooting Black Panther as well. It was extraordinarily busy but I do thrive under pressure.
You've played some of the most iconic characters, whether it's Gollum or King Kong or Caesar. But people don't know the actor who's played them. Is that something you thrive on?
It's interesting, because people are appreciative of the work and the characters, so I feel very fortunate to have had anonymity. I can, most of the time, move around but people do recognise me very often, and will come up and ask me to do Gollum's voice or whatever. But I take that as part of the job, and I feel appreciated. It's never too overbearing and never too much; it's just the right amount really.