An earnest Hrithik Roshan powers 'Super 30'
The movie ends up being lesser than the sum of its parts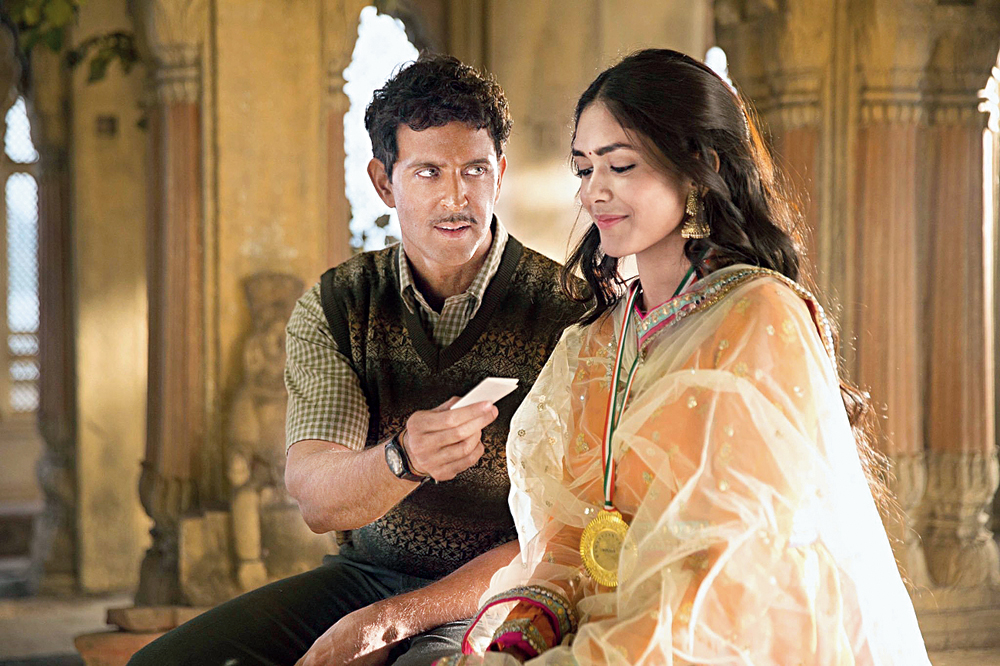 'Super 30' may seem like a classic underdog tale, but what emerges once you dig deep is a story of marginalisation, caste conflict and the unending battle against societal suppression and socio-economic divides
(A still from the movie)
---
Published 12.07.19, 01:37 PM
|
---
You may say that I'm a dreamer/ But I'm not the only one/ I hope some day you'll join us/ And the world will be as one.
A few weeks after Bob Dylan's Blowin' in the Wind added a telling dimension to the searing narrative of Article 15, John Lennon's anthem for dreamers across generations succinctly sums up the essence of Super 30 (that a film focusing on the sound and legacy of the Beatles has released on the same Friday is but coincidental).
On the surface, Super 30 — starring Hrithik Roshan as real-life math genius and social crusader Anand Kumar — may seem like a classic underdog tale, but what emerges once you dig deep is a story of marginalisation, caste conflict and the unending battle against societal suppression and socio-economic divides. This is a story of rising above tragic circumstances and fighting against all odds. But above all of it, Super 30 is an inspirational film for those who dare to dream.
Anand Kumar's rise, fall and rise is the stuff of a Bollywood film. There's drama, there's conflict, there's tragedy, there's many a heartwarming moment. All of it makes its way into this Vikas Bahl directorial penned by Sanjeev Dutta, but Super 30 often sacrifices storytelling at the altar of soaring (and sometimes misplaced) melodrama, with the film's treatment of caste dynamics tending towards the superficial after a solid start. As a result, Super 30 ends up being lesser than the sum of its parts.
Which is a pity because Hrithik, making his way to the big screen after a gap of two years, plunges deep into embracing his part of a selfless man looking to bring about change. The accent may slip often and the deliberate darkening of skin colour is a massive fail, but this is a heartfelt performance that holds the power to make you clap and cheer and also tease a tear out of you.
And that's largely because Anand Kumar is an instantly likable character. For the man, the world revolves around numbers. He uses numbers to make even the mundane everyday objects come alive and mathematical formula takes the place of words to describe his girlfriend's (a luminous Mrunal Thakur, who deserved more screen time) beauty. He even sends her love letters in binary digits. There is an easy chemistry between the lead pair that translates into some cute moments, but because Super 30 is a Bollywood film frontlined by an A-list star and with an eye on first weekend box-office numbers, Anand's love story is established much before we are afforded a peek into his brilliant mind.
Super 30 finds its feet after the initial hiccups and once the film starts focusing on its core premise — "Raja ka beta raja nahin banega… raja wohi banega jo haqdar hoga" — it becomes a story both inspirational and heartwarming. Operating within the schisms, both caste-based and the rich-poor divide, of small-town India that's willing to pull out all the stops to secure an engineering or medical seat, Super 30 uses its protagonist's initial helplessness and subsequent empowerment — "Apna time aayega", he says without putting it in as many words — to make a statement against privilege and power.
A chance meeting with a talented yet underprivileged student makes Anand give up a cushy job at a coaching institute — his overnight change of heart is abrupt and utile and one of the film's many 'convenient' moments — to start teaching the marginalised for free. Much like 3 Idiots, the students — all of them, as described in the film, hailing from "gobar, keechad aur gutter" — are encouraged to not learn by rote even as they attempt to crack a seat at IIT. Anand's fun interactions with this ragtag team is what powers a large part of Super 30 and brings on some of its most genuine moments. The pick of the lot is that well-executed if overlong song sequence creatively titled Basanti no dance in front of these dogs — an exercise in self-confidence — that is sure to make you break into a smile. And then, of course, is the film's penultimate moment when the students apply theory to practice, using everything from Theory of Relativity to Pythagoras' theorem, to take on a band of attackers.
Despite being simplistic and superficial in parts, Super 30 works on the back of some cracking lines. Anand's motto of "Chhalaang… sabse ooncha, sabse lamba aur sabse bada" is a refrain through the film and there was a roar in the audi when the man tells a character more privileged than himself, "Tum logon ne humko itna peechhey dhakel diya hai ki ab uparwaala bhi maut dene aaye toh hum tak pahunchne mein bahut saal lag jayenge". But even as he makes a statement, Bahl uses the crutch of a grating background score to needlessly reinforce every mood and moment. The film is also slightly muddled in its portrayal of time and space, with various leitmotifs of the '80s finding their way into the films's '90s narrative.
But where it falters in narrative and sometimes in pace — the film is a patience-testing 154 minutes long — Super 30 makes up with its performances. Every actor is well cast — whether it's Virendra Saxena as Anand's supportive father or Nandish Singh as Pranav, Anand's sibling who stood by him through thick and thin. Aditya Shrivastava leaves a mark as the scheming owner of a coaching institute and so does Gully Boy man Vijay Varma in that inaugural speech. Amit Sadh is somewhat wasted in a cameo as a small-time reporter, but its Pankaj Tripathi, whose turn as a dishonest politician is equal parts hilarious and malicious, who owns every frame he's in.
In the end, it's a commendable act from Hrithik in a performance shorn of all vanity that irons over some of the creases of Super 30. Watch out for the scene in the beginning where he learns he's cracked a seat at Cambridge and then again at the end, when he's told that the 'Super 30' have made it against all odds. Those eyes mirror a million emotions. And speak of a dream dreamt and realised. But then, 'he's not the only one'.